UNLEASHING THE FUTURE OF HYPER HOROLOGY™
The Monovortex™ Split-Seconds Chronograph
The DNA of Roger Dubuis is like no other watchmaker. Determined to push boundaries and to drive tradition into an expressive and contemporary new era, the Maison has conceived and committed itself to a radical and uncompromising approach, known as Hyper Horology™.
Led by craftsmanship, performance, and innovation, this audacious form of watchmaking is reshaping the future with a touch of madness, pleasure, and freedom. Now, at Watches & Wonders Geneva 2023, Roger Dubuis is taking another revolutionary step forward.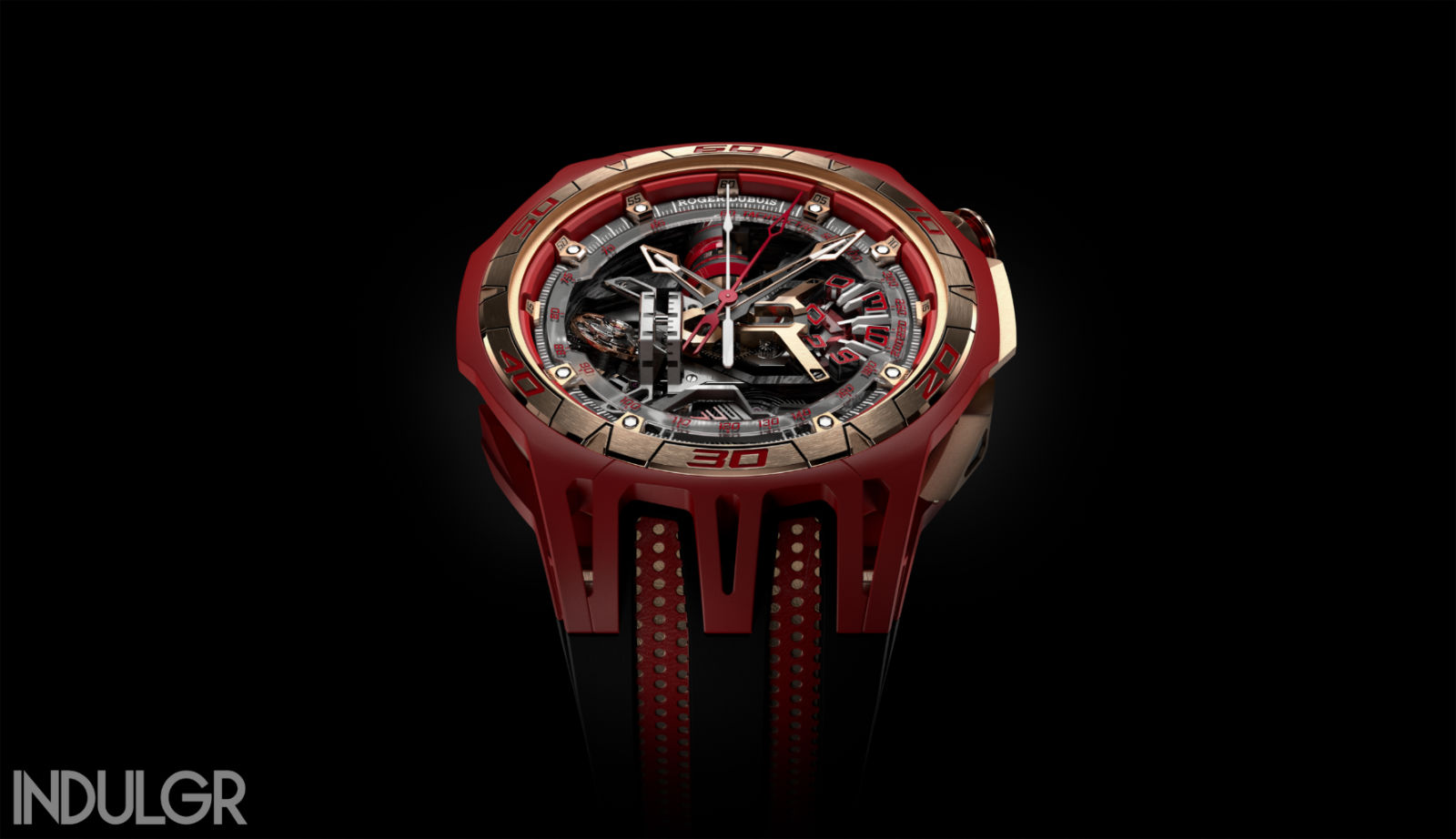 Introducing the Monovortex™ Split-Seconds Chronograph. This ground-breaking creation watch not only controls the forces of gravity, but also highlights the emphatic ingenuity of Roger Dubuis by reinventing both the tourbillon and the oscillating mass, each associated with one of the most complex traditional fine watchmaking complications: the Split-Seconds Chronograph.
Keep your feet on the ground. We are now entering new realms of Hyper Horology™.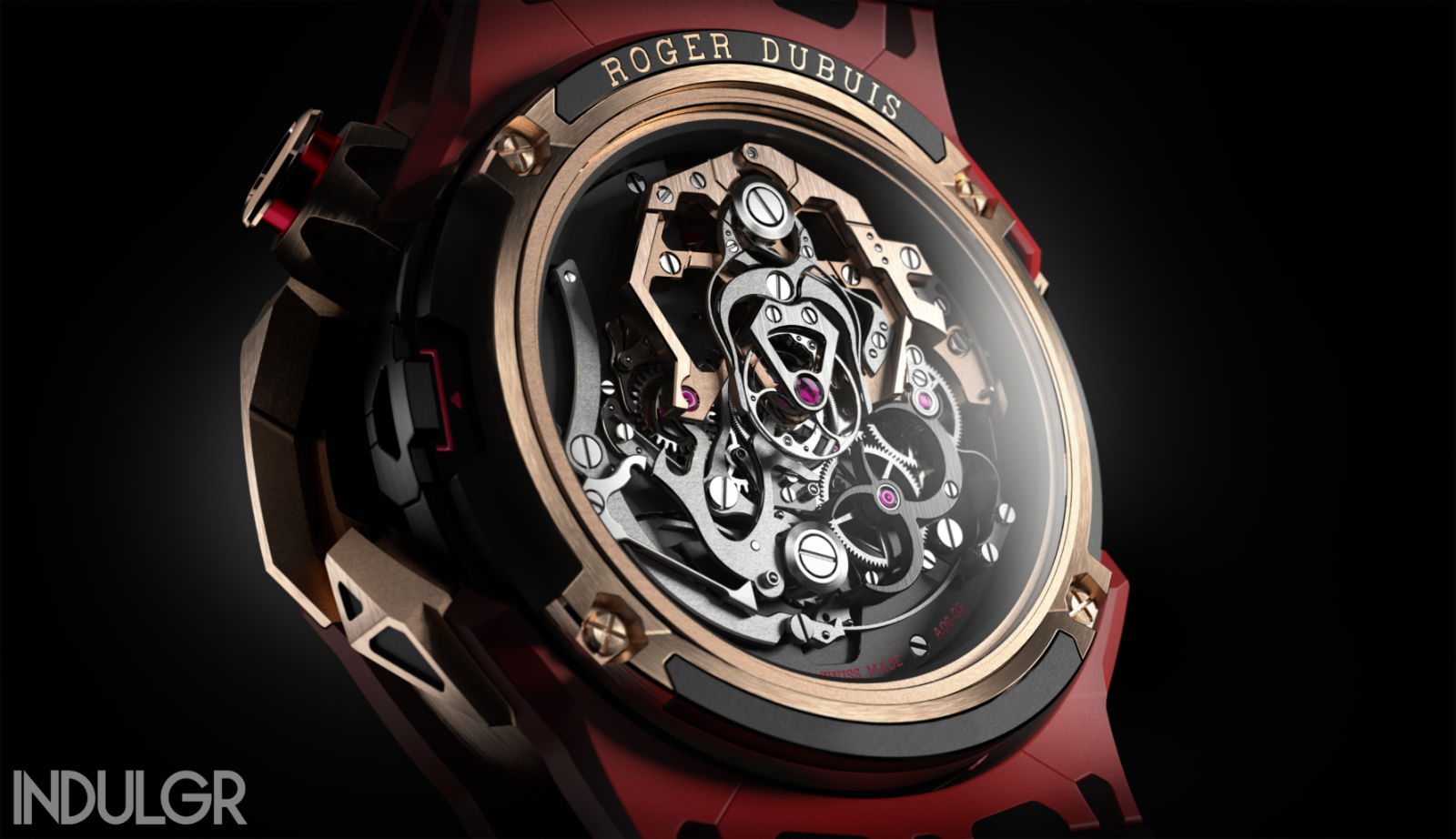 An Uncompromising Journey
Since 1995, excellence has been the backbone of Roger Dubuis' manufacture. An expert in skeletonised calibres, the Maison has continually sought to advance its horological craftsmanship with a quest for performance, and in doing so, was granted the prestigious Poinçon de Genève certification from the very start. Equally impressive, Roger Dubuis is one of the few watchmakers to have achieved the "big four" complications in just 10 years and has since reinterpreted each one with its own increased standards of savoir-faire.
The Maison's distinctive mindset, however, goes further than mastering complications. A serial innovator, Roger Dubuis is also committed to intensive research and development, which has often led to redefining the beauty of aesthetics, to cutting-edge innovations, and state-of-the art technology. Call it expertise. Call it an obsession. But never call it ordinary.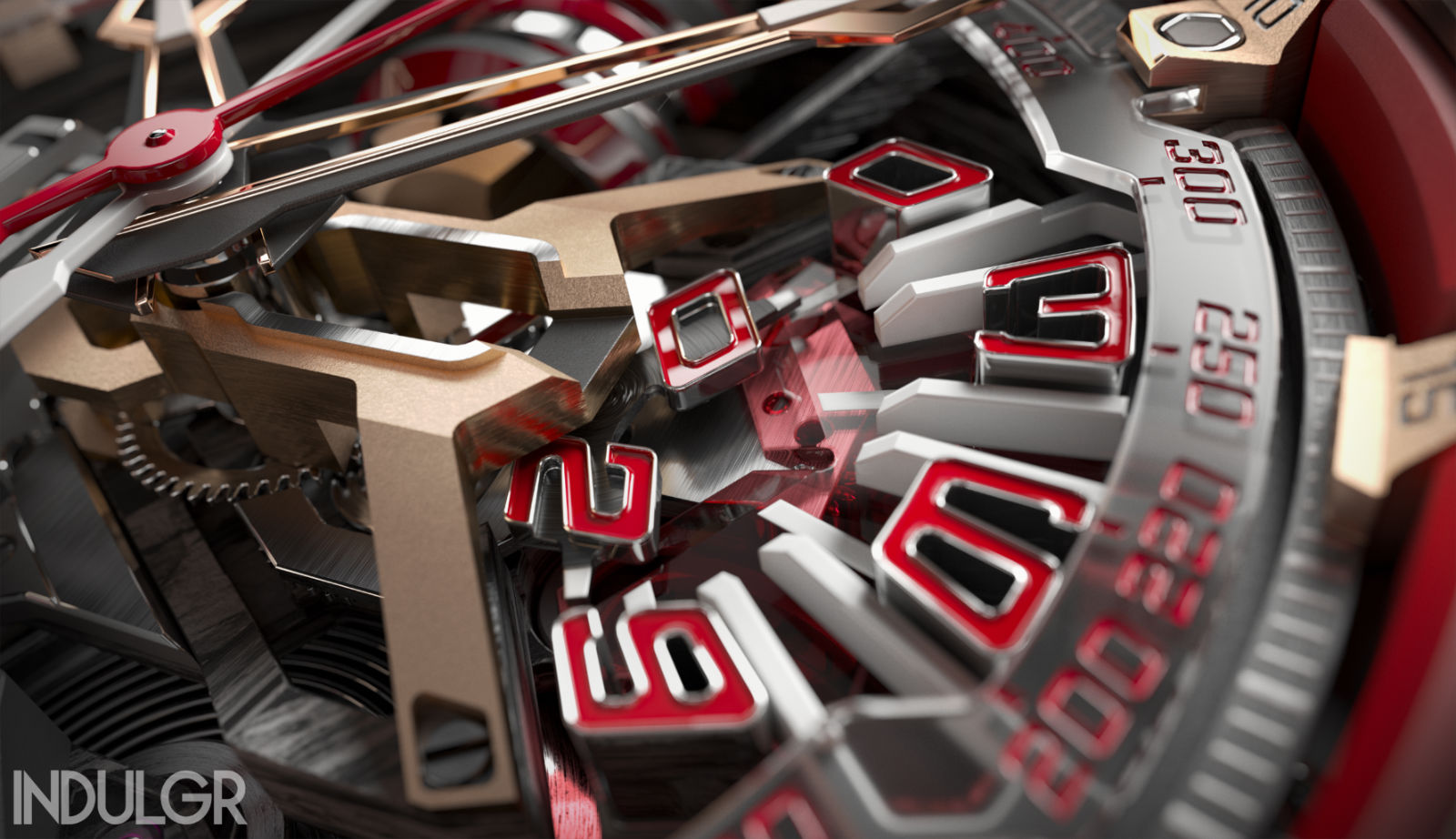 A Future Unveiled
Let's now journey ahead. With the introduction of its new Monovortex™ Split-Seconds Chronograph, Roger Dubuis crafts the future of Hyper Horology™. Designed with seekers of adrenaline and advanced mechanics in mind, the timepiece reveals, in breath-taking detail, some of the finest innovations of the future of watchmaking.
At its heart is the challenge of gravity, a continuous pursuit in Roger Dubuis' horological prowess and quest for performance, and the reintroduction of the Split-Seconds Chronograph, an iconic complication for the Maison.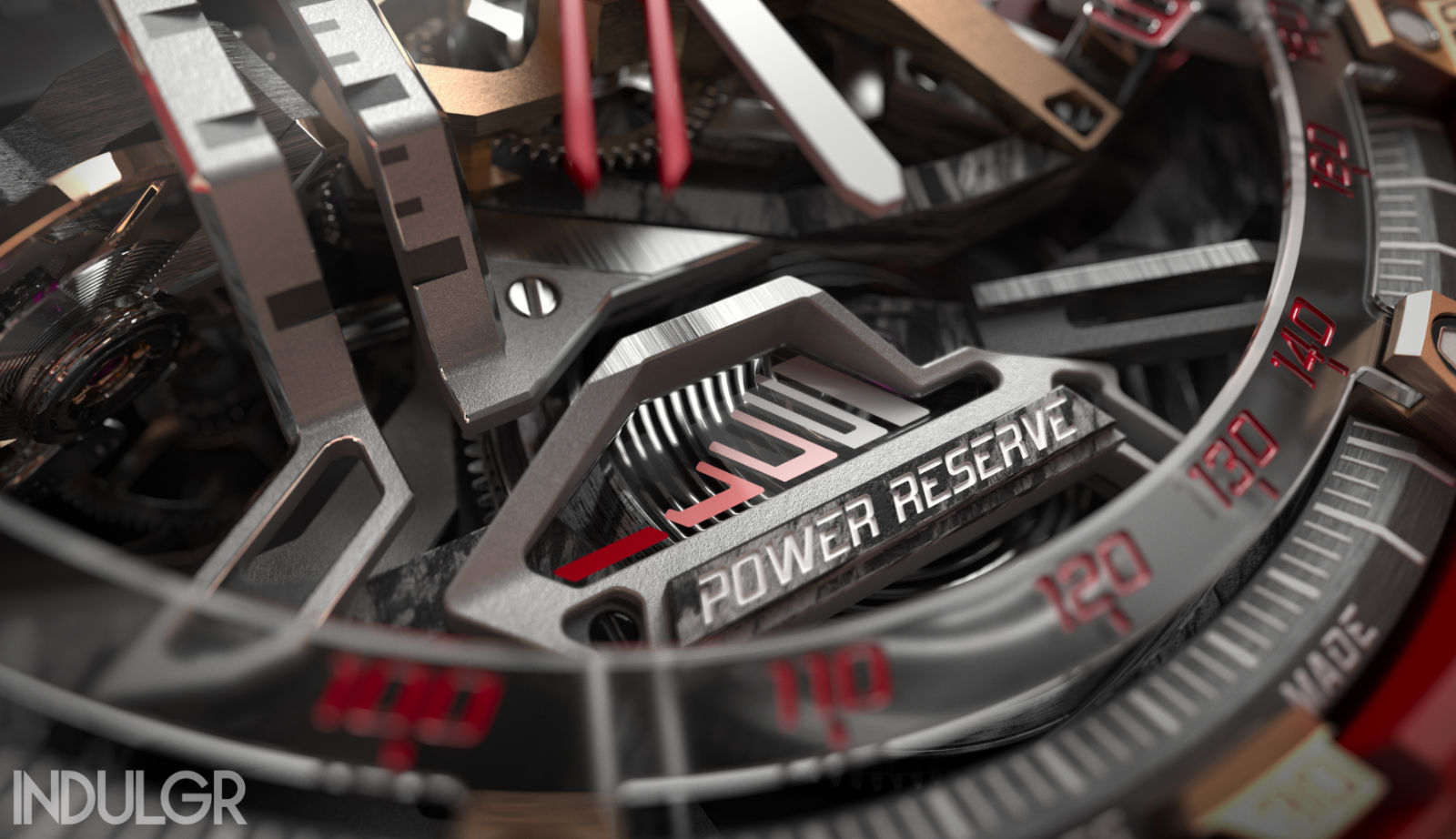 Defying and Harnessing Gravity
Gravity is a force that can disturb precision – but also generate energy. With this pioneering concept watch, Roger Dubuis exploited both effects: it reinvented gravity regulation on one hand – and took full control of its strength on the other.
After years of research and trial, Roger Dubuis' signature complication, the Tourbillon, is now able to defy the complex realm of physics. Already, the Tourbillon is known as one of the greatest challenges in watchmaking. While many traditional Tourbillons compensate for the negative effect of gravity on one specific axis, Roger Dubuis has extended that ability across every surface. Positioned at 9 o'clock, the Conical Monovortex™ Tourbillon has a 360° trajectory, protecting the precision of the watch, no matter the position of the wearer's wrist. An effective reinvention of the watch's regulating heart.
With its own distinctive way of thinking, Roger Dubuis also decided to take full advantage of the positive force that gravity can be. After years of deep research, and more than 8 months of technical optimisation, the Turborotor Cylindrical Oscillating Weight has been born. Sitting at 12 o'clock, this surprising component is positioned vertically, so that the entire force of gravity pushes down on the design like a spinning barrel. This keeps the winding of the watch efficient, as it embraces the power of gravity, and better suits all the natural motions of a wearer's wrist. Without doubt, gravity is mastered like never before.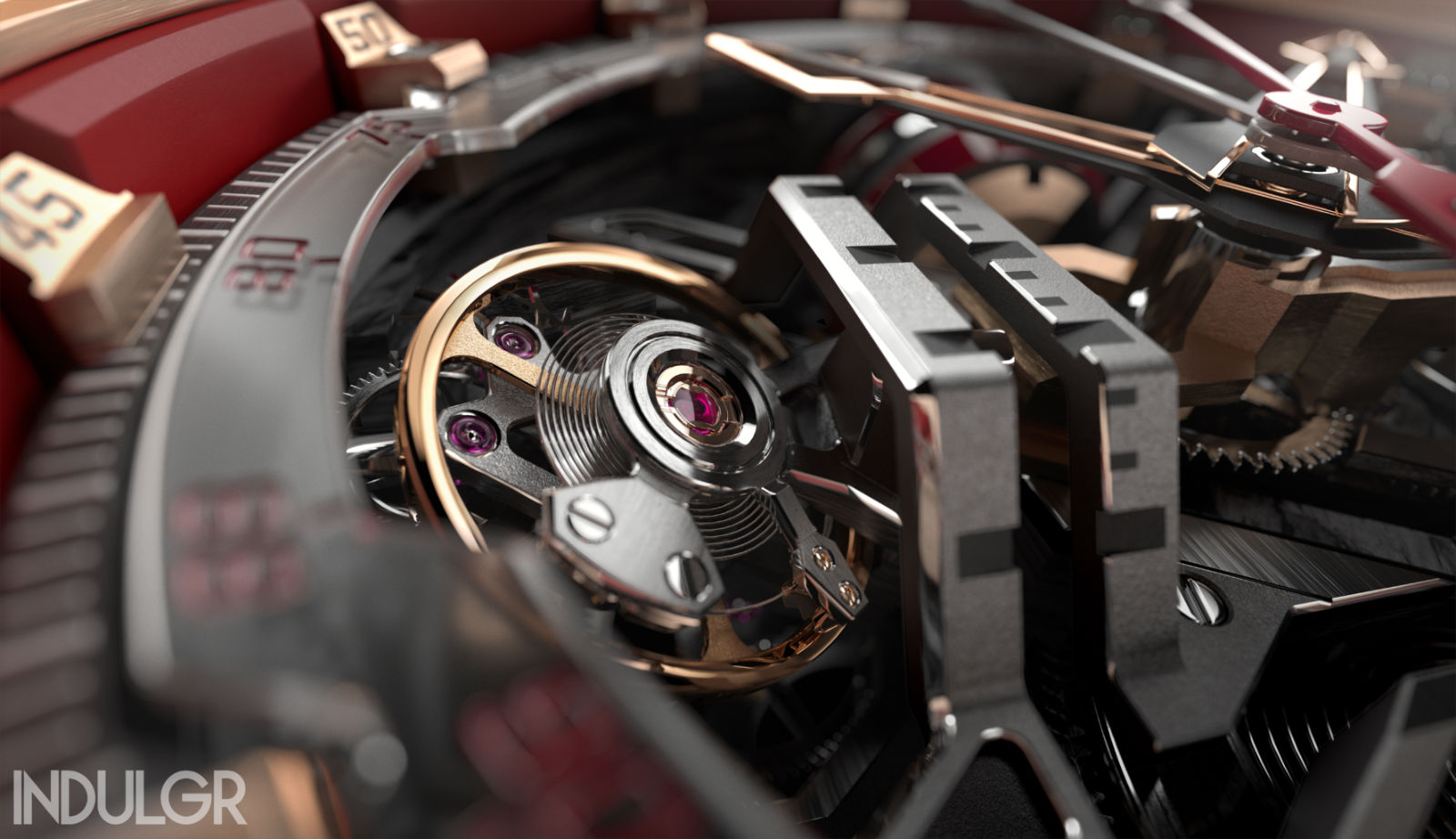 A Split-Seconds Revisited
Powered by the RD114 Calibre, the Monovortex™ Split-Seconds Chronograph also celebrates the comeback of an iconic complication at Roger Dubuis: the Split-Seconds Chronograph. Cleverly constructed with a double column wheel system, it is enhanced with a Rotating Minute Counter, known as the 120° RMC. Playfully styling the movement, the counter is positioned at 3 o'clock and has an unexpected isotoxal shape. It includes a patent-pending display with a tripartite hand that carries the 0, 1 and 2, accurately rotating past the 0-9 digits on the right. Activate the chronograph so you can watch the RMC move in time. Bold, elaborate, innovative.
Look through the caseback, so you can admire the complication: a wink to our living connection with traditional métiers. Our Hyper Horology™ rattrapante was created to time each moment that is lived to the full. A chance to seize Hyper Life.
One final detail is also to be admired on the tachymeter scale: a highlighted 88. A nod to Mr. Roger Dubuis, who held 8 as his lucky number, and whose first calibre ever created in-house was a Chronograph.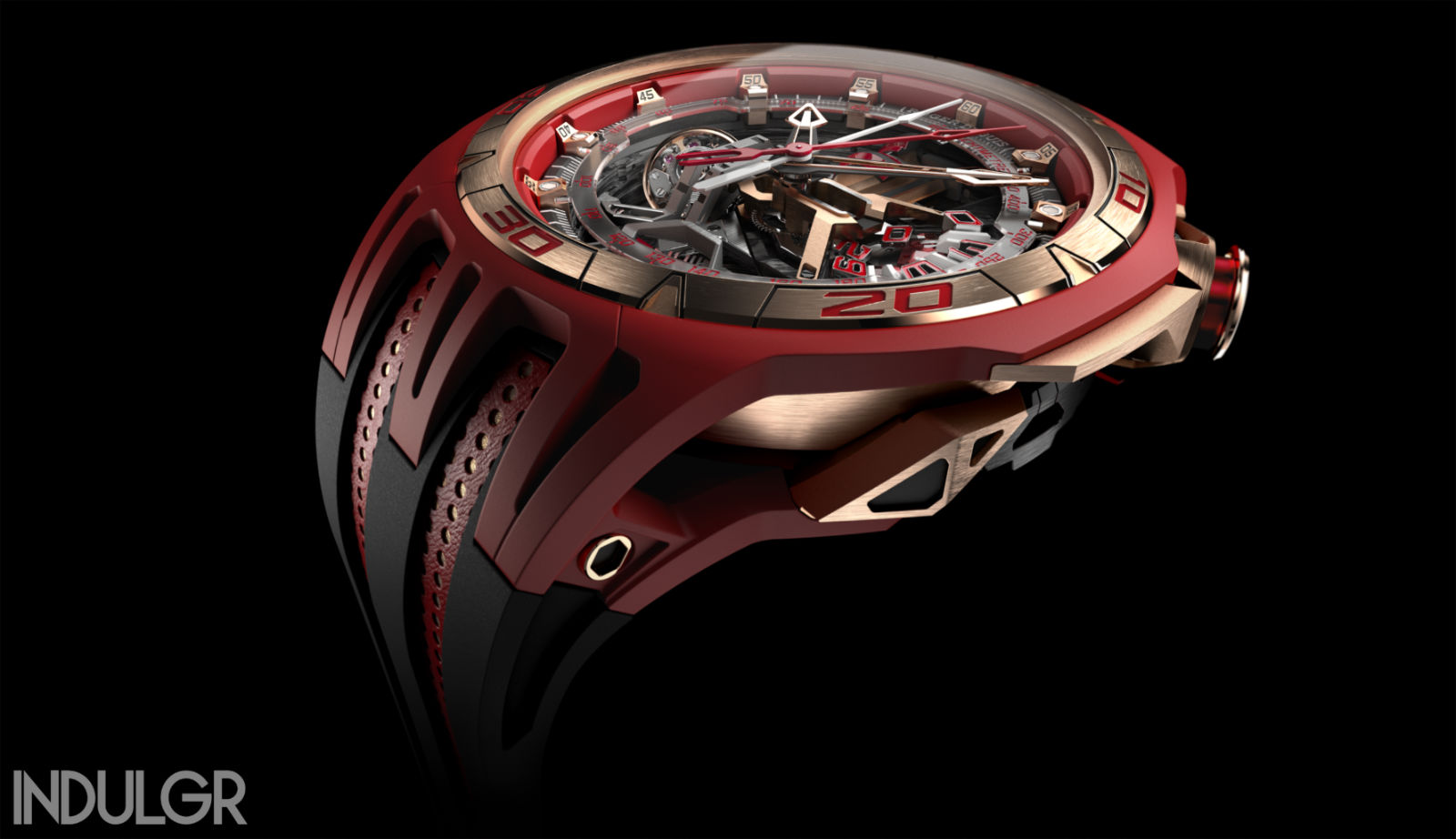 The Mastery Of Materials
Of course, good looks matter too. The spellbinding aesthetics of this watch play with the symmetry of the movement and feature a 47mm casing made of hyper-tech MCF (Mineral Composite Fibre). Exclusively developed by Roger Dubuis, this ingenious material is 2.5 times lighter than ceramic and 13% lighter than carbon. That means more comfort, and a better match for everyday wear. Most dramatically, this lightweight and durable material now makes its debut in red, a difficult rare shade to achieve and one that has taken years to master. As always with Roger Dubuis, there has been no compromise on beauty.
The energetic red colour is matched with pink gold, as well as titanium with black and grey coatings, and accents of carbon. Even the minimalist pushers and winding bail have been discreetly hidden for a cleaner and sleeker look.
In fact, no detail has escaped attention. Worn on a perforated bi-material strap, this thrilling timepiece delivers a wave of unique flair, including a contemporary power reserve indicator with a visible barrel that offers an ingenious optical effect.
Step Into The Future
Sir Isaac Newton may have discovered gravity's game, but Roger Dubuis has turned it upside down. We are now looking forward in time. To a place where Hyper Horology™ has changed the rules of possibility. More than a concept. This is a representation of everything the Maison has done, can do, and will do.
Discover the Monovortex™ Split-Seconds Chronograph at Watches and Wonders 2023. It will be housed inside the Maison's Hyper Life Factory, a unique place that will immerse every visitor in the excessive world of Hyper Horology™. Drop by and let the power of gravity draw you inside.
ABOUT ROGER DUBUIS
The rush of adrenalin, a pounding heart, the sure and certain knowledge that something is about to happen: ENTER THE FUTURE OF HYPER HOROLOGY™.
Impertinent, excessive and slightly mad, this is Roger Dubuis. Solidly sustained by an integrated Manufacture, an innovative spirit, and a flagrant disregard for convention, this is what Roger Dubuis is all about! Laugh, scream, roar, and above all, create… for an exclusive tribe that believes in the philosophy of living larger than life at every turn. Inspired by other cutting-edge industries and out-of-the-box designs to prove, time and time again, that Roger Dubuis is unquestionably the most exciting way to experience Hyper Horology™.
NO RULES, OUR GAME