Our first entry into the Smoke & Barrel section of INDULGR comes to expand on the idea of what's to be included into the category of our coverage. As many have assumed, Smoke & Barrel could easily contain the coverage of smoking tobacco, fine spirits, wine, and the respective cultures surrounding them. If you guessed that, you guessed right. However, it shall also include sporting guns like the ones we're featuring here from Holland & Holland, and yet still more.
They are the premier makers of finely crafted sporting guns that hail from London England. An attached shooting grounds and gunroom is on site just outside of their London based factory. They also feature these exquisite masterpieces at their gunroom and shooting grounds located in Dallas, Texas, USA.
Bespoke Gunsmiths
"Holland & Holland is the very hallmark of fine British gunmaking and shooting. We represent the benchmark for exceptional craftsmanship and service, defining the quality standard that others aspire to. Our London gunsmiths, craft the world's finest and most comprehensive range of handcrafted shotguns and rifles all under one roof in our dedicated factory.
Our sporting shotguns and rifles have set the standard for generations and are admired the world over. Time-honoured gunmaking skills and state-of-the-art machinery combine effortlessly to instil quality and artistry into every shotgun and rifle produced. For many owners these are not just guns; they are works of art."
For the uninitiated, let's play "catch-up" with Holland & Holland, as the 2023 year has proven to include some exciting additions to the gunroom, along with new traditions taking hold at the shooting grounds that we're excited to keep you apprised of.
Deluxe 'Royal' Double Rifle
Firstly, let's dive into the beautiful piece that graces the lead image of this entry. "This Deluxe 'Royal' Double Rifle is a true work of art, yet a formidable companion for dangerous game. Behold an exceptional representation of the genre, featuring a sublime, deep-relief acanthus scroll, and superbly detailed African game scenes by the legendary, master engraver Phil Coggan. Chambered in .470 Nitro Express, this hard-hitting 'Royal' Double Rifle affords all the stopping power needed for your next adventure."
This rifle is available for immediate delivery, which presents a rare opportunity to own such a prestigious rifle, without the wait. Viewings are available at their London Gunroom.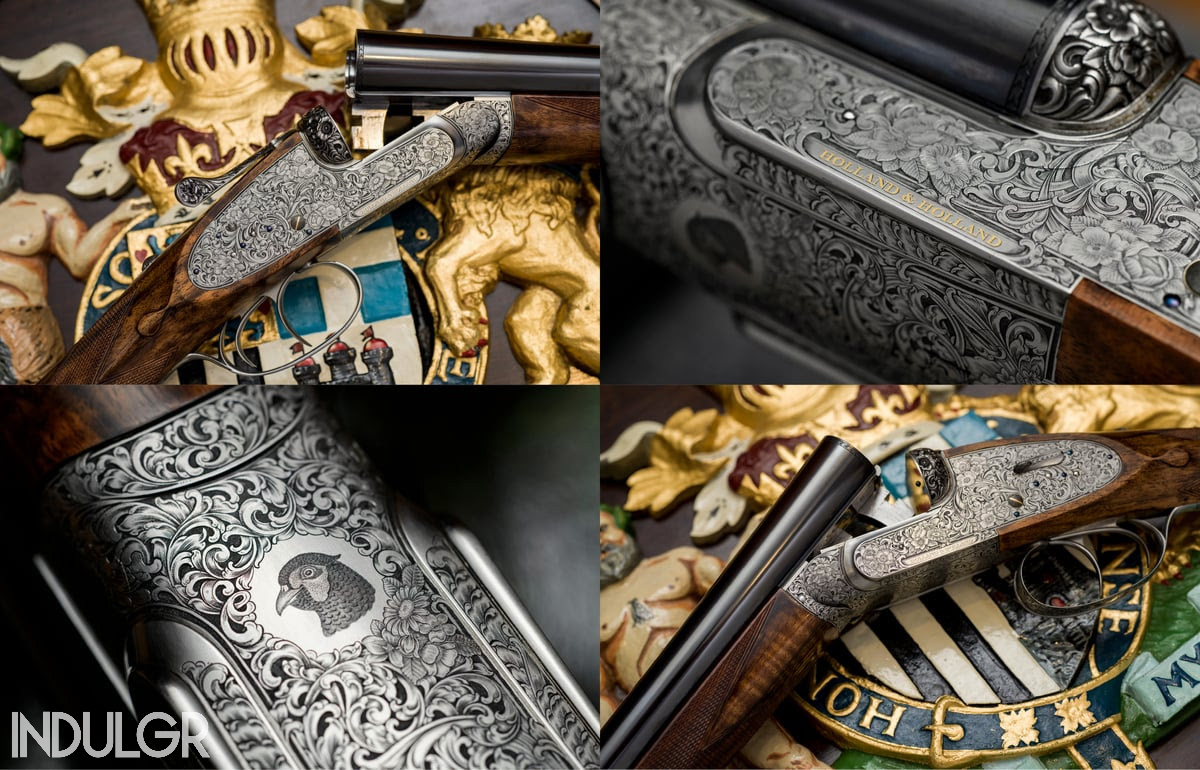 The Duke of Edinburgh Memorial Challenge
Recently auctioned in May as part of a charity auction, the craftsmen created a masterfully sculpted side-by-side to benefit The Duke of Edinburgh Memorial Challenge. The auction was in partnership with the Game and Wildlife Conservation Trust.
"Holland & Holland have donated a 'Royal' Deluxe Side by Side shotgun for a charity auction in partnership with the Game and Wildlife Conservation Trust, benefiting The Duke of Edinburgh Memorial Challenge. The gun's unique engraving pattern by Philip Coggan, Master Engraver includes 20 wildflowers and game motifs, with hand-carved ball fences. The traditional game rib has gold inlay engraving to commemorate the event, making it a collector's item. Presented in a lightweight leather case, the highest bidder will also enjoy a complimentary gun fitting."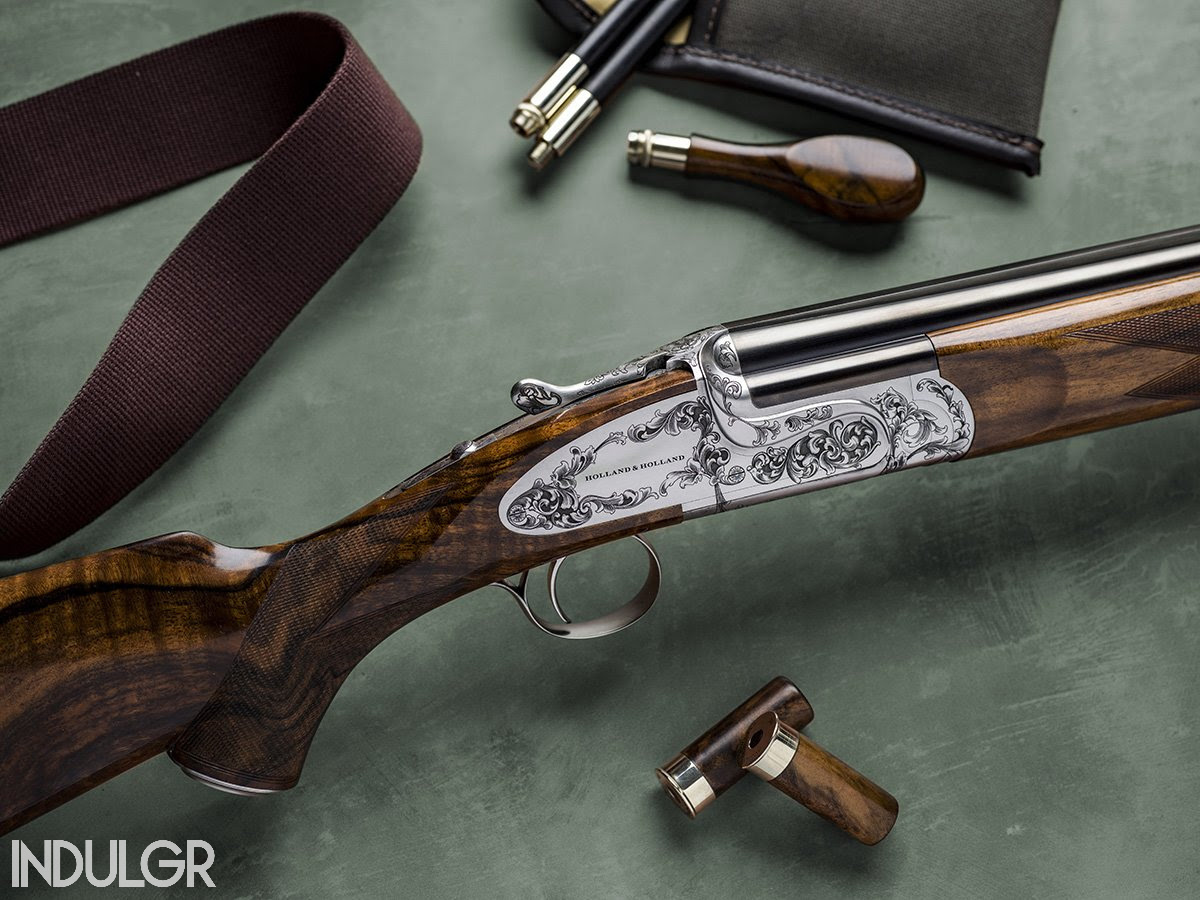 The 'Noble' Over & Under
A modern shotgun, steeped in tradition. The classic Holland & Holland fit-n-finish and durability are nothing new here, but several bits of the mechanical technology are. Also, the freedom for each individual to design a bespoke experience that fits your shooting style.
"Introducing the 'Noble' range of over & under shotguns, where traditional London gunmaking meets cutting-edge technology, resulting in a firearm that embodies versatility, innovation, and exceptional performance."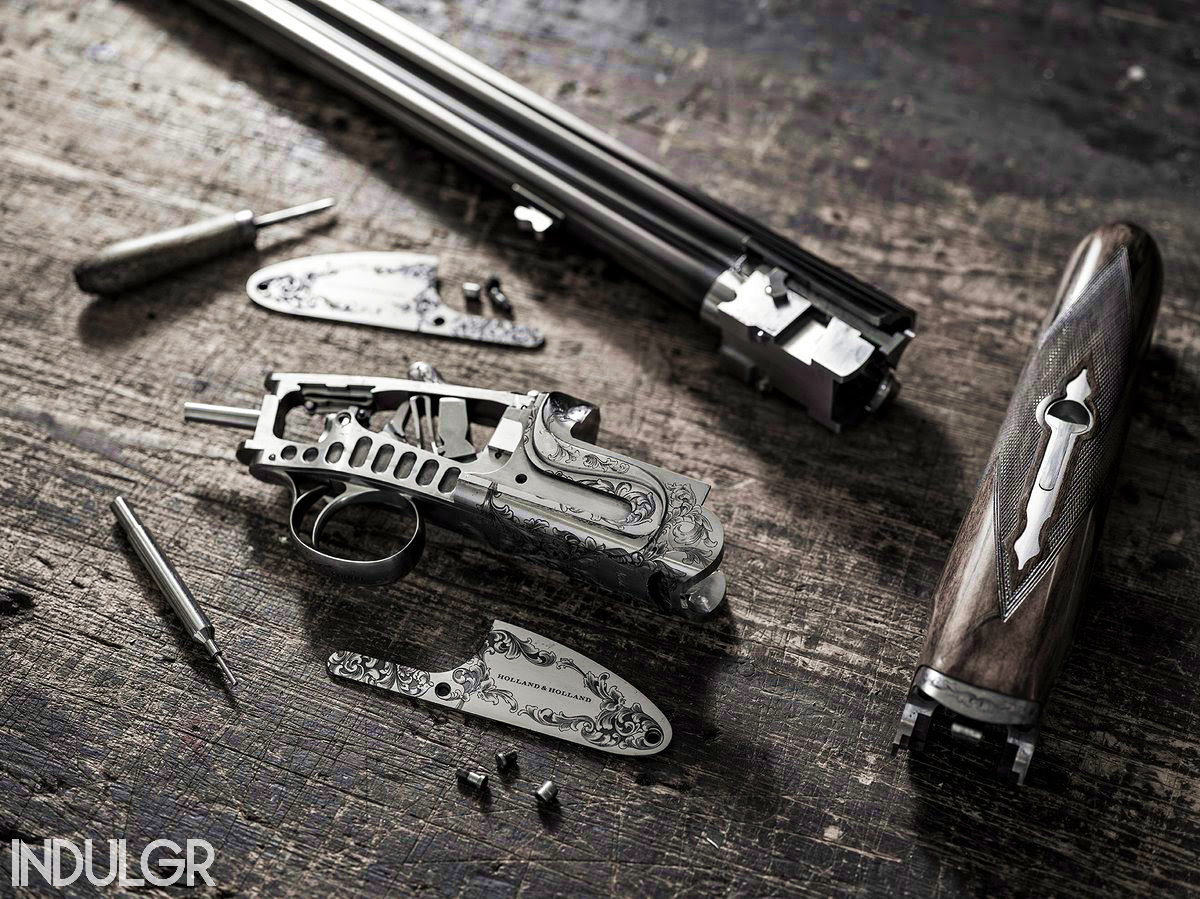 "Manufactured and hand-finished in our esteemed London factory, the 'Noble' is built on a durable v-spring trigger plate action and is configurable with a variety of stock shapes and rib profiles. As a result, you have the freedom to design a shotgun that perfectly aligns with your exact requirements and style of shooting, warranting an unparalleled shooting experience."
Viewings are available at their London Gunroom.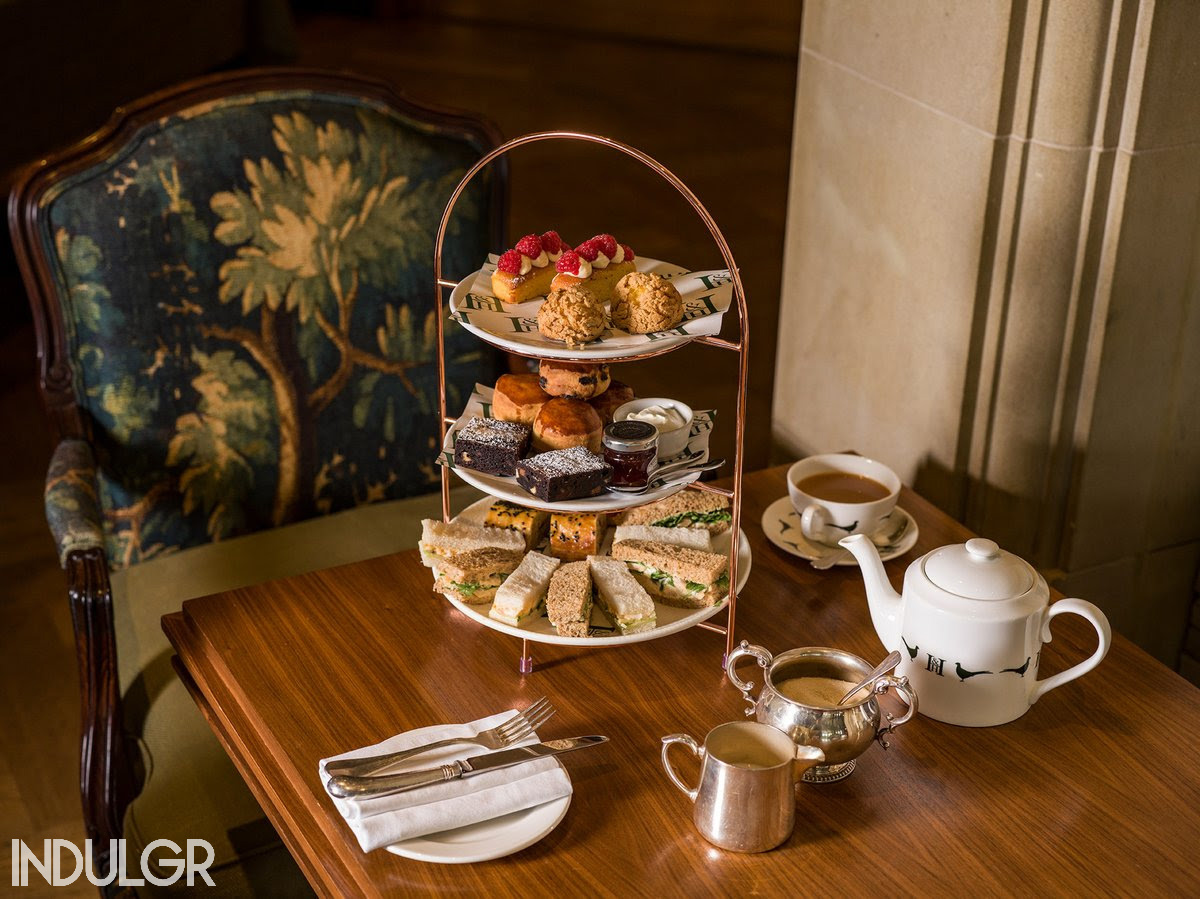 Afternoon Tea
Between now and September 2nd, 2023 you will be able to join the fun at The Shooting Grounds for 'Afternoon Tea'. This quintessentially British tradition is available Tuesday's through to Saturday's, 13.30-16.00, from £30 per person. Or perhaps they can tempt you to join them for one of our BBQ's in August.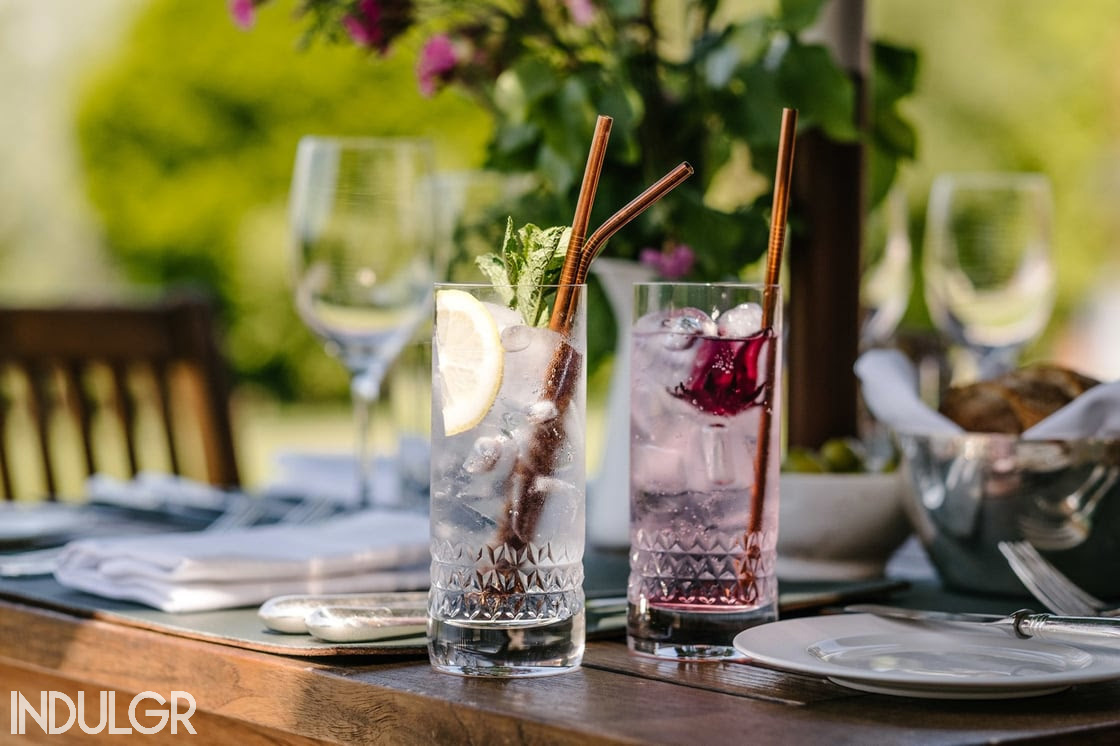 August BBQ Extravaganza
Every Friday throughout the month of August, you will have the opportunity to relax on their terrace as their talented restaurant team showcase their culinary prowess on the popular Big Green Egg.
"We will be hosting a BBQ every Friday evening throughout August, so do come along and enjoy the team's exceptional culinary skills on the big green egg while soaking up the spectacular surroundings of the Holland & Holland shooting grounds."
"Each week we will be offering a different menu concept for you to enjoy, from succulent beef burgers with smoked onion mayonnaise to a Mediterranean-style grill. Take your pick from buckets of beers, pitchers of cocktails, Pimms, or wine to accompany your al fresco dining experience."
What better way to kick off the weekend than by joining factory staff at their relaxed and picturesque terrace overlooking the stunning grounds?
Here are the details you need to plan your visit:
BBQ menu: £25 per person (food only)
Dining 17:30 – 20:00 (for food orders)
Prior to the evening's dining experience, you have the opportunity to reserve a late afternoon shooting slot. The experienced Holland & Holland instructors will guide you through the experience, catering to novices, pros, and everyone in between.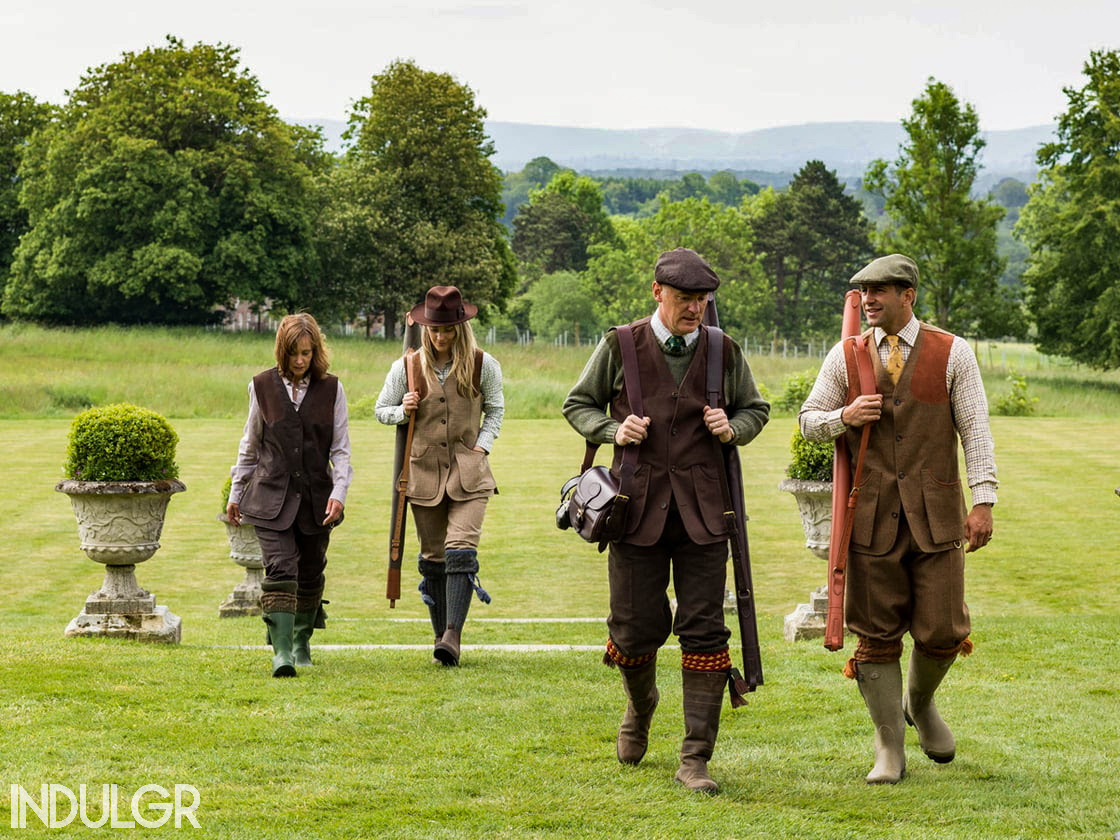 A Grand Debut
The highly anticipated all-new Holland & Holland Clothing and Accessories Collection made its debut during the weekend The Game Fair. From outerwear and smart-casual clothing through to silverware and gifts, each and every piece in this collection beautifully captures the timeless elegance and exceptional performance that embodies the renowned Holland & Holland name, and we can't wait to share it with you.
"Crafted with the highest passion and attention to detail, we've curated a range that embodies the spirit of our heritage, while delivering the perfect blend of timeless elegance and performance in the field. The full collection will be available on the new web store."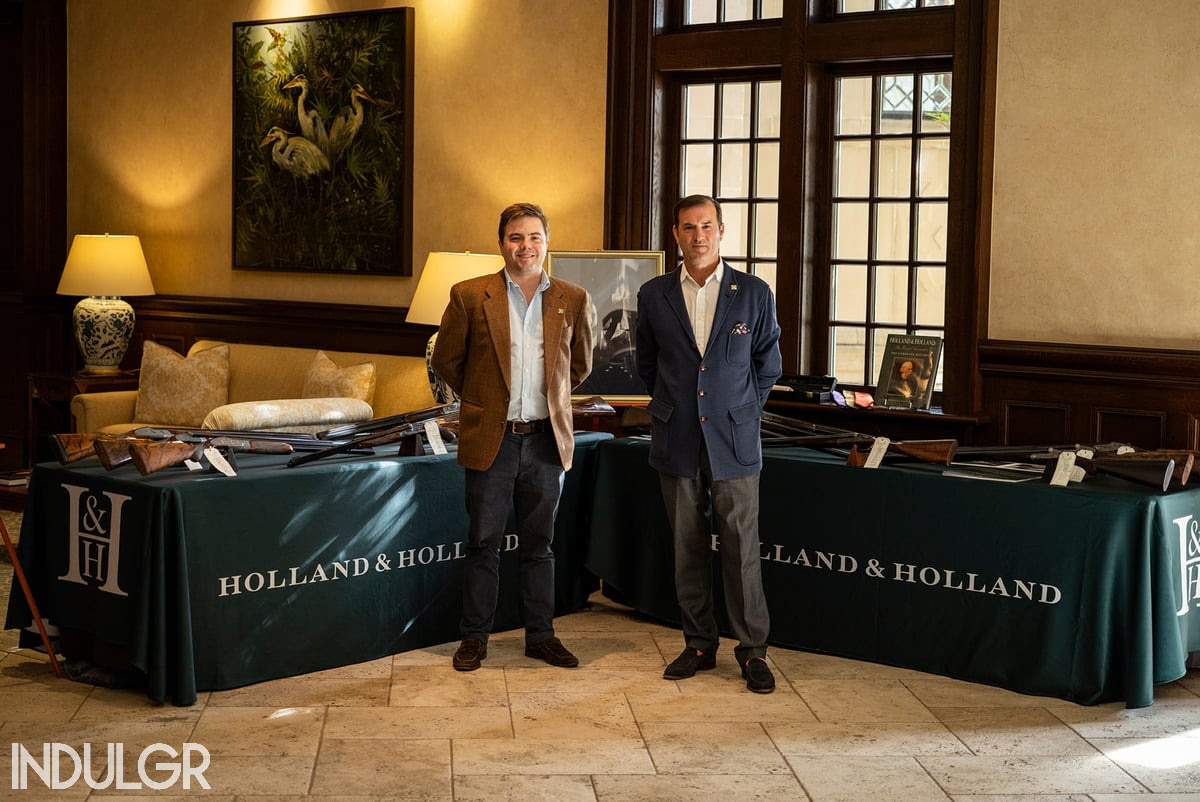 Dallas Sporting Classic
Earlier this year they were proud sponsors of the Dallas Sporting Classic charity event. Which took place at the Dallas Country Club, and Dallas Hunting and Fishing Club.
"We were proud to support the inaugural Dallas Sporting Classic, a charity sporting clay event hosted over two days and two premier Dallas venues. Raising money in aid of Buckner International. The event was joyous celebration of fieldsports amongst an exceptional gathering of enthusiasts. Over the two days, our team presented a comprehensive range of Holland & Holland shotguns and rifles for sale and admiration. Competitors completing the 80 bird course were whittled down to 10 finalists, who were entered into a 'Shootout'. Two of which were shooting with Holland & Holland 'Sporting' Model Shotguns, including our very own Guy Davies, who went on to claim the 'High Gun Overall' prize."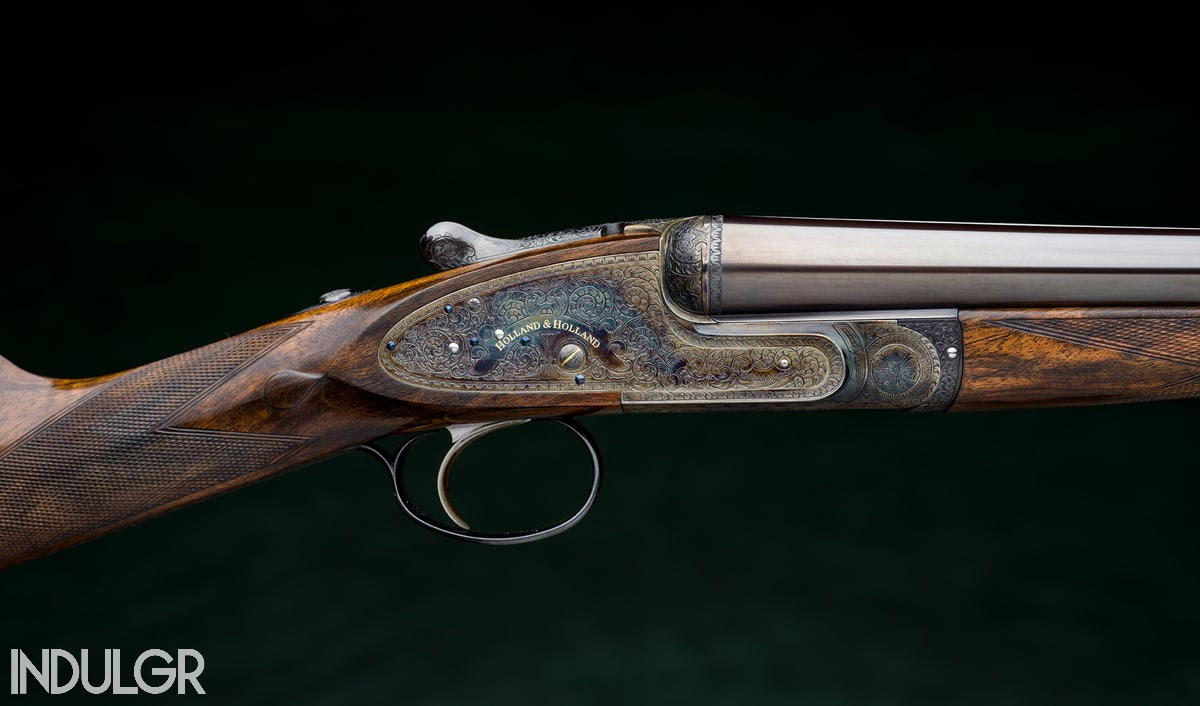 ---