We continue our stop-by-stop tour through what we believe to be the highlights of the Audio Advice LIVE '23 show. Reminding you that this is only a glimpse of the best that high-end home audio and high-end home theater have to offer—each at varying strata of the lifestyle. Here are the debuts (of which there are several) and exhibitions that we found most interesting throughout our second day of coverage for the three-day-long event.
Do stay tuned-in, as our daily coverage continues to roll out chronologically over the coming days, and as linked below for quick access.
Audio Advice LIVE '23 | DAY TWO
---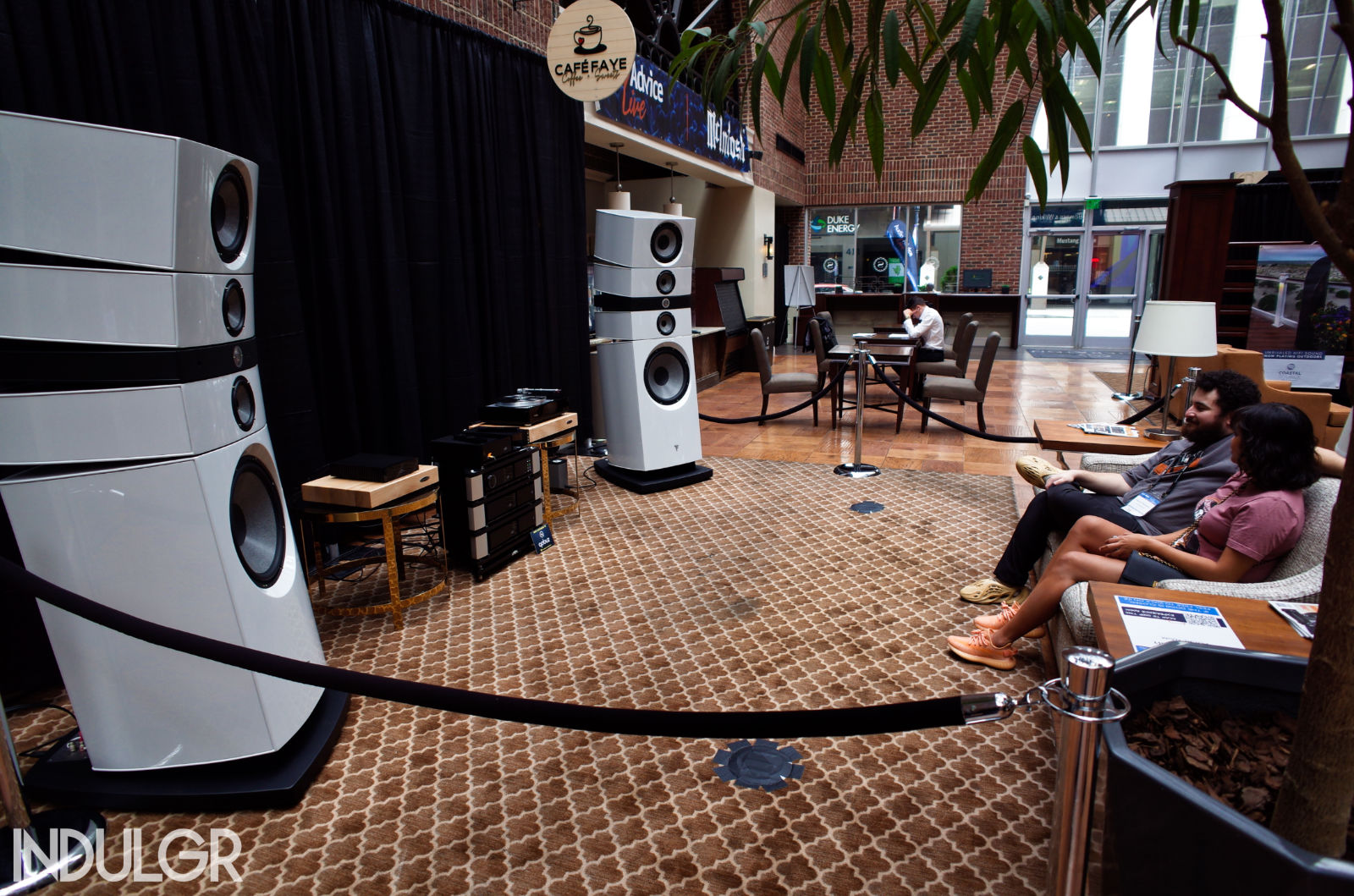 FOCAL + NAIM + Thorens
Attendees, press, and even passersby were taken by surprise when they found themselves in the Sheraton hotel lobby confronting both the scale of sight and sound produced by the FOCAL Grande Utopia EM Evo ($280k pair USD) floor-standing loudspeakers, each gorgeously adorned in a stunning Carrara White multi-layer gloss finish. It's been said, the people aren't ready.
The Grande Utopia EM Evo are part of the Utopia III series where all of FOCAL's latest and best technologies are first released to the world. Including the aforementioned Grande Utopia EM Evo's latest innovations: the NIC (Neutral Inductance Circuit) and the TMD suspension. New to the 'EM Evo are more improvements in midrange distortion and cabinet resonance control. Too many areas of total improvement and refinement to list here, but they're there, and they're apparent in the listening.
Nestled between the towering behemoths of musical slam, a sleek and modern stack-o-rack of NAIM 300 Series separates starting with the NSS 333 ($11k USD): a high-resolution streaming solution that can handle the highest-quality file formats for UPnP™ devices and streaming services. The NSS 333's integrated DAC also improves the performance of other devices in the system, with a universal control across the entire Naim range, all from the Focal-Naim app.
From there, the NAC 332 ($11k USD) becomes the "analogue centre" of the system, delivering the low level signal to your amplifier and loudspeakers. It's billed as Naim's most versatile preamplifier to date, allowing you to connect headphones as well as the NVC TT ($3,700 USD) phono preamplifier—also on active display in the system, at the left flank—for vinyl playback of the most exposing nature. Think deep-groove-diving. Diving into those grooves, a Thorens TD 1601 turntable. Taking its marching orders from the NAC 332 preamp and NVC TT phono preamp, a pair of NAP 350 ($8,500 USD) monoblock amplifiers to meet the power needs of the Grande Utopia EM Evo loudspeakers.
www.focal.com
www.naimaudio.com
www.thorens.com

---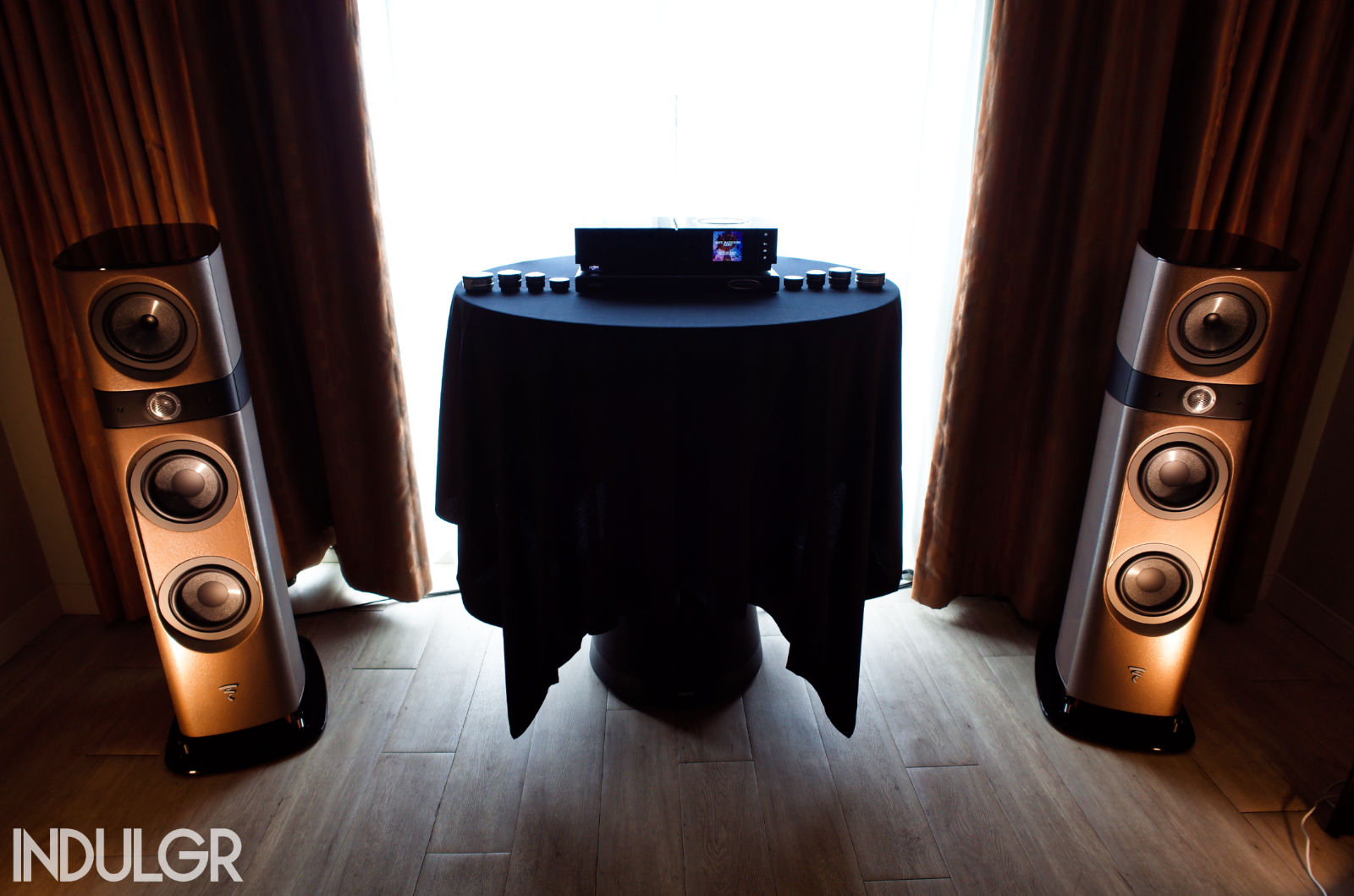 FOCAL + NAIM + IsoAcoustics
What caught our attention about this interesting pair of FOCAL Sopra N°2 ($22k pair USD) loudspeakers was the unique limited-edition "brown concrete" finish. Focal introduced two new finishes to its Sopra N°2 speakers back in January of this year: Black Ostrea and Brown Concrete. The metallic bronze front panel and its chocolate-colored, concrete-look sides, the Brown Concrete finish seems like it would be easy to work into any architecture. The "Brown Concrete" finish is a work of art in itself.
The Sopra N°2 floorstanding loudspeaker is already an attention getter in its readily available six non-limited-edition finishes. Sopra in Italian means "above" or "over," and the French speaker maker Focal certainly went above and beyond with the Sopra N°2. Equipped with the best midrange drivers ever developed by Focal, the Sopra N°2 pushes the limits of reproduction in terms of transparency and scale from compact enclosure design. Its sound is marketed as "fleshy" and I tend to agree with that descriptor. Detailed with articulated bass, overall driver coherence, and tonal richness are present.
In the active system, a NAIM Uniti Nova ($6,900 USD) all-in-one was running the program material through streaming. Firing up the classic Dave Matthews stream on Qobuz, Under The Table And Dreaming the recordings felt fresh, lively, and imbued with uncommon levels of insight. Something that I think all FOCAL products tend to excel at. Which may be something I expand on further in this week's coverage. Wink, wink, nudge, nudge.
www.focal.com
www.naimaudio.com
www.isoacoustics.com

---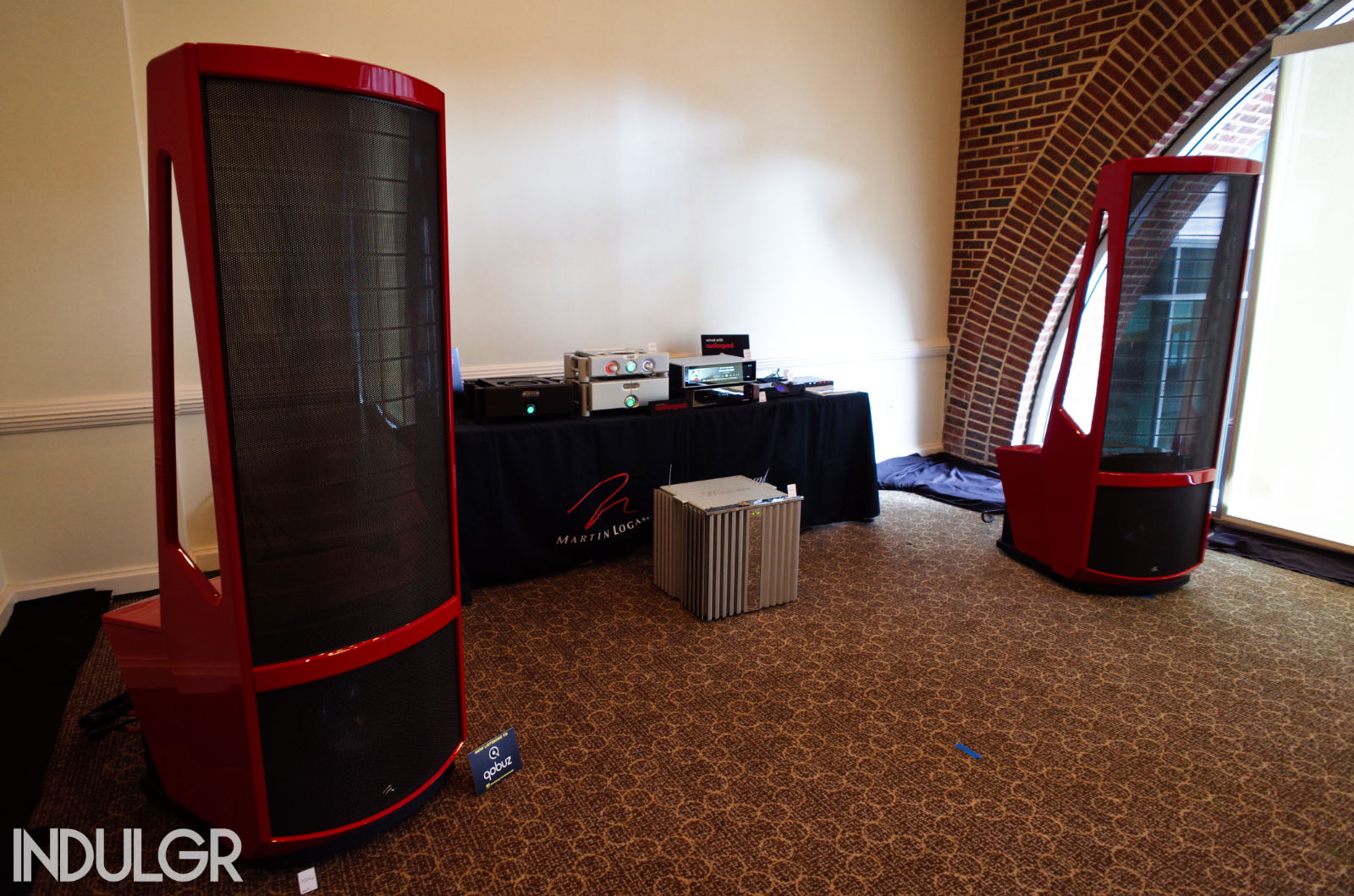 MartinLogan + Chord Electronics + Burmester Audiosysteme GmbH + AudioQuest
The MartinLogan Neolith ESL ($120k pair USD) were launched some time ago. Possibly over a decade if I'm going strictly on memory alone. They've likely seen several refinements in both shadow and light. They've also endured.
What's different about this year's Audio Advice LIVE experience as it concerns the Neolith and the accompanying electronics, is that this experience was wholistically, from tip-to-toe, filled like an eclair, with unconstrained dynamics and clear presence of sound. Chord Electronics do more than a lot of things right, and what hasn't been said about large Burmester amplifiers that also hasn't been said about Jesus. And as far as AudioQuest goes, they do no harm—which itself is a noteworthy and challenging pursuit if one is to partake in high-fidelity transmission of low-level and high-current signals.
Applause and praise is mandatory across the board here. This is what we call "chance synergy." No one expected it, and we've now heard something completely new and different from the beautiful and ever so enduring MartinLogan Neolith ESL loudspeakers. Bravo! 
www.martinlogan.com
www.chordelectronics.co.uk
www.burmester.de
www.audioquest.com

---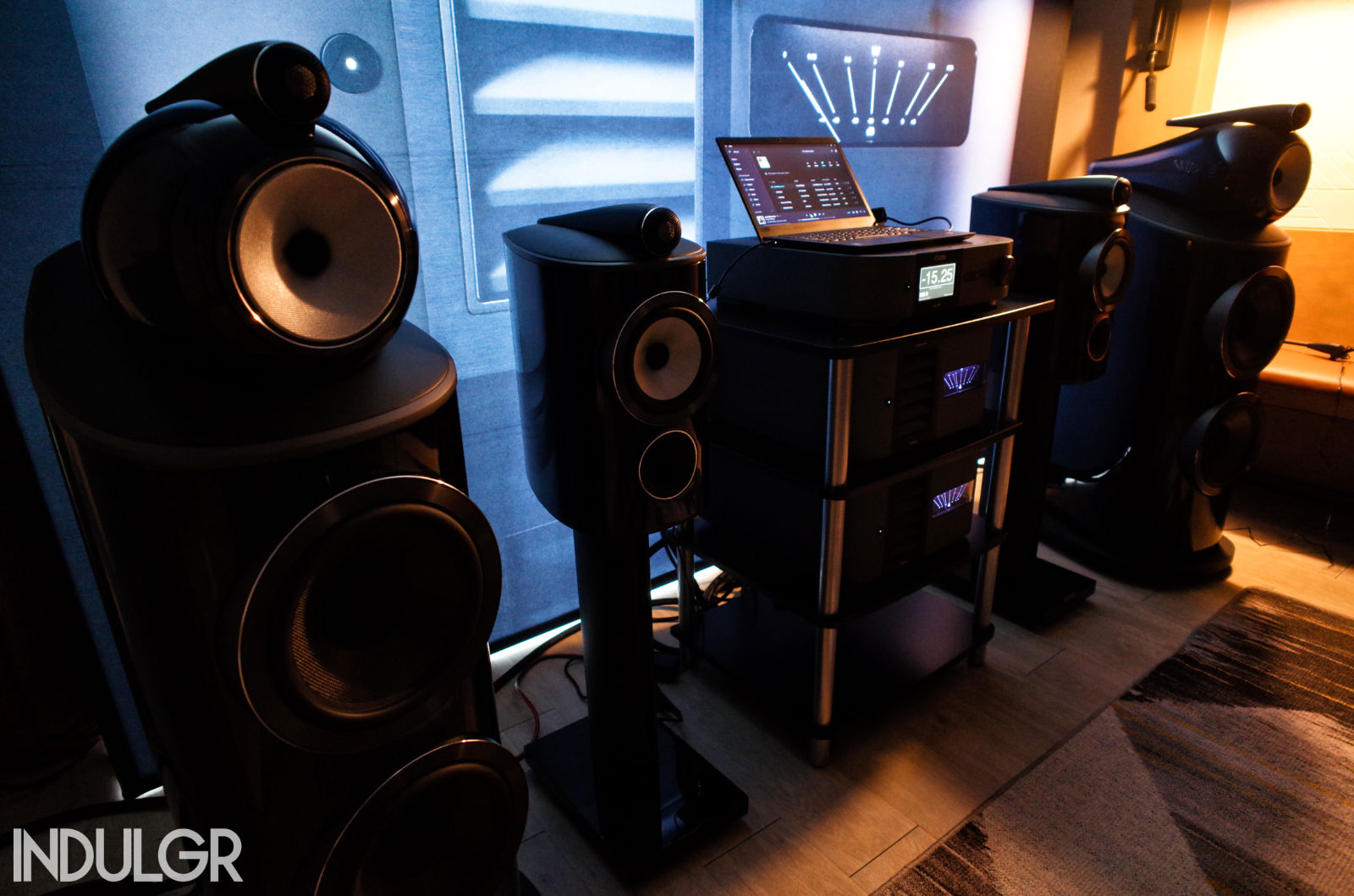 Bowers & Wilkins + Classé
The goal of the two new 800 Series Signature models, was to meticulously evolve the 800 Series technology, carefully refine the craft of the design, and offer unique finishes that reflect this pinnacle of sonic performance. The 800 Series Signature models build on the foundations of their most advanced range of loudspeakers.
For instance, in the larger 801 D4 Signature ($50k pair USD): the tweeter housing has been opened up for even less smearing and interference in what was already a class-leading design in terms of abating both smearing and interference. More mounting points on the midrange and woofers for better damping and cabinet decoupling. A newly refined motor-structure for both midrange and woofer. More aluminum structures everywhere! Under the Connolly English leather adorned top plate—you guessed it—more damping. And yet! More aluminum underneath as well in the form of a newly redesigned all-aluminum low turbulence bass-flow-port. Which itself adds to the mass and stiffness of the cabinet structure. Hold your applause till the end please. And now… drumroll… a refined crossover design. Sheesh! 
Powering the whole affair, a more than capable stack Classé of electronics.
Okay, so there really is a lot going on with the two new Signature Series models. So much so, I'm surprised that the price difference over the standard models is not as reflective of the work put into the upgrades. Furthermore, these upgrades are easily discernible—even in an audio show setting.
www.bowerswilkins.com
www.classeaudio.com

---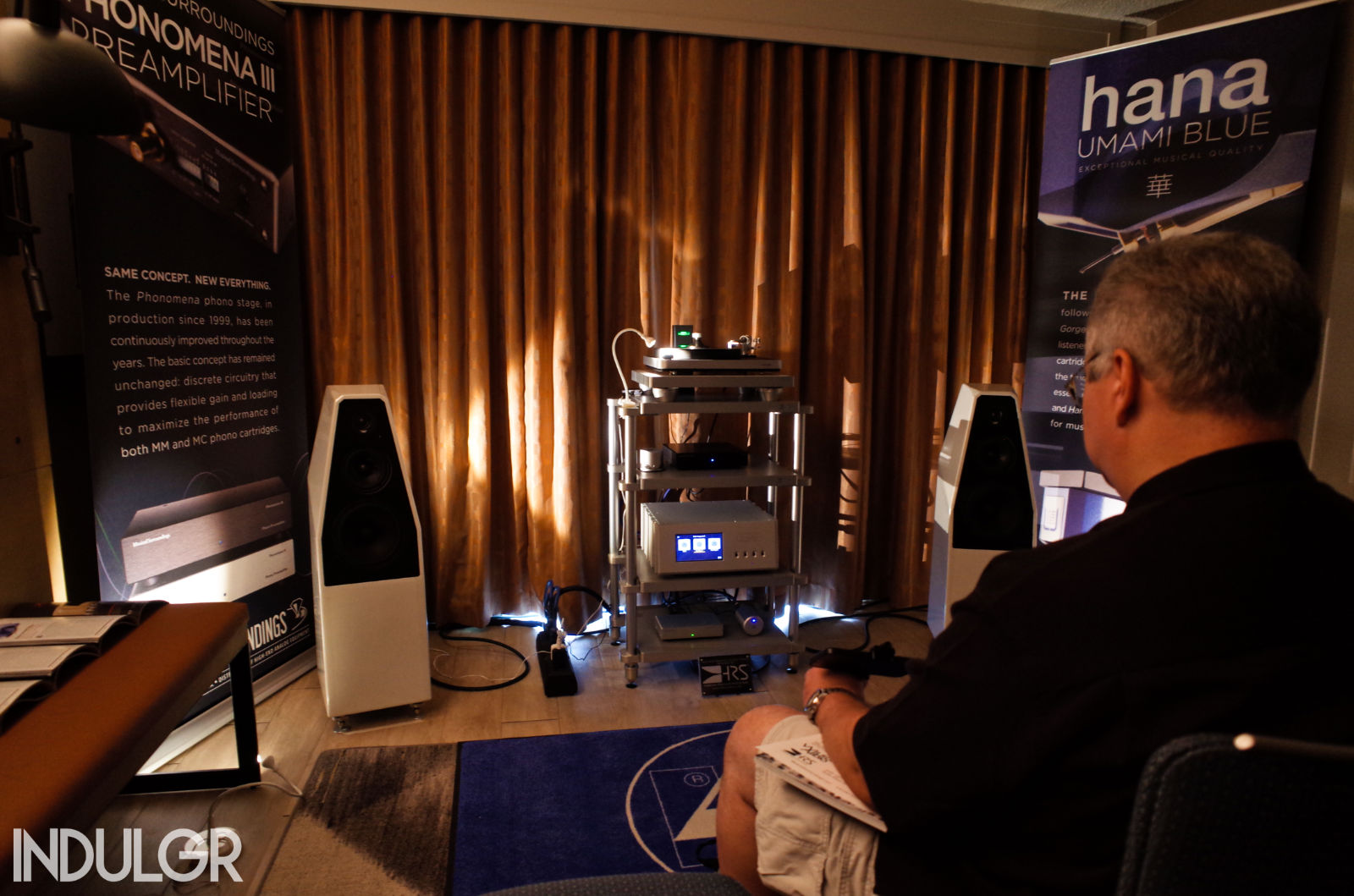 Clearaudio + Wilson Audio + Boulder + Hana + HRS + Musical Surroundings
Let's talk about what is in this system: a Clearaudio Concept AIR ($2,800 USD) turntable outfitted with the Hana Umami Blue ($2,500 USD) cartridge from Japan, handing off to a Musical Surroundings Nova III ($1,500 USD) phonostage, on to a Boulder 866 ($15,500) integrated amplifier, and then finally through the Wilson Audio Sabrina X ($20,700 pair USD) loudspeakers. Support in the form of audio-rack, comes from the HRS EXR-1921-4V ($7,800 USD) audio stand system.
Both the Hana Umami Blue and Clearaudio Concept AIR are being shown for the first time here at Audio Advice LIVE 2023, despite both being available to the market as recently as earlier this year for the Umami Blue cartridge, and last year for the Concept AIR turntable.
If you noticed something about the list of components and prices in the first paragraph of this section, there's a bit of a strange distribution method in terms of price at the front end as it concerns the back end. For instance the audio rack the turntable is sitting on is more costly than all of the analog components it's holding. The integrated amplifier itself is twice the cost of the audio rack. The speakers are twice the cost of the integrated amplifier.
Generally when something like this happens, bottlenecks are created. However, in this creatively assembled exhibit system, the more affordable products (namely the analog chain) not only didn't do themselves wrong here with the associated high-end and pricier gear, they rather built-up a balanced sound that was outright impressive regardless of the price imbalance. Boulder sounded like Boulder, and Wilson Audio sounded like Wilson Audio. This is a testament to the tangible strengths of Musical Surroundings' stable of 'dreamware' products.
www.musicalsurroundings.com
www.wilsonaudio.com
www.boulderamp.com

---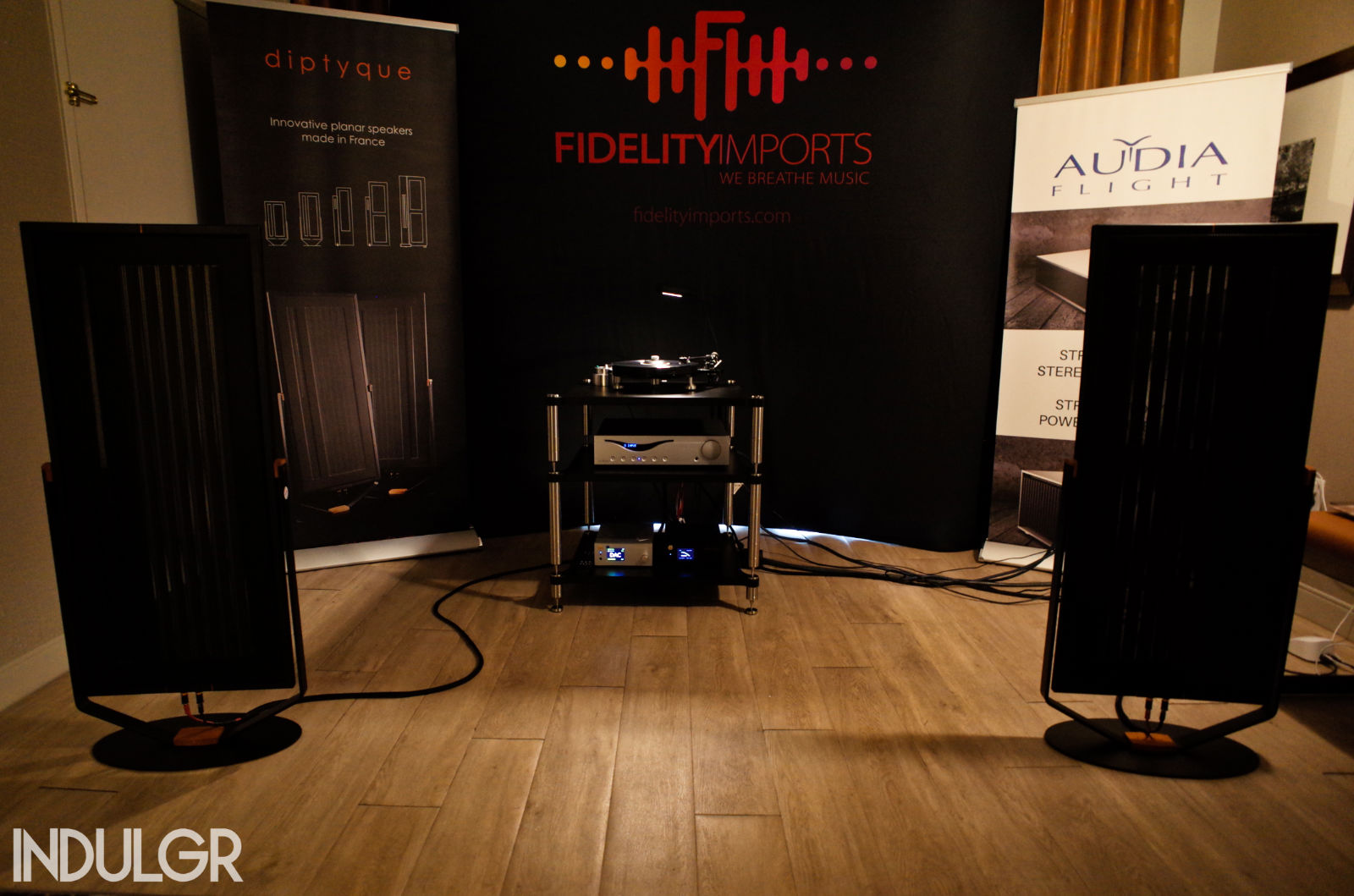 Diptyque + Audia Flight + Michell + Goldring + Gold Note + Fidelity Imports
I've been gathering several data-points on Diptyque loudspeakers throughout their recent introduction into the US market via new dealers and the audio show circuit. I've not reviewed a pair, nor have I experienced them in a dealer setting. That leaves only the audio shows, which are an assemblage of hotel rooms turned "listening rooms" in the span of twenty-four hours or less. Hence the gathering of several data-points. Or in this case, waiting for that one experience that brings it all together.
This is it! The list of the electronics and sources are well known entities that respect I for their undoubted audiophile sound and build quality. And I've experienced most of them before. What's happening here is the Diptyque DP107 ($8k pair USD) panel speakers have been given the proper room to breathe. The first rule of 'audiophile-club' is: loudspeakers play the room.
And in the case of most panel speakers, they need a proper room to develop a proper sound. The Diptyque DP107 delivers a sound that is romantically lush and rich, with a level of dynamic efficiency seldom seen in panel loudspeakers. Which is a welcomed departure from what some brands in the panel speaker game at this price point have painfully thrust upon the marketspace for several ongoing decades. You know who I'm talking about.
As for the Audia Flight Three S ($4k USD) integrated amplifier that's pushing these Diptyque speakers. It's entirely made in Italy, and represents twenty-five years of knowledge and research that's been distilled into the Three S series of electronics it comes from. Optional DAC and phono cards are available. Otherwise, it's all analog connections. Personally, I hold Audia Flight the brand name in high regard, as I've never experienced a product of theirs that cut corners or didn't deliver in affordable measure the same family sound that graces their most esoterically designed products.
Also in the system, and at the helm, the iconic Michell Audio Tecnodec ($2,700 USD) turntable with T3 Tonearm included. A beautiful Goldring E3 cartridge ($189 USD), feeding a Gold Note PH-5 ($999 USD) phonostage, and a Gold Note DS-10 Evo Streamer/DAC along for the ride. Rack by Neo Audio ($4k USD), audio cables by QED, power cables by TITAN Audio.

---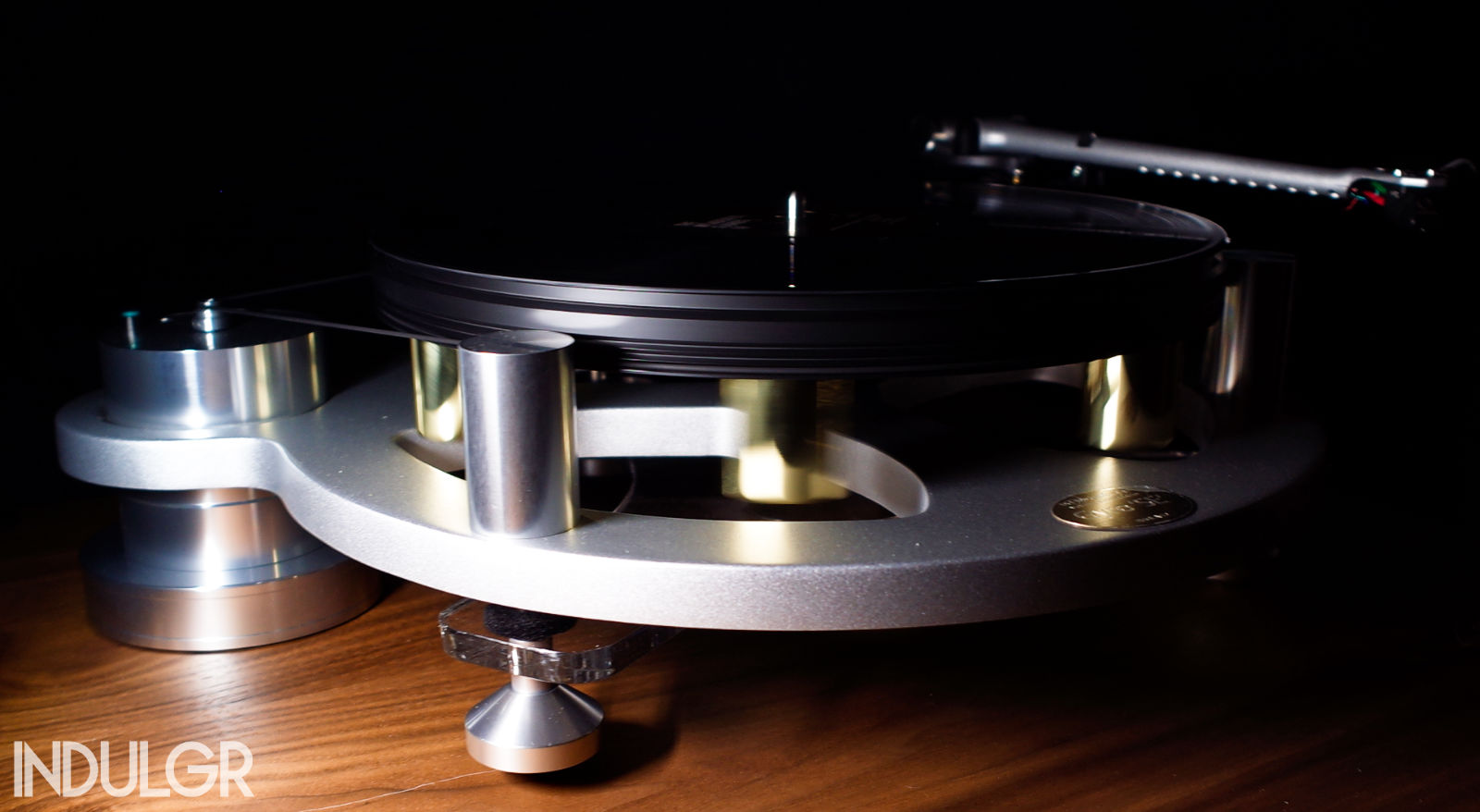 Perlisten + Audia Flight + Michell + Goldring + Gold Note + Fidelity Imports
Have you ever met someone you didn't want to like?
That was my own personal problem going into the Perlisten brand when I first received the press release detailing the upcoming launch of the loudspeakers. I don't know exactly what turned me off. Was it the price? The fact that it's a home theater speaker that claims dual-duty in the two-channel audiophile space? Maybe all of the above.
As with the above Diptyque loudspeakers, it was the audio show exhibits of Fidelity Imports that turned me into a fan of the Perlisten brand. I didn't want to like them, but during my first audition featuring Soul Note amplifiers powering the loudspeakers, I can unashamedly say that I was hooked, and that I was wrong.
Here at the Audio Advice LIVE show everything is more powerful and more umphing in the lowest frequencies. The towering Perlisten S7t ($20k pair USD) loudspeakers in combination with the Audia Flight FLS10 ($16k+ USD as configured) integrated amplifier w/DAC and Phono card options installed, digs deep into the bass, and doing so with a composure that's uncommonly attributed to loudspeakers that inhabit the market dedicated to home theater. Upper frequencies are balanced and delightful. None of the harsh in-your-face splash-and-broken-glass that is more common in the HT realm.
Also in the system, the even more iconic Michell Audio Gyro SE ($5,500 USD) turntable with TecnoArm 2 included. A stunning Goldring 1022-GX ($599 USD) cartridge, Gold Note DS-10 Evo Streamer/DAC $3,700 USD). Rack by Neo Audio ($4k USD), audio cables by QED, power cables by TITAN Audio.
---