Our third, but not final, stop in a whirlwind tour that takes us through what we believe to be the highlights of the Audio Advice LIVE '23 show. This is just a glimpse of the best that high-end home audio and high-end home theater have to offer—each at varying strata of the lifestyle. Here are the debuts (of which there are several) and exhibitions that we found most interesting throughout our third day of coverage for the three-day-long event.
Do stay tuned-in, as our daily coverage rolls out chronologically over the coming days, and as linked below for quick access.
Audio Advice LIVE '23 | DAY THREE
---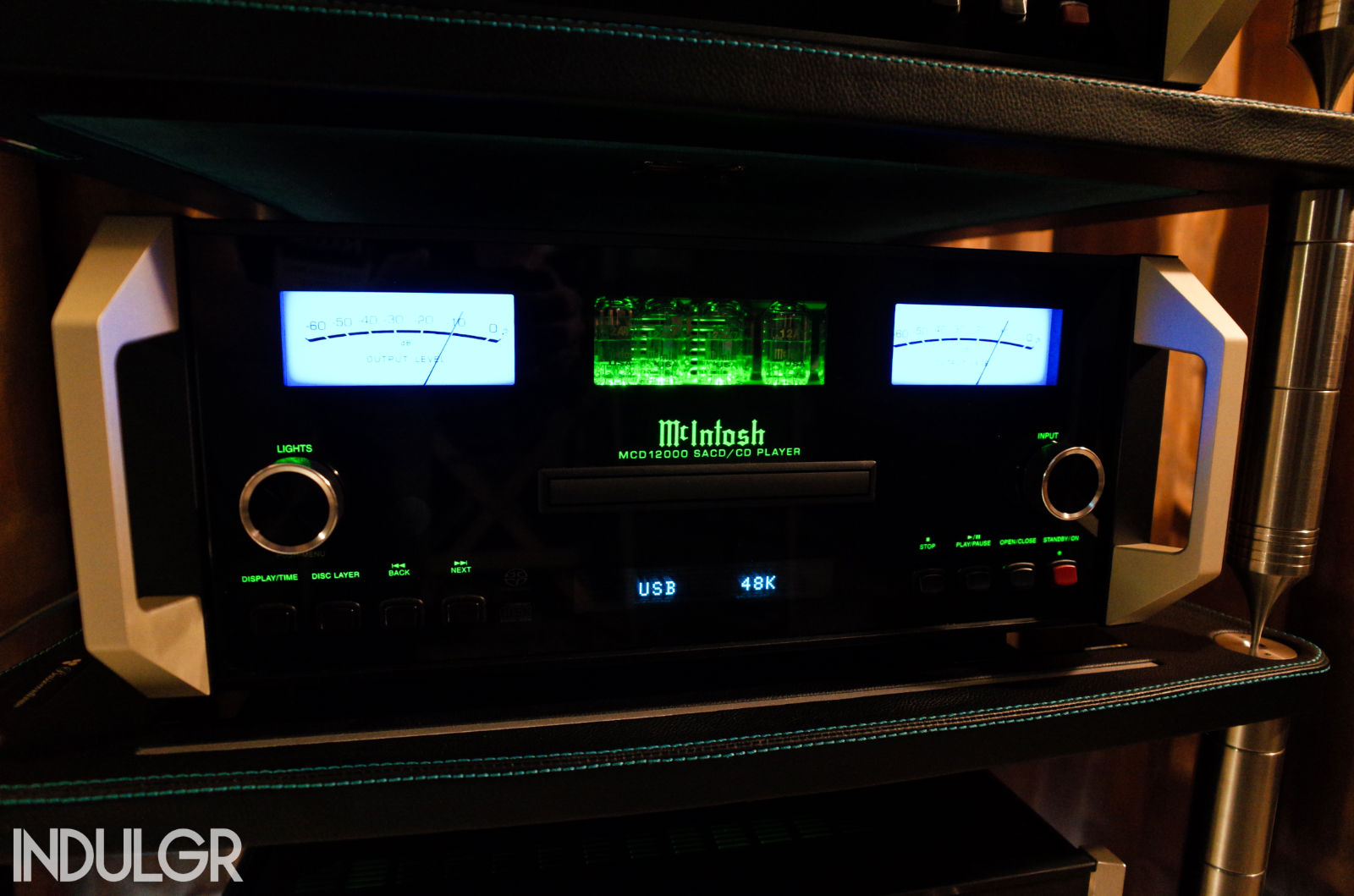 McIntosh Labs
I came to this room to hear the new McIntosh MCD12000 2-Channel SACD/CD Player, which under the surface is a reference level DAC that includes a reference level CD Player. Like a lot of McIntosh Labs products do these days, it also features McIntosh's Hybrid Drive™ technology that utilizes vacuum tubes and solid state to produce the best sound performance. Balanced and unbalanced analog outputs in both solid state and vacuum tube configurations. It uses two 32-bit/8-channel professional grade DAC chipsets, and accommodates a total of seven digital inputs.
Let me tell ya, this new SACD/CD player is no slouch. In solid-state mode music is clean and just a bit dry, but still a fantastic measuring digital rendering machine. Activate the tube section—on the fly, I might add—and all things get subjectively better. More tonal bloom, slightly more scale via instrument decay, and a slight perception change in that things appear to get either louder by a skosh -or- that now through the magic of tubes you've become better acquainted with the recording studio. It's definitely the latter case, as I've been assured that the gain from both the solid-state and tube circuits measures the same, and I trust that.
What I didn't trust was how much I was going to immediately love the newly reborn McIntosh ML1 mkII loudspeakers. Reborn because the new ML1 is based on off the first McIntosh speaker, which was launched in 1970, and to this day is one of the last remaining monkey coffins of that era to still fetch a hefty sum on the used market. The new model doesn't depart from the old, still made completely in America—not in Italy as some might assume—and does almost everything to stay true to the original design and sound, but with better build components.
The ML1 is a 4-way speaker with five separate drivers in a sealed enclosure, handles up to 600 Watts, goes deep in the bass with a 12″ woofer equipped with LD/HP technology, is topped with a complex tweeter/midrange array that assures an expansive sound stage so that listeners can enjoy beautiful music regardless of seating (or standing) position. Though, I am a bit partial to the sweet spot if available. The cabinet is NOT a veneered MDF, instead it's built entirely from American Walnut with a rich satin finish, and includes matching speaker stands. Believe me, these speakers are special.
Editor's Note: Here's where I take you a bit behind the curtain. McIntosh Labs is in the consumer electronics business, not so much the speaker business—though they've made and sold speaker systems for years. McIntosh has a thriving network of dealers who proudly carry McIntosh electronics without any worry coming from dedicated speaker manufacturers over McIntosh "the electronics company" also making and selling speakers to those same dealers. That 'absence of worry' era however might be coming to an end, or at least slowing with the addition of the new ML1 to the McIntosh stable of loudspeakers. The new ML1 loudspeaker really competes, is right on trend, and is likely to become one of the famed electronics company's best selling speakers ever. But that's just my prediction.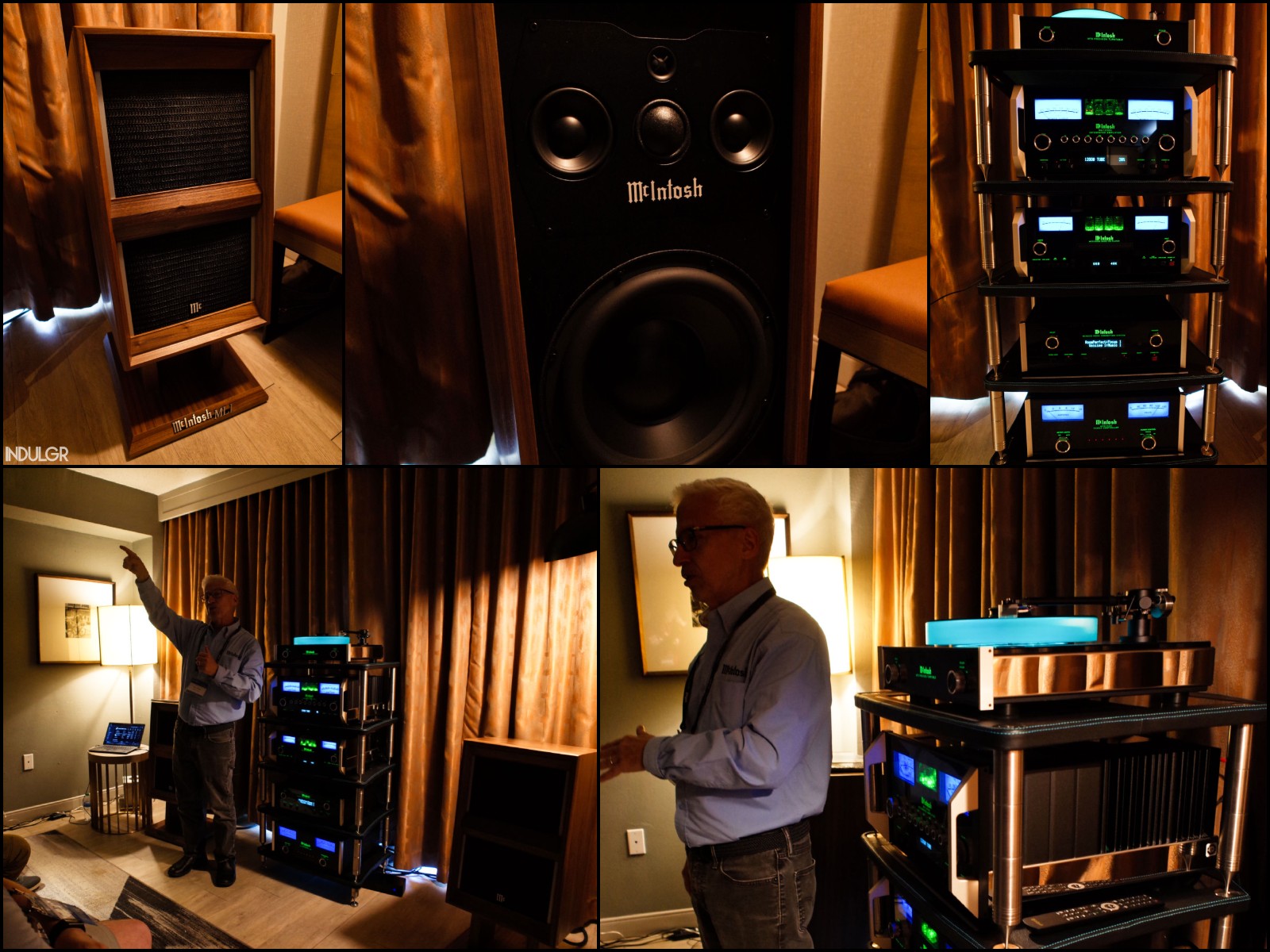 ---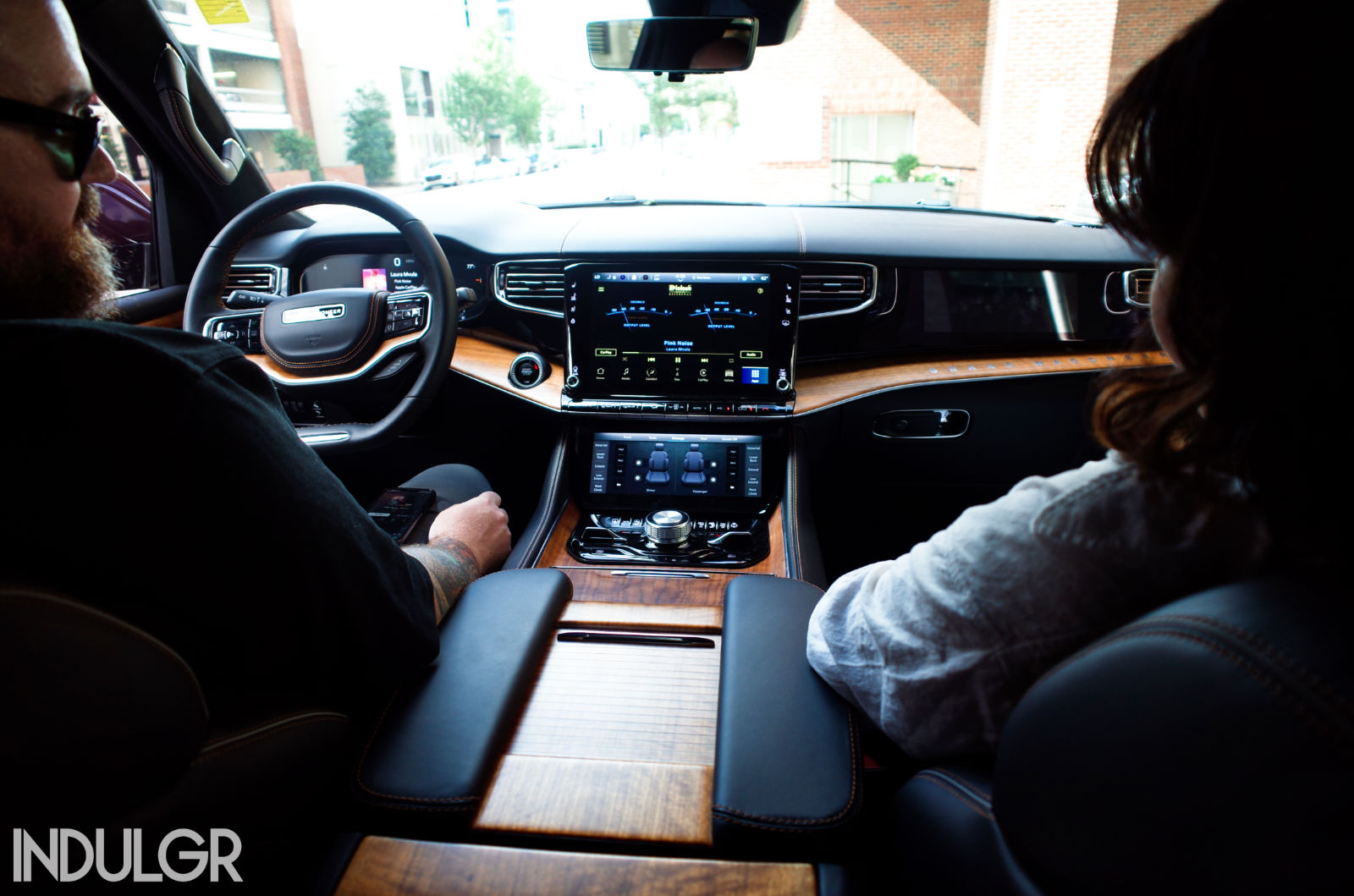 McIntosh Labs + JEEP
It wouldn't be Audio Advice LIVE without venturing outside for some of that steamy August heat that North Carolina is so famous for. However, McIntosh Labs and JEEP partnered to produce an experience that not only beats that heat, it also blends together as much tactile and sensorial luxury as one can endure: cushy seats, ice cold air conditioning, and the most immersive ump-teen-speaker stereo sound system.
Do I remember the specific specs and details of the system? No.
Do I remember thinking I could sit here—parked—for the rest of the weekend? Yes.
It is of note however that there are two different McIntosh Automotive Systems: for instance, the 2022-2023 Grand Wagoneer Series I and Series II can be equipped with either the McIntosh MX1375 Reference Entertainment System or MX950 Entertainment System. The Grand Wagoneer Series III comes standard with only the MX1375 Reference Entertainment System.
www.jeep.com
www.mcintoshlabs.com

---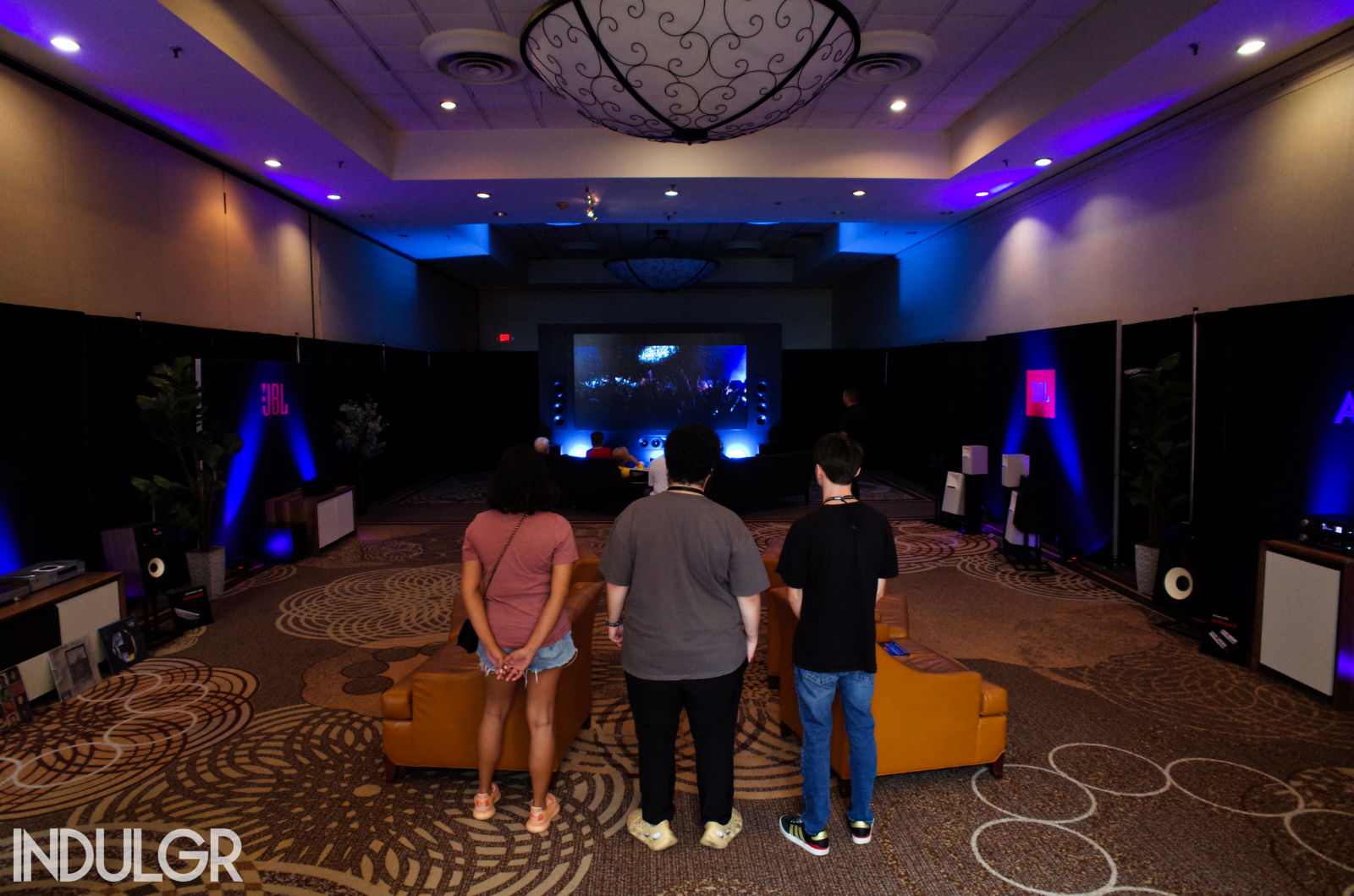 Samsung 146-inch "The Wall" 4K-Display + JBL Synthesis 9.4.4 In-Wall = High-End Home Theater
Dubbed "The JBL Experience" by Audio Advice LIVE staffers, the sprawling JBL exhibit space felt every bit like a canvas for hi-fi wishes to be made and theater dreams to be made real. Though I could try to describe the JBL Synthesis Home Theater speaker system in it's entirety, I'm going to turn you over Audio Advice for a deeper and more thorough dive into what makes the JBL Experience so special. Follow the link below.
"The Wall" all-in-one from Samsung is a whopping 146-inch monster with some of the brightest… brights(?) that I've ever seen—outside of a weekend welding class. The local Cinefiles and TV nerds behind me rejoiced with glee, chatting over my shoulder about "nits" and "lumens." A retired movie theater projectionist brought up the term "candlepower" during one of the demonstrations. This ultimate-of-the-ultimate 4K display (with built-in speakers) lists for $220k USD. Available in the same 146-inch proportions with a 2K resolution for just $106k USD, and also a 110-inch 2K version for $80k USD.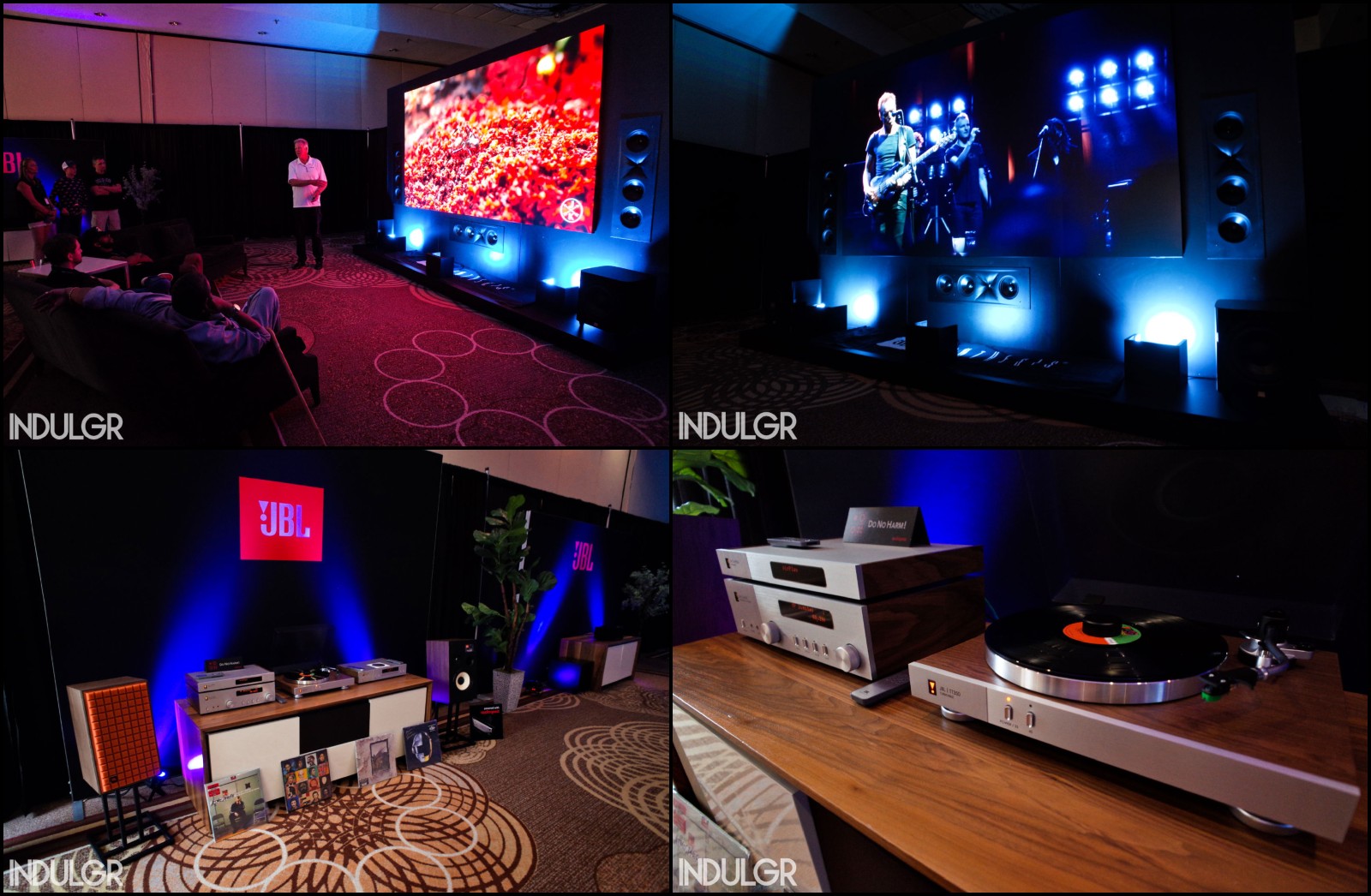 ---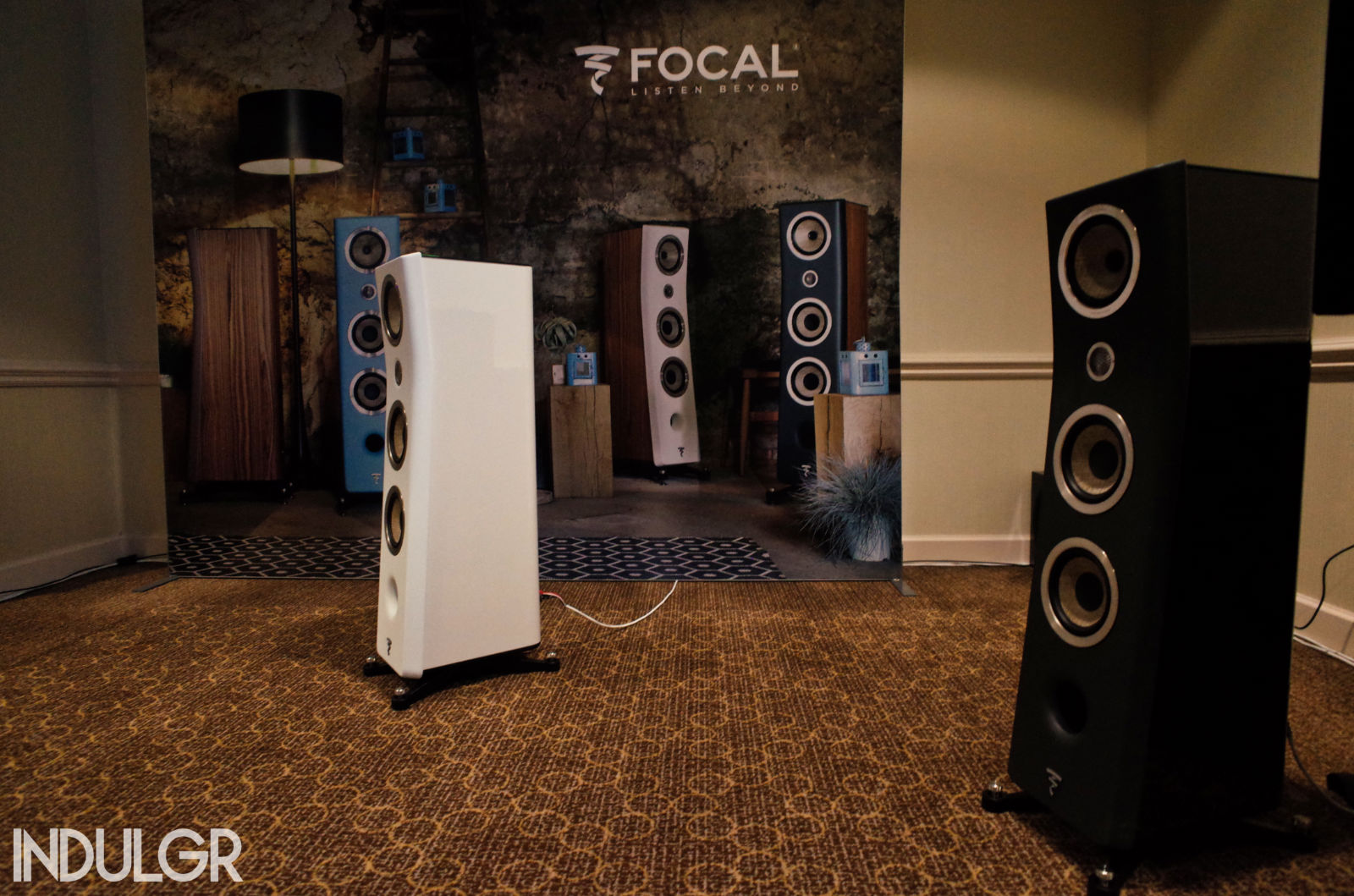 Barco +  Lumagen + Kaleidescape + Seymour-Screen Excellence + Storm Audio + FOCAL + RowOne = Ultimate Home Theater
One of the most crowded and repeat-visit-heavy demonstrations of the Audio Advice LIVE weekend was the one put together by Barco projection, Lumagen processing, a Kaleidescape server, Seymour-Screen Excellence screen, Storm Audio amplification, FOCAL speakers, and RowOne seating.
The FOCAL speakers were positioned into a generously outfitted 9.4.4 home theater configuration, featuring mains and surrounds from the FOCAL KANTA series of high-end loudspeakers—and more specifically in the make-or-break position—the FOCAL Viva Utopia Colour Evo three-way center-channel loudspeaker, from the flagship Utopia III Evo range. If there's one thing my grandmother taught me one thing to remember about high-end home theater it's "centers and screens", which is her way of saying they matter most.
Speaking of screens, the 173-inch Seymour Ambient-Visionaire™ Black 0.9 cinemascope screen mated perfectly to the 5K output of the Barco Cinemascope projector. Cinemascope, if you're wondering, is an over-delivering 5120×2160 pixels, whereas the experience of 4K is less than the promised "4K" at just 3840×2160 pixels. Bummer right?
Undoubtedly the best all-around performing high-end home theater experience of the weekend. The image and sonics were astounding.
www.audioadvice.com/home-theater-design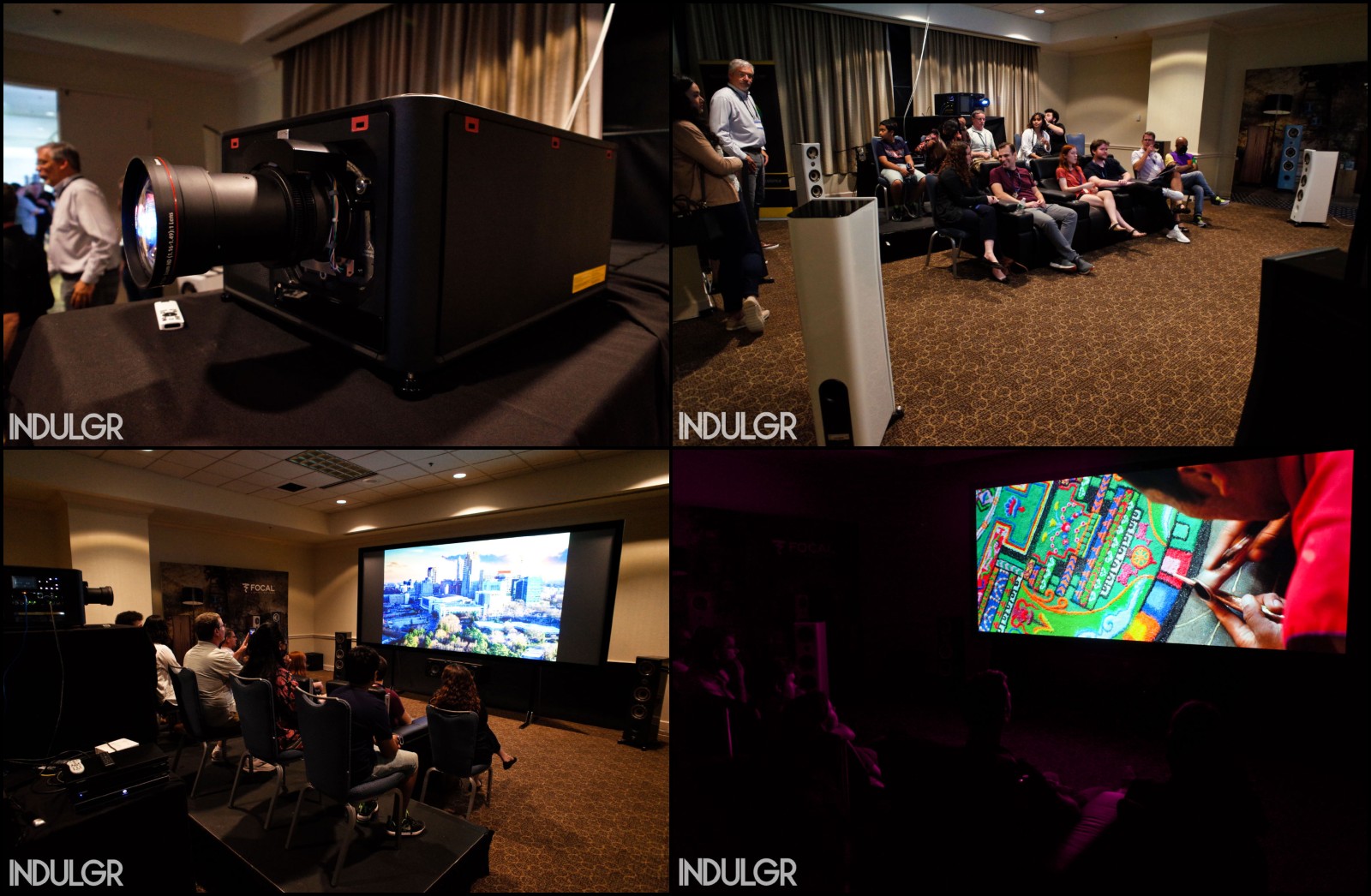 ---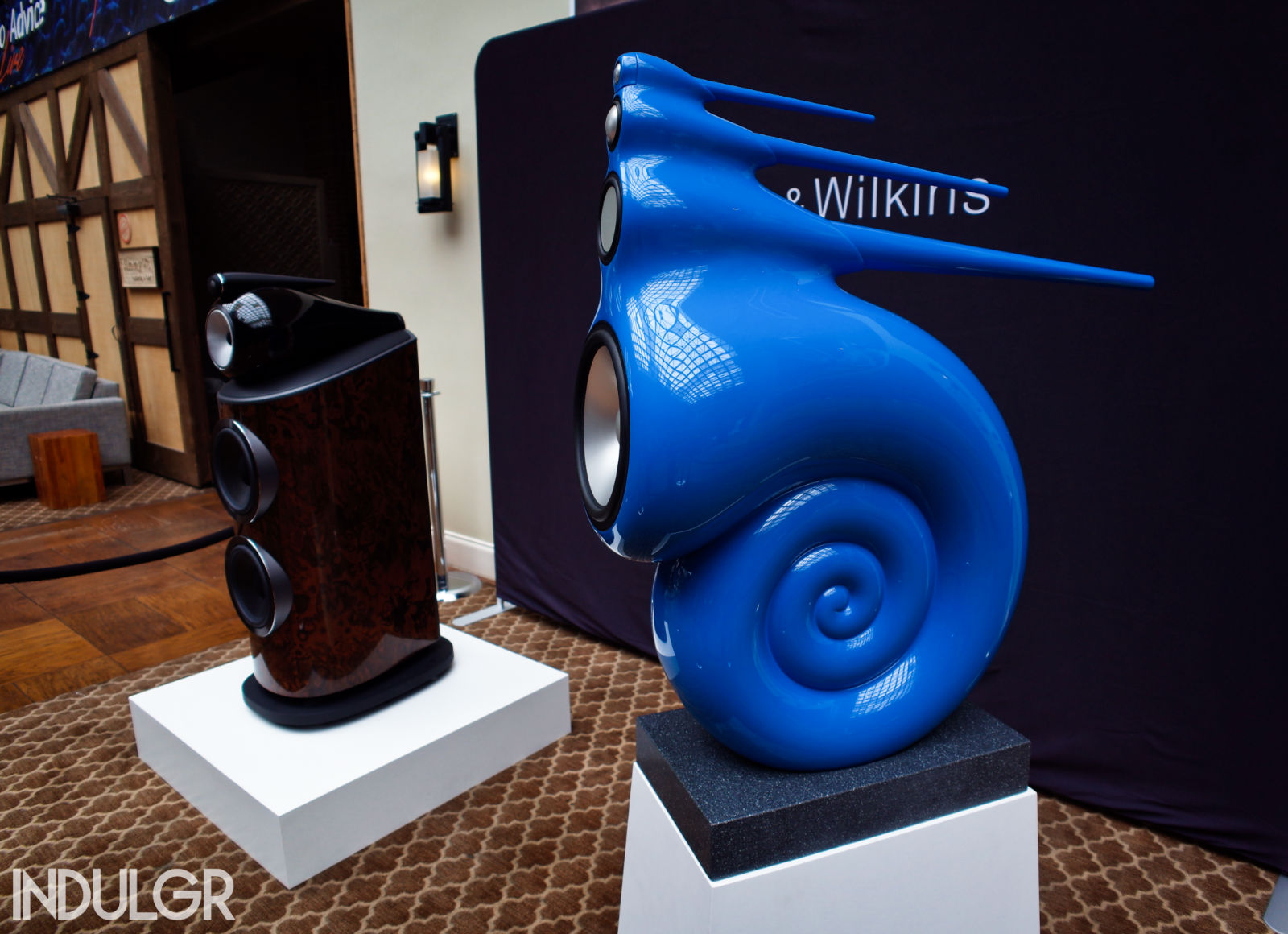 Bowers & Wilkins: Is it also art?
Positioned in the hotel lobby on gallery pedestals, it was obvious to some that what Bowers & Wilkins was trying to say is that 'they make art.'
The now iconic Bowers & Wilkins Nautilus loudspeaker celebrates its 30th anniversary having been launched in 1993. Having aged not a bit to my keen eye. On static display here in Audio Advice BLUE. Standard color options for the Nautilus are Silver, Black, and Midnight Blue. Though, there is a special service that can match any color you specify.
Also behind the velvet rope and stanchions, the new 2023 Bowers & Wilkins 801 D4 Signature which makes a strong case for itself and the 800 Series of loudspeakers than came before it for being a paragon of industrial design. Seen here dressed in sectioned California Burl Gloss, High-Gloss Black Lacquer, and Connolly Leather.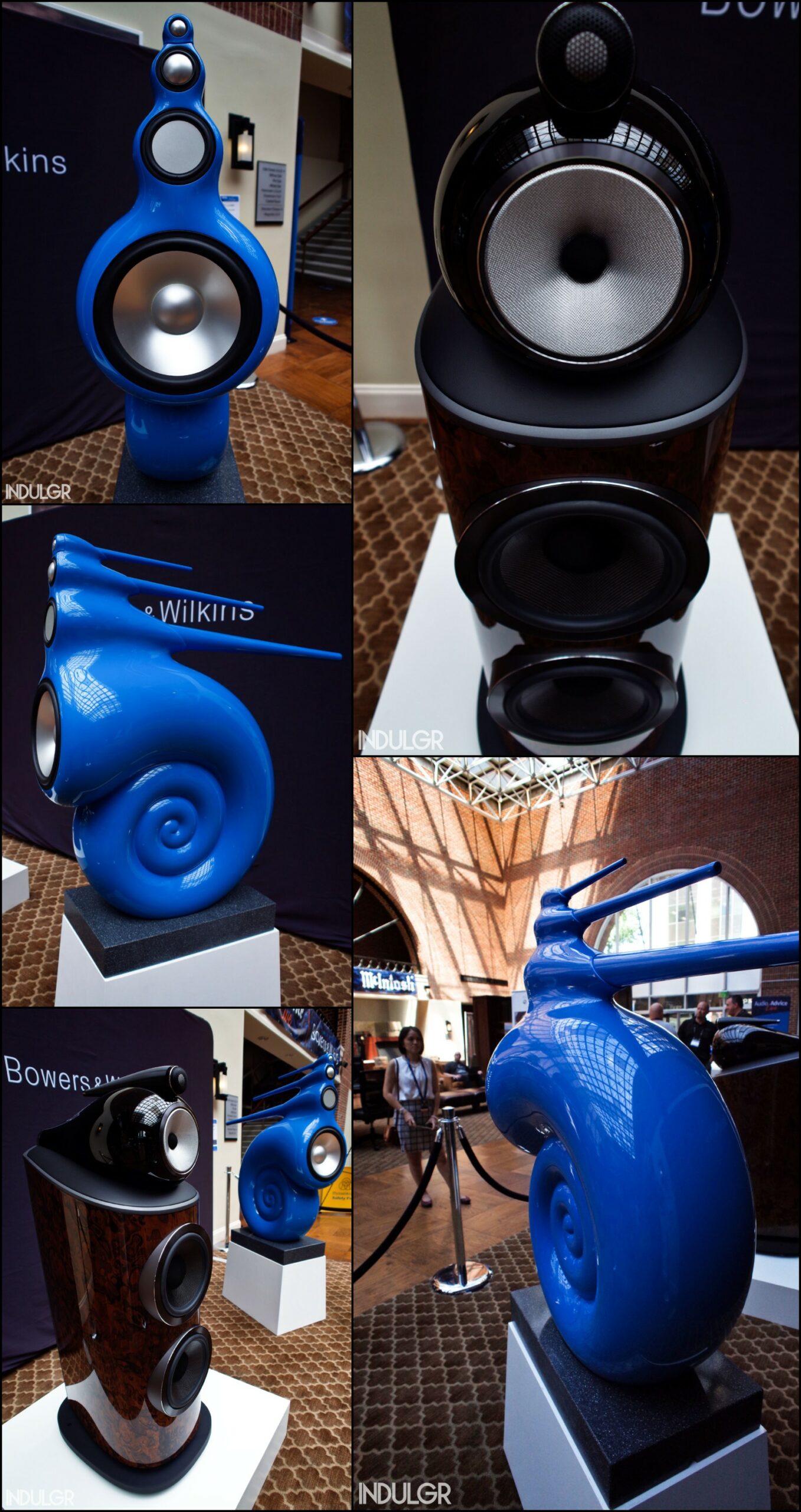 ---
Chord + Audeze + FOCAL
Leave us to our preferences and we'll be satisfied. The headphone expo was nearly identical to last year, though there were some new speculations thrown around the campfire about new product launches and lower prices coming from Chord Electronics. Proving that music isn't the only good thing you'll hear at an audio show.
The rest of our four-man team found spaces to isolate and let the music come to them. Myself, the relatively still new Chord Mojo 2 that's been making waves in the audiophile press was up to bat. The Mojo 2 when paired with run of the mill Audeze headphones wasn't as neutral as I expected, and that's not a bad thing. I think the color-of-tone and creative use of enriching frequency belong in the head-fi space more than they do in the traditional two-channel speaker world. I look forward to pairing a Mojo 2 with FOCAL Clear MG sometime in the near future.
www.audioadvice.com/headphones-portables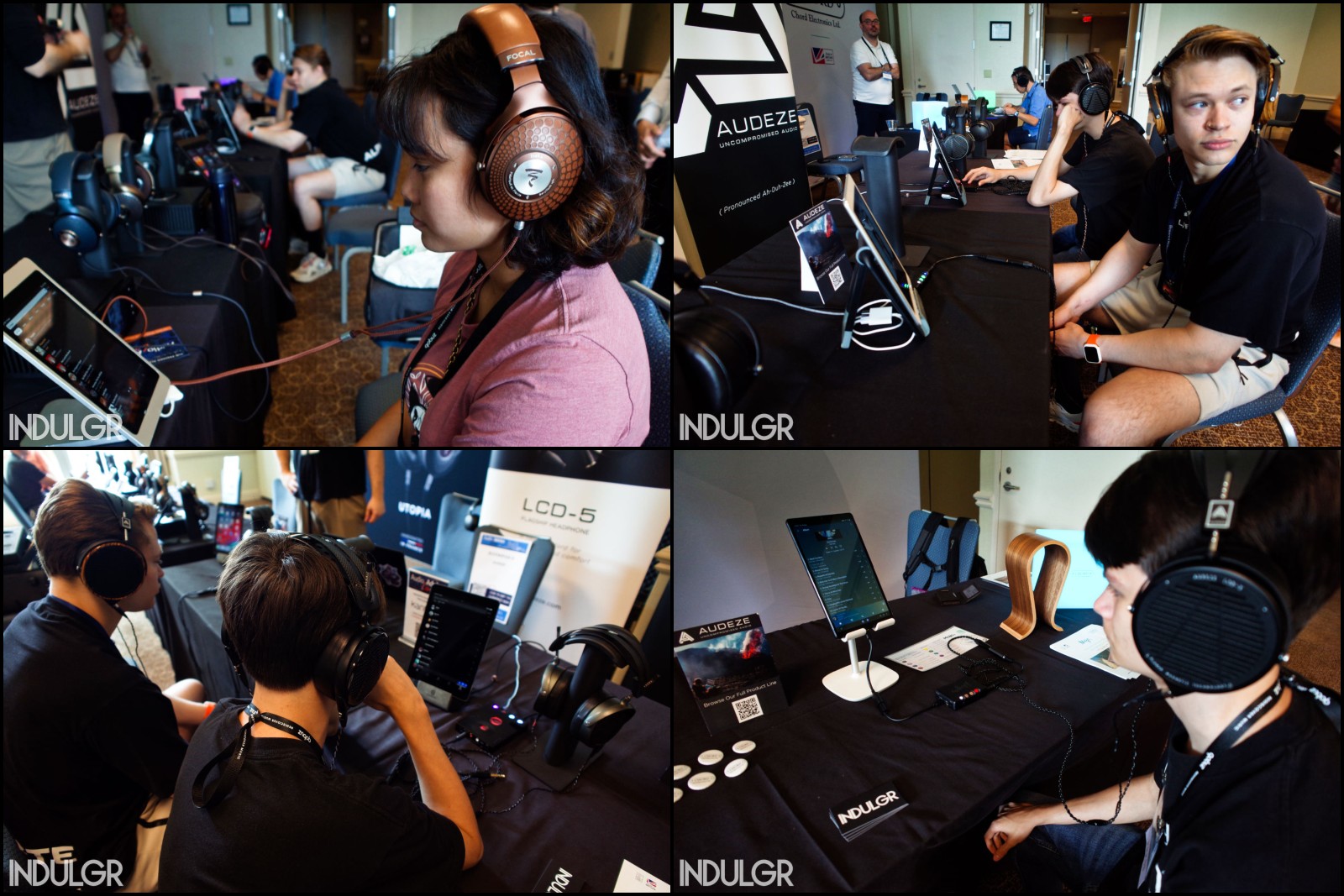 ---
KEF LS50 Wireless II
This was a flight simulator exhibit that we wandered into, which featured the KEF LS50 Wireless II speakers. Evolved from the original LS50 that launched almost a decade or more ago, the new Wireless II version extolls several benefits to its cycle of refinements to the driver, cabinet, amplifier, and software.
An all-in-one speaker system, streaming from any source thanks to wireless compatibility with AirPlay 2, Chromecast and more, plus wired connections for your TV, games console and turntable. KEF's 12th generation Uni-Q with Metamaterial Absorption Technology (MAT ™) promises reduced coloration, less distortion, and a more transparent and life-like presentation than previously possible.
www.audioadvice.com/kef-ls50-wireless-ii
---