The final stop of our tour takes us back to our original mission: to find the best-of-the-best at the Audio Advice LIVE '23 show. Our journey to find the best that high-end home audio and high-end home theater has to offer has also transcended our expectations. Here are the best exhibitions we've found during our three days attending the Audio Advice LIVE '23 event. Enjoy!
This wraps our AAL '23 coverage with each day of reporting linked below for quick access.
Audio Advice LIVE '23 | BEST OF SHOW
---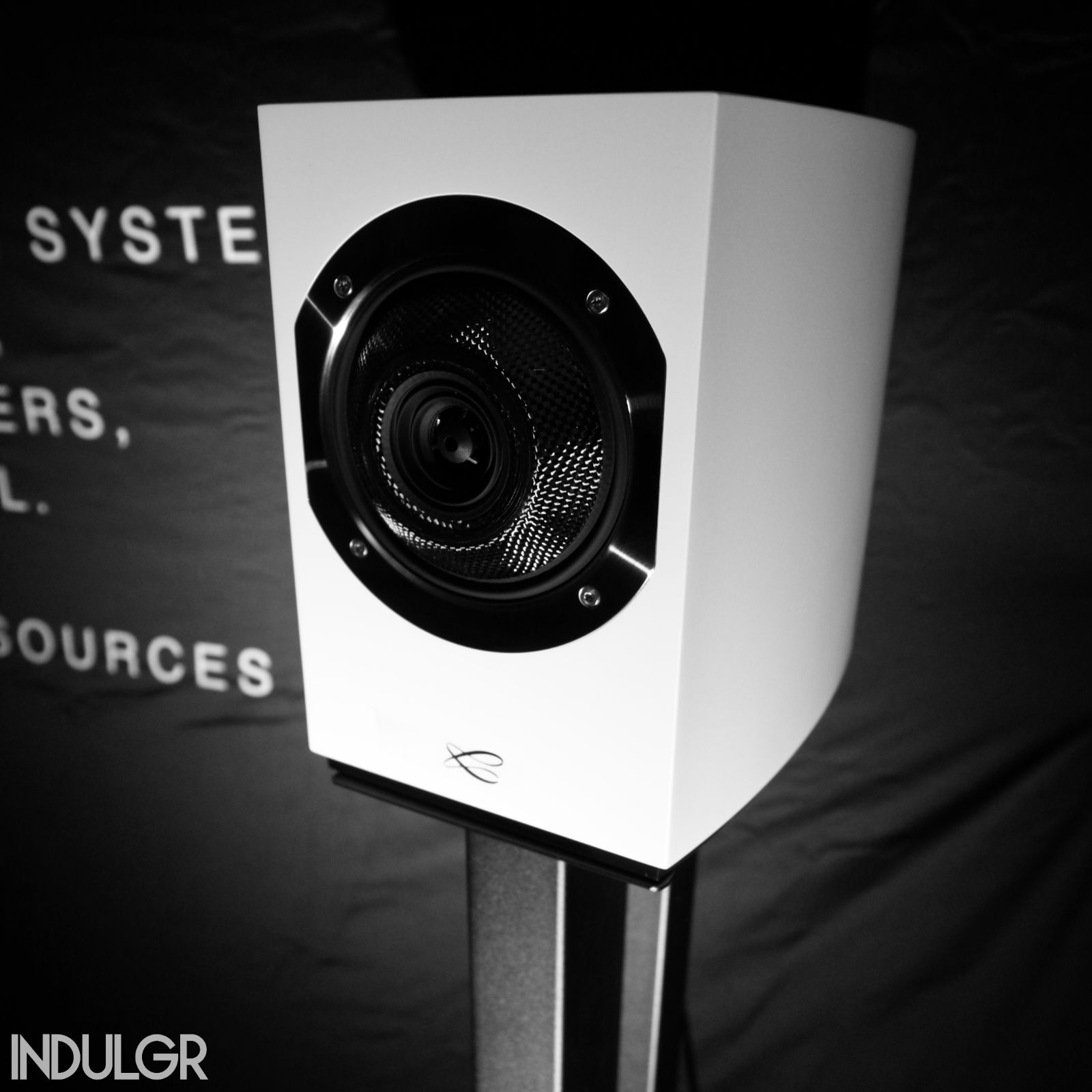 Best Small Speaker
The new Rialto is self-amplified-loudspeaker from Cabasse launched earlier this year at AXPONA '23, and was a hit with audiophile critics and hobbyists who were open-minded enough to overlook its diminutive proportions and price tag.
The Rialto is a self-powered three-way design loudspeaker that inhabits the "all-in-one total system solution" moniker better than anyone. The Rialto features music streaming and digital-to-analog conversion built-in. Touch control and app-based remote are just a few of the standard features, which cleverly includes Cabasse's own cloud-based room correction software, along with unbelievable amplifier power specs (1,050 watts per speaker) and truly jaw dropping bass (down to 30Hz) to back them up—and not bass just for its diminutive size either.
Cabasse's tri-coaxial speaker driver design technology ensures that highs (3oo watts), mids (3oo watts), and lows (450 watts) emanate from a single point-source, meaning that sound is intact as a waveform and (more) accurate sounding when it reaches your ear. Price at launch is just a few bucks under $4k USD. Count me in!
---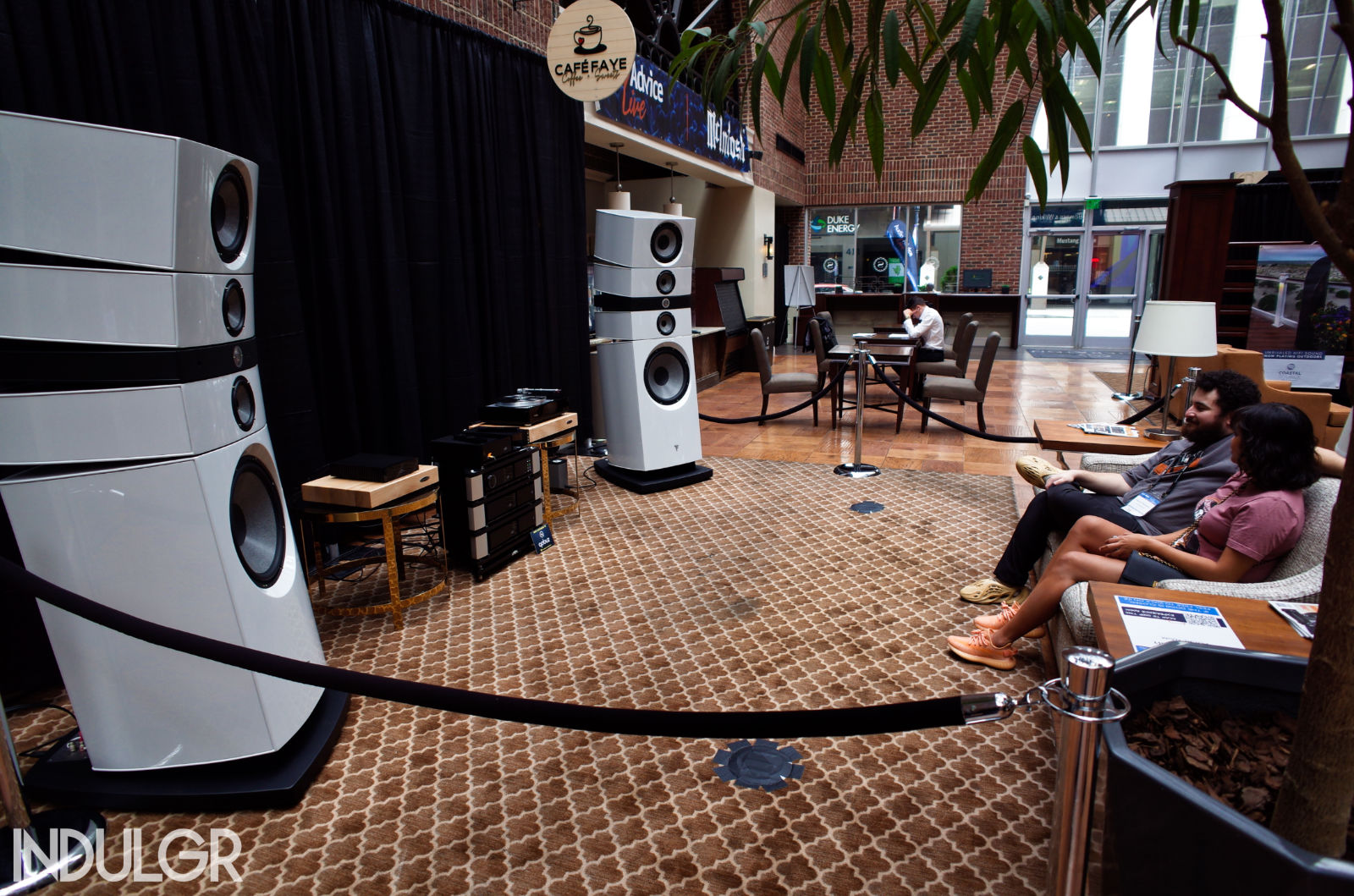 Best Audiophile Oasis
Attendees, press, and even passersby were taken by surprise when they found themselves in the Sheraton hotel lobby confronting both the scale of sight and sound produced by the FOCAL Grande Utopia EM Evo ($280k pair USD) floor-standing loudspeakers, each gorgeously adorned in a stunning Carrara White multi-layer gloss finish. It's been said, the people aren't ready.
The Grande Utopia EM Evo are part of the Utopia III series where all of FOCAL's latest and best technologies are first released to the world. Including the aforementioned Grande Utopia EM Evo's latest innovations: the NIC (Neutral Inductance Circuit) and the TMD suspension. New to the 'EM Evo are more improvements in midrange distortion and cabinet resonance control. Too many areas of total improvement and refinement to list here, but they're there, and they're apparent in the listening.
Nestled between the towering behemoths of musical slam, a sleek and modern stack-o-rack of NAIM 300 Series separates starting with the NSS 333 ($11k USD): a high-resolution streaming solution that can handle the highest-quality file formats for UPnP™ devices and streaming services. The NSS 333's integrated DAC also improves the performance of other devices in the system, with a universal control across the entire Naim range, all from the Focal-Naim app.
From there, the NAC 332 ($11k USD) becomes the "analogue centre" of the system, delivering the low level signal to your amplifier and loudspeakers. It's billed as Naim's most versatile preamplifier to date, allowing you to connect headphones as well as the NVC TT ($3,700 USD) phono preamplifier—also on active display in the system, at the left flank—for vinyl playback of the most exposing nature. Think deep-groove-diving. Diving into those grooves, a Thorens TD 1601 turntable. Taking its marching orders from the NAC 332 preamp and NVC TT phono preamp, a pair of NAP 350 ($8,500 USD) monoblock amplifiers to meet the power needs of the Grande Utopia EM Evo loudspeakers.
www.focal.com
www.naimaudio.com
www.thorens.com
---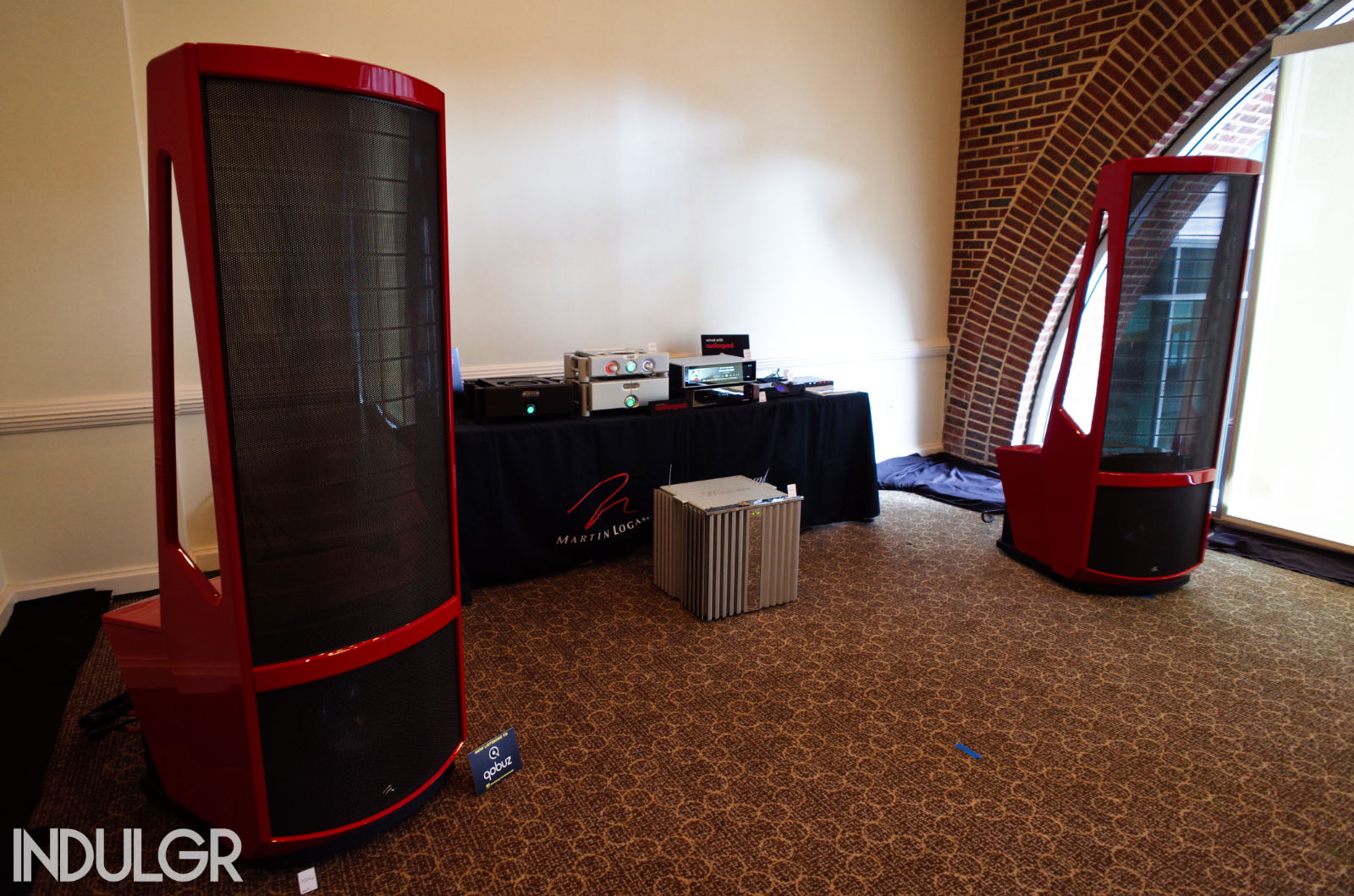 Most Surprising
The MartinLogan Neolith ESL ($120k pair USD) were launched some time ago. Possibly over a decade if I'm going strictly on memory alone. They've likely seen several refinements in both shadow and light. They've also endured.
What's different about this year's Audio Advice LIVE experience as it concerns the Neolith and the accompanying electronics, is that this experience was wholistically, from tip-to-toe, filled like an eclair, with unconstrained dynamics and clear presence of sound. Chord Electronics do more than a lot of things right, and what hasn't been said about large Burmester amplifiers that also hasn't been said about Jesus. And as far as AudioQuest goes, they do no harm—which itself is a noteworthy and challenging pursuit if one is to partake in high-fidelity transmission of low-level and high-current signals.
Applause and praise is mandatory across the board here. This is what we call "chance synergy." No one expected it, and we've now heard something completely new and different from the beautiful and ever so enduring MartinLogan Neolith ESL loudspeakers. Bravo! 
www.martinlogan.com
www.chordelectronics.co.uk
www.burmester.de
www.audioquest.com
---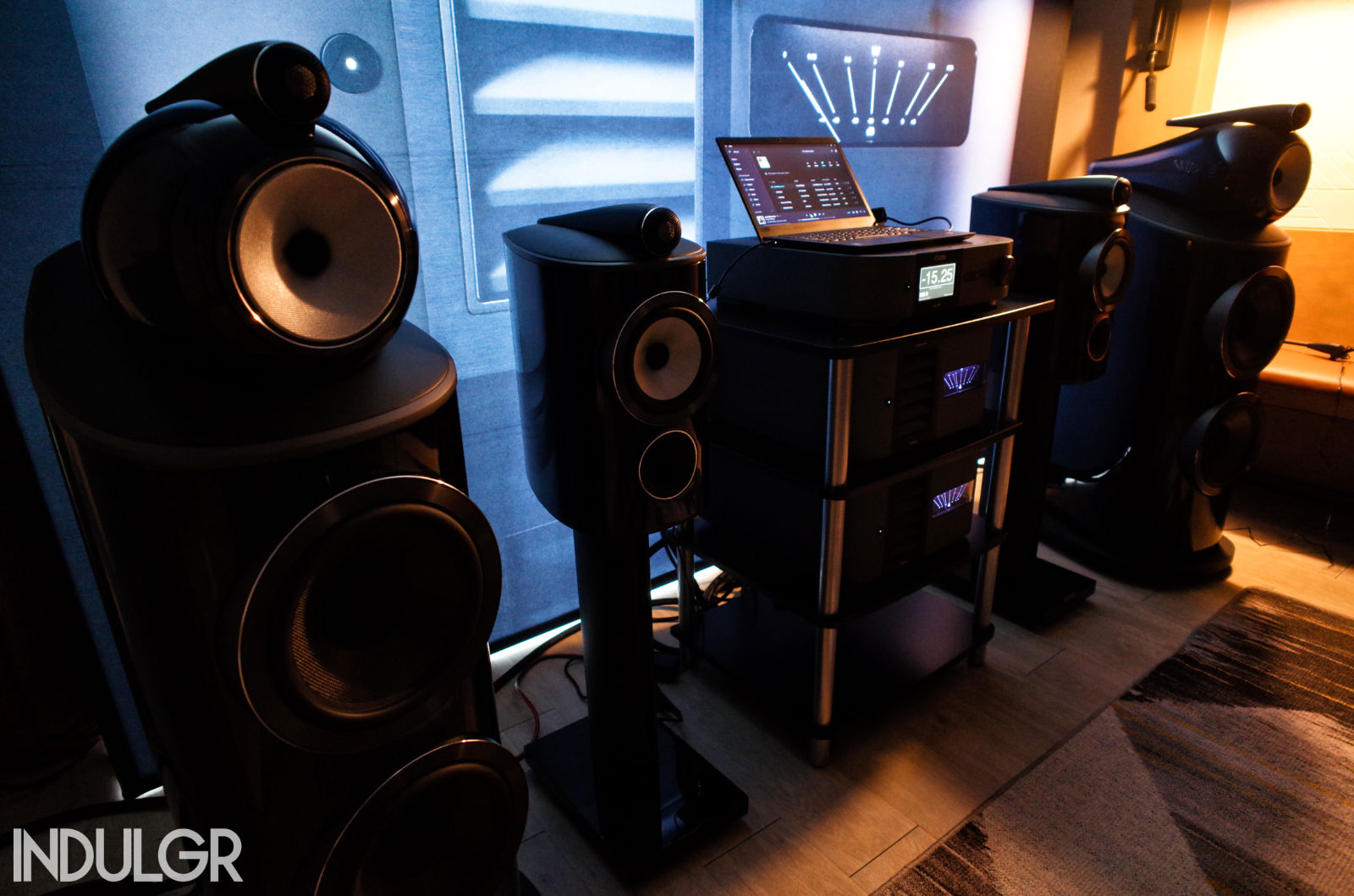 Best High-End Value
The goal of the two new 800 Series Signature models, was to meticulously evolve the 800 Series technology, carefully refine the craft of the design, and offer unique finishes that reflect this pinnacle of sonic performance. The 800 Series Signature models build on the foundations of their most advanced range of loudspeakers.
For instance, in the larger 801 D4 Signature ($50k pair USD): the tweeter housing has been opened up for even less smearing and interference in what was already a class-leading design in terms of abating both smearing and interference. More mounting points on the midrange and woofers for better damping and cabinet decoupling. A newly refined motor-structure for both midrange and woofer. More aluminum structures everywhere! Under the Connolly English leather adorned top plate—you guessed it—more damping. And yet! More aluminum underneath as well in the form of a newly redesigned all-aluminum low turbulence bass-flow-port. Which itself adds to the mass and stiffness of the cabinet structure. Hold your applause till the end please. And now… drumroll… a refined crossover design. Sheesh! 
Powering the whole affair, a more than capable stack Classé of electronics.
Okay, so there really is a lot going on with the two new Signature Series models. So much so, I'm surprised that the price difference over the standard models is not as reflective of the work put into the upgrades. Furthermore, these upgrades are easily discernible—even in an audio show setting.
www.bowerswilkins.com
www.classeaudio.com
---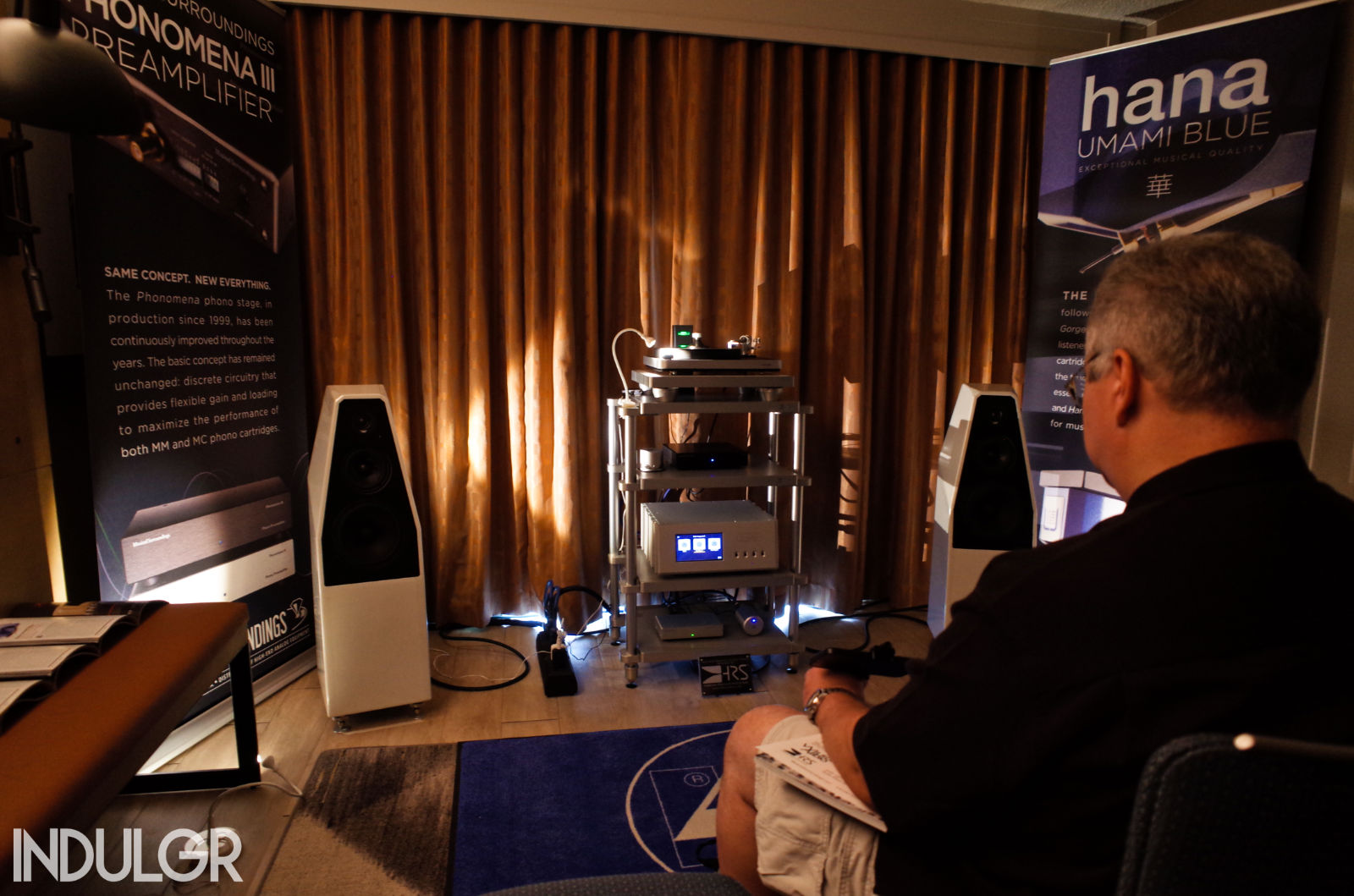 Most Overachieving
Let's talk about what is in this system: a Clearaudio Concept AIR ($2,800 USD) turntable outfitted with the Hana Umami Blue ($2,500 USD) cartridge from Japan, handing off to a Musical Surroundings Nova III ($1,500 USD) phonostage, on to a Boulder 866 ($15,500) integrated amplifier, and then finally through the Wilson Audio Sabrina X ($20,700 pair USD) loudspeakers. Support in the form of audio-rack, comes from the HRS EXR-1921-4V ($7,800 USD) audio stand system.
Both the Hana Umami Blue and Clearaudio Concept AIR are being shown for the first time here at Audio Advice LIVE 2023, despite both being available to the market as recently as earlier this year for the Umami Blue cartridge, and last year for the Concept AIR turntable.
If you noticed something about the list of components and prices in the first paragraph of this section, there's a bit of a strange distribution method in terms of price at the front end as it concerns the back end. For instance the audio rack the turntable is sitting on is more costly than all of the analog components it's holding. The integrated amplifier itself is twice the cost of the audio rack. The speakers are twice the cost of the integrated amplifier.
Generally when something like this happens, bottlenecks are created. However, in this creatively assembled exhibit system, the more affordable products (namely the analog chain) not only didn't do themselves wrong here with the associated high-end and pricier gear, they rather built-up a balanced sound that was outright impressive regardless of the price imbalance. Boulder sounded like Boulder, and Wilson Audio sounded like Wilson Audio. This is a testament to the tangible strengths of Musical Surroundings' stable of 'dreamware' products.
www.musicalsurroundings.com
www.wilsonaudio.com
www.boulderamp.com
---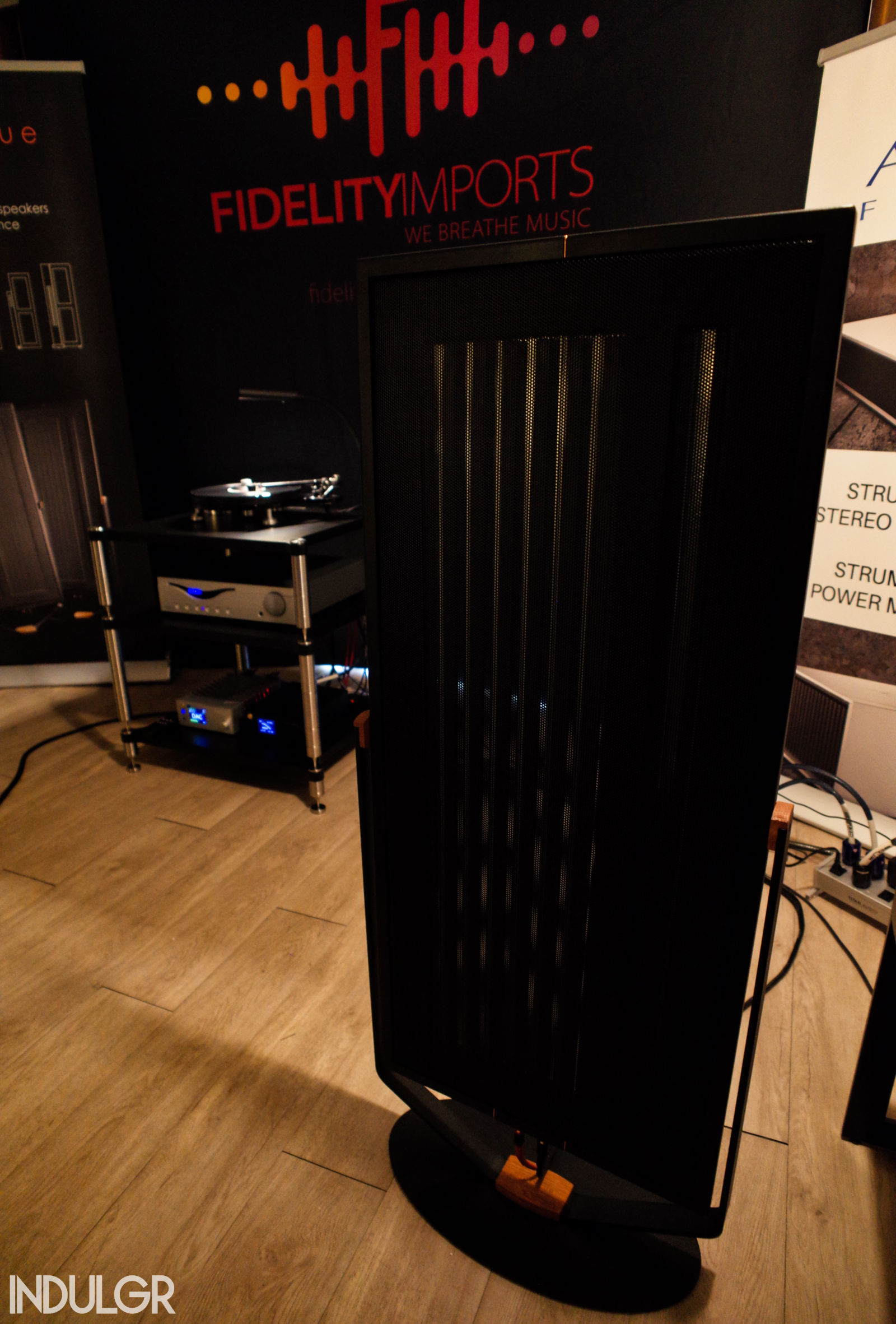 Most Refreshing
I've been gathering several data-points on Diptyque loudspeakers throughout their recent introduction into the US market via new dealers and the audio show circuit. I've not reviewed a pair, nor have I experienced them in a dealer setting. That leaves only the audio shows, which are an assemblage of hotel rooms turned "listening rooms" in the span of twenty-four hours or less. Hence the gathering of several data-points. Or in this case, waiting for that one experience that brings it all together.
This is it! The list of the electronics and sources are well known entities that respect I for their undoubted audiophile sound and build quality. And I've experienced most of them before. What's happening here is the Diptyque DP107 ($8k pair USD) panel speakers have been given the proper room to breathe. The first rule of 'audiophile-club' is: loudspeakers play the room.
And in the case of most panel speakers, they need a proper room to develop a proper sound. The Diptyque DP107 delivers a sound that is romantically lush and rich, with a level of dynamic efficiency seldom seen in panel loudspeakers. Which is a welcomed departure from what some brands in the panel speaker game at this price point have painfully thrust upon the marketspace for several ongoing decades. You know who I'm talking about.
As for the Audia Flight Three S ($4k USD) integrated amplifier that's pushing these Diptyque speakers. It's entirely made in Italy, and represents twenty-five years of knowledge and research that's been distilled into the Three S series of electronics it comes from. Optional DAC and phono cards are available. Otherwise, it's all analog connections. Personally, I hold Audia Flight the brand name in high regard, as I've never experienced a product of theirs that cut corners or didn't deliver in affordable measure the same family sound that graces their most esoterically designed products.
Also in the system, and at the helm, the iconic Michell Audio Tecnodec ($2,700 USD) turntable with T3 Tonearm included. A beautiful Goldring E3 cartridge ($189 USD), feeding a Gold Note PH-5 ($999 USD) phonostage, and a Gold Note DS-10 Evo Streamer/DAC along for the ride. Rack by Neo Audio ($4k USD), audio cables by QED, power cables by TITAN Audio.
---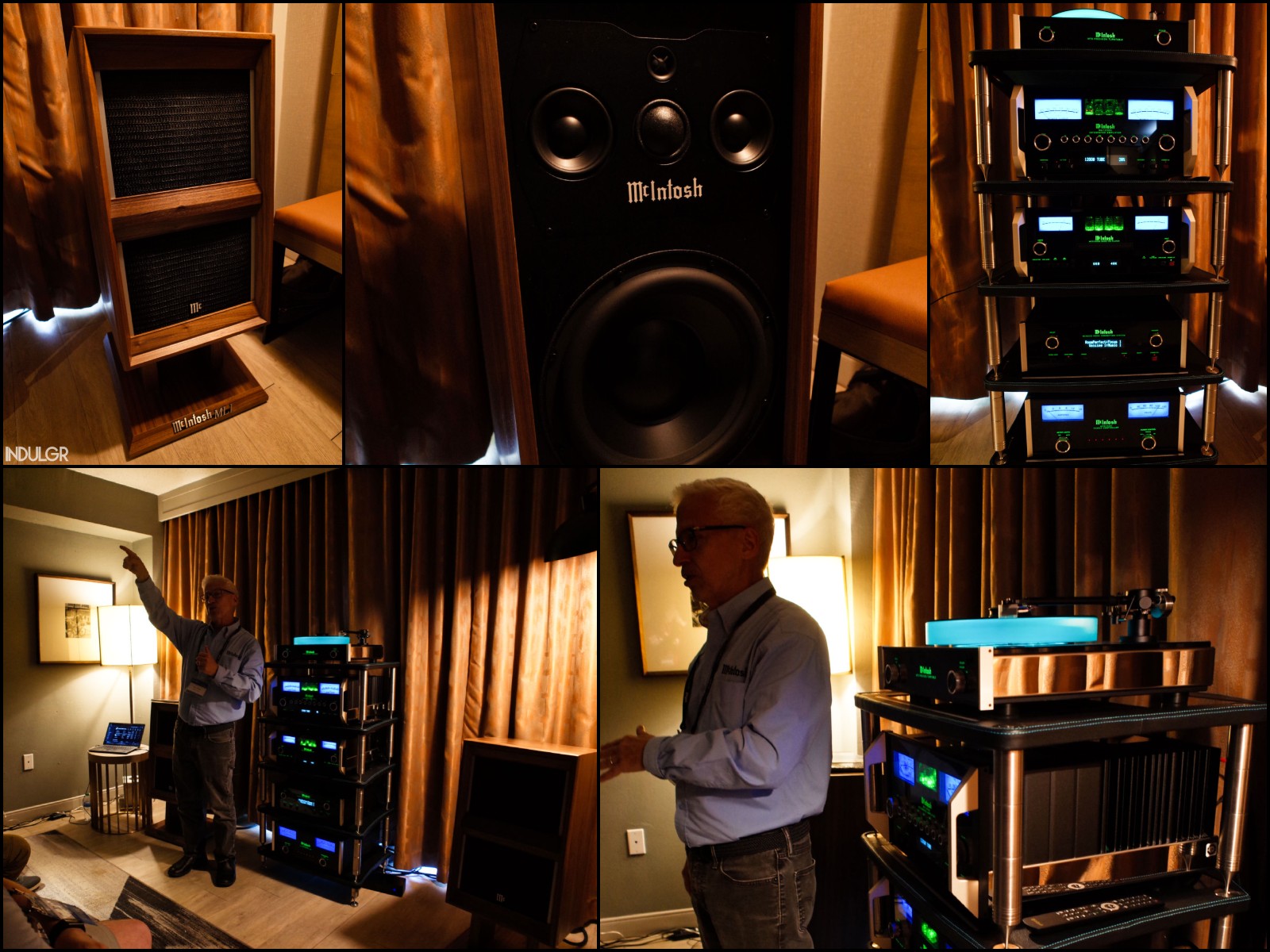 Most Wanted
I came to this room to hear the new McIntosh MCD12000 2-Channel SACD/CD Player, which under the surface is a reference level DAC that includes a reference level CD Player. Like a lot of McIntosh Labs products do these days, it also features McIntosh's Hybrid Drive™ technology that utilizes vacuum tubes and solid state to produce the best sound performance. Balanced and unbalanced analog outputs in both solid state and vacuum tube configurations. It uses two 32-bit/8-channel professional grade DAC chipsets, and accommodates a total of seven digital inputs.
Let me tell ya, this new SACD/CD player is no slouch. In solid-state mode music is clean and just a bit dry, but still a fantastic measuring digital rendering machine. Activate the tube section—on the fly, I might add—and all things get subjectively better. More tonal bloom, slightly more scale via instrument decay, and a slight perception change in that things appear to get either louder by a skosh -or- that now through the magic of tubes you've become better acquainted with the recording studio. It's definitely the latter case, as I've been assured that the gain from both the solid-state and tube circuits measures the same, and I trust that.
What I didn't trust was how much I was going to immediately love the newly reborn McIntosh ML1 mkII loudspeakers. Reborn because the new ML1 is based on off the first McIntosh speaker, which was launched in 1970, and to this day is one of the last remaining monkey coffins of that era to still fetch a hefty sum on the used market. The new model doesn't depart from the old, still made completely in America—not in Italy as some might assume—and does almost everything to stay true to the original design and sound, but with better build components.
The ML1 is a 4-way speaker with five separate drivers in a sealed enclosure, handles up to 600 Watts, goes deep in the bass with a 12″ woofer equipped with LD/HP technology, is topped with a complex tweeter/midrange array that assures an expansive sound stage so that listeners can enjoy beautiful music regardless of seating (or standing) position. Though, I am a bit partial to the sweet spot if available. The cabinet is NOT a veneered MDF, instead it's built entirely from American Walnut with a rich satin finish, and includes matching speaker stands. Believe me, these speakers are special.
Editor's Note: Here's where I take you a bit behind the curtain. McIntosh Labs is in the consumer electronics business, not so much the speaker business—though they've made and sold speaker systems for years. McIntosh has a thriving network of dealers who proudly carry McIntosh electronics without any worry coming from dedicated speaker manufacturers over McIntosh "the electronics company" also making and selling speakers to those same dealers. That 'absence of worry' era however might be coming to an end, or at least slowing with the addition of the new ML1 to the McIntosh stable of loudspeakers. The new ML1 loudspeaker really competes, is right on trend, and is likely to become one of the famed electronics company's best selling speakers ever. But that's just my prediction.
---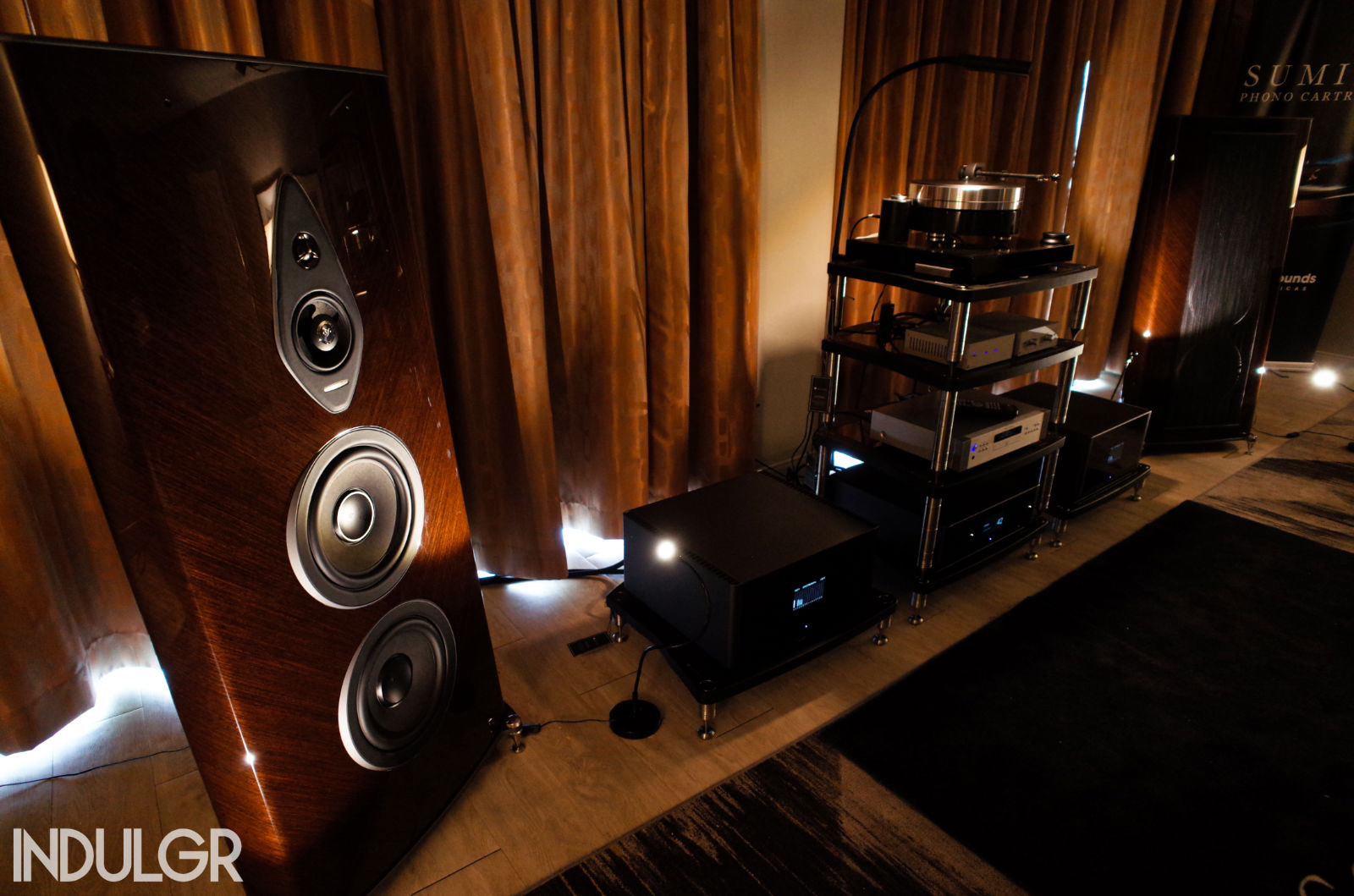 The Overall Best of Show
When the new Sonus faber Stradivari were announced earlier this year via press release, and unveiled at the Munich High-End show, the look of the speaker was such a departure from what I know of Sonus faber designs, that it took me all of a week to warm up to it's looks from the initial photography that was distributed to the press.
However, by the time I was done writing my AAL '23 show preview article a few weeks ago, I was salivating to see them in the flesh, and lay an ear or two on the them.
Driving the new Stradivari, a familiar Michi preamp, and the unfamiliar Michi monoblock amplifiers—which to my ears are the real diamond of the Michi lineup. Upstream, it was a disc spinner from Rotel, or my favourite, the analog chain supplied by Pro-Ject and Sumiko.
The Stradivari in its immaculately glossy Wenge finishing, had me ready to weep. The only thing this loudspeaker had to do was sound good. It didn't sound good—it sounded greater-than-great. Sounding to us like possibly being one of the high-end highlights of the year regardless of the fact that the reported street price is just $50k/pair USD—much less than our usual price bracket for high-water-mark experiences.
A consensus formed within our four-man-team that this Sonus faber Stradivari lead system was indeed our favourite, most complete, and most sexy of the show. It earns the crown for being our absolute best-of-show winner.

---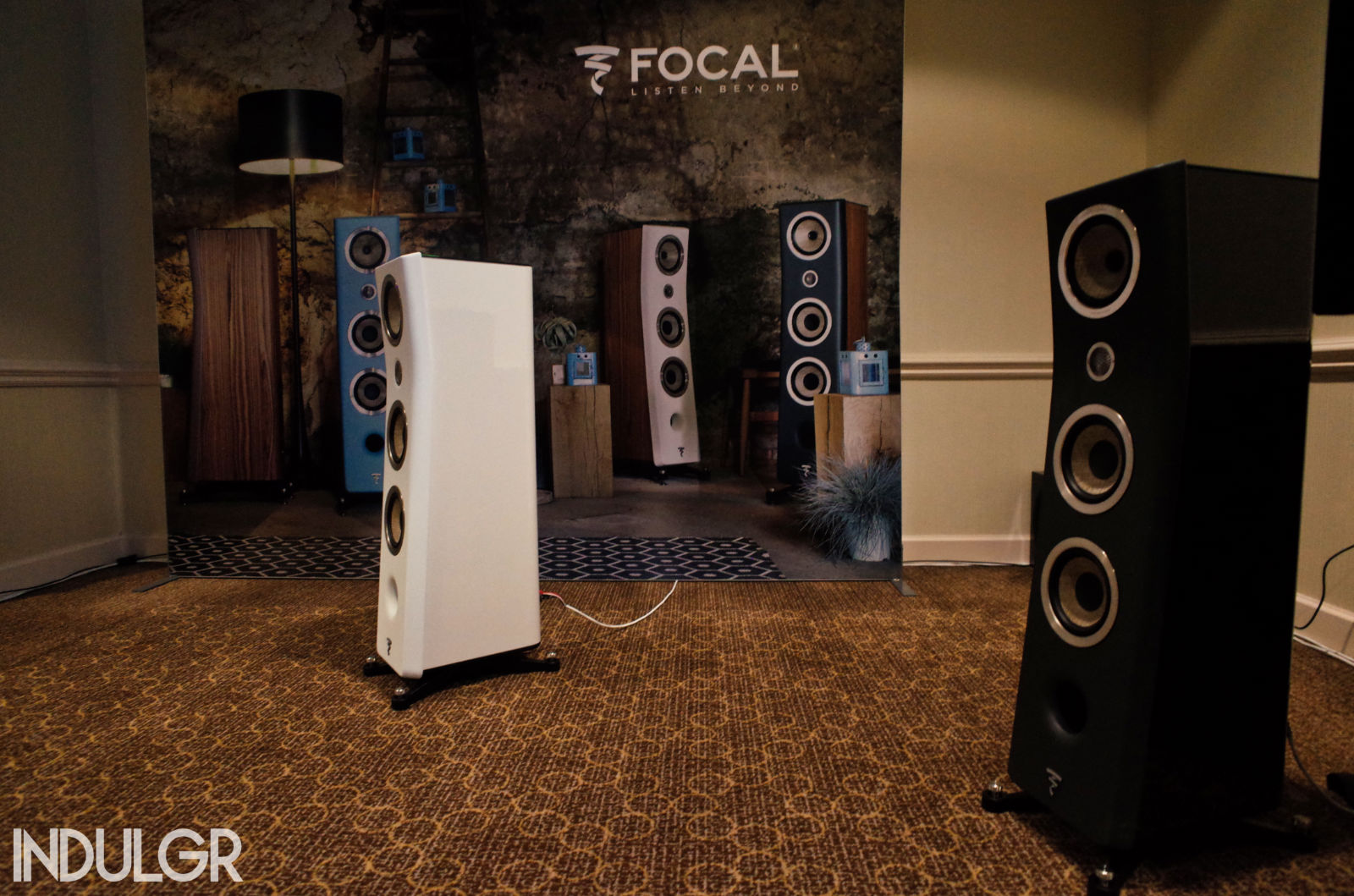 The Best High-End Home Theater
One of the most crowded and repeat-visit-heavy demonstrations of the Audio Advice LIVE weekend was the one put together by Barco projection, Lumagen processing, a Kaleidescape server, Seymour-Screen Excellence screen, Storm Audio amplification, FOCAL speakers, and RowOne seating.
The FOCAL speakers were positioned into a generously outfitted 9.4.4 home theater configuration, featuring mains and surrounds from the FOCAL KANTA series of high-end loudspeakers—and more specifically in the make-or-break position—the FOCAL Viva Utopia Colour Evo three-way center-channel loudspeaker, from the flagship Utopia III Evo range. If there's one thing my grandmother taught me one thing to remember about high-end home theater it's "centers and screens", which is her way of saying they matter most.
Speaking of screens, the 173-inch Seymour Ambient-Visionaire™ Black 0.9 cinemascope screen mated perfectly to the 5K output of the Barco Cinemascope projector. Cinemascope, if you're wondering, is an over-delivering 5120×2160 pixels, whereas the experience of 4K is less than the promised "4K" at just 3840×2160 pixels. Bummer right?
Undoubtedly the best all-around performing high-end home theater experience of the weekend. The image and sonics were astounding.
www.audioadvice.com/home-theater-design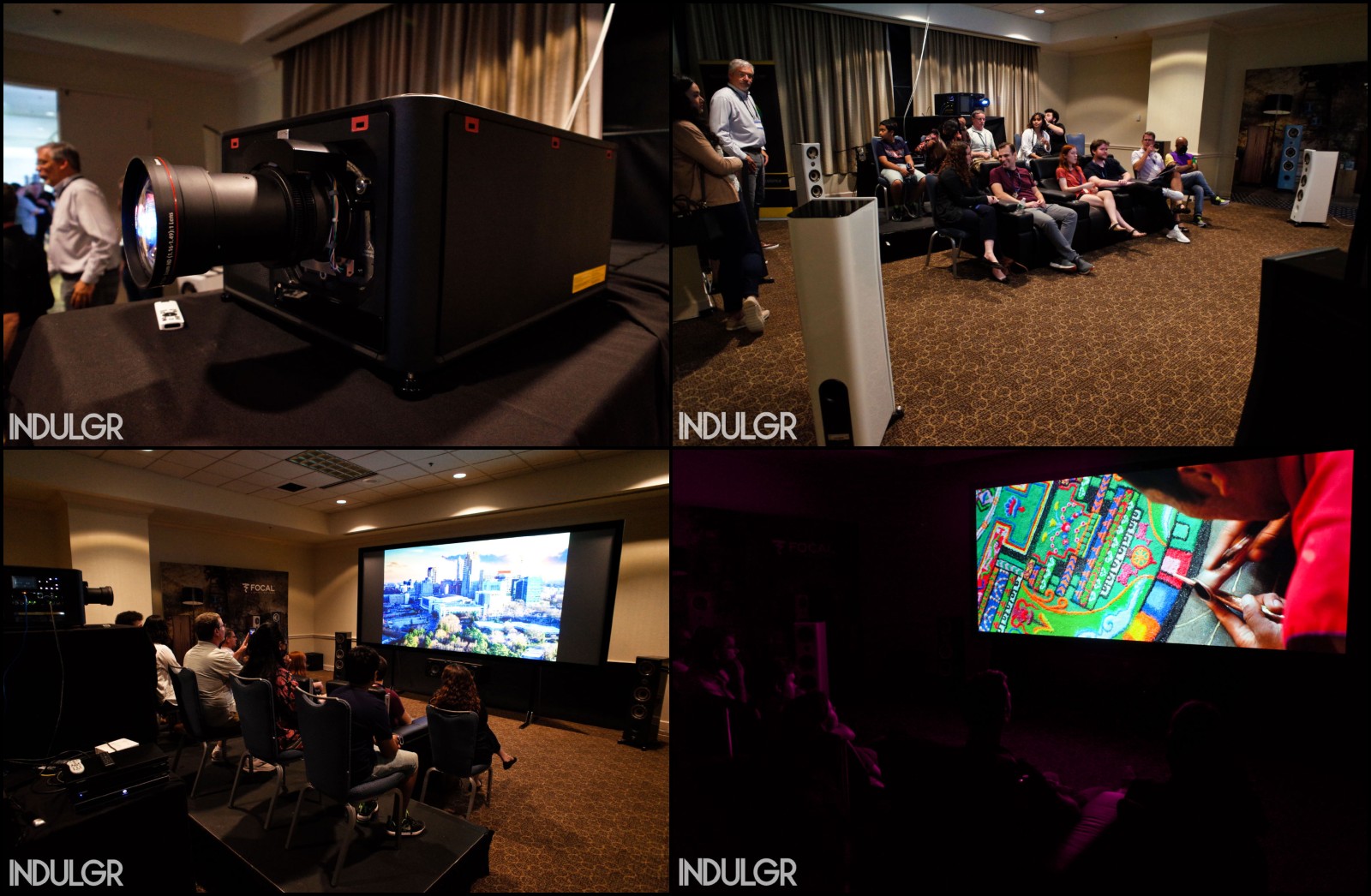 ---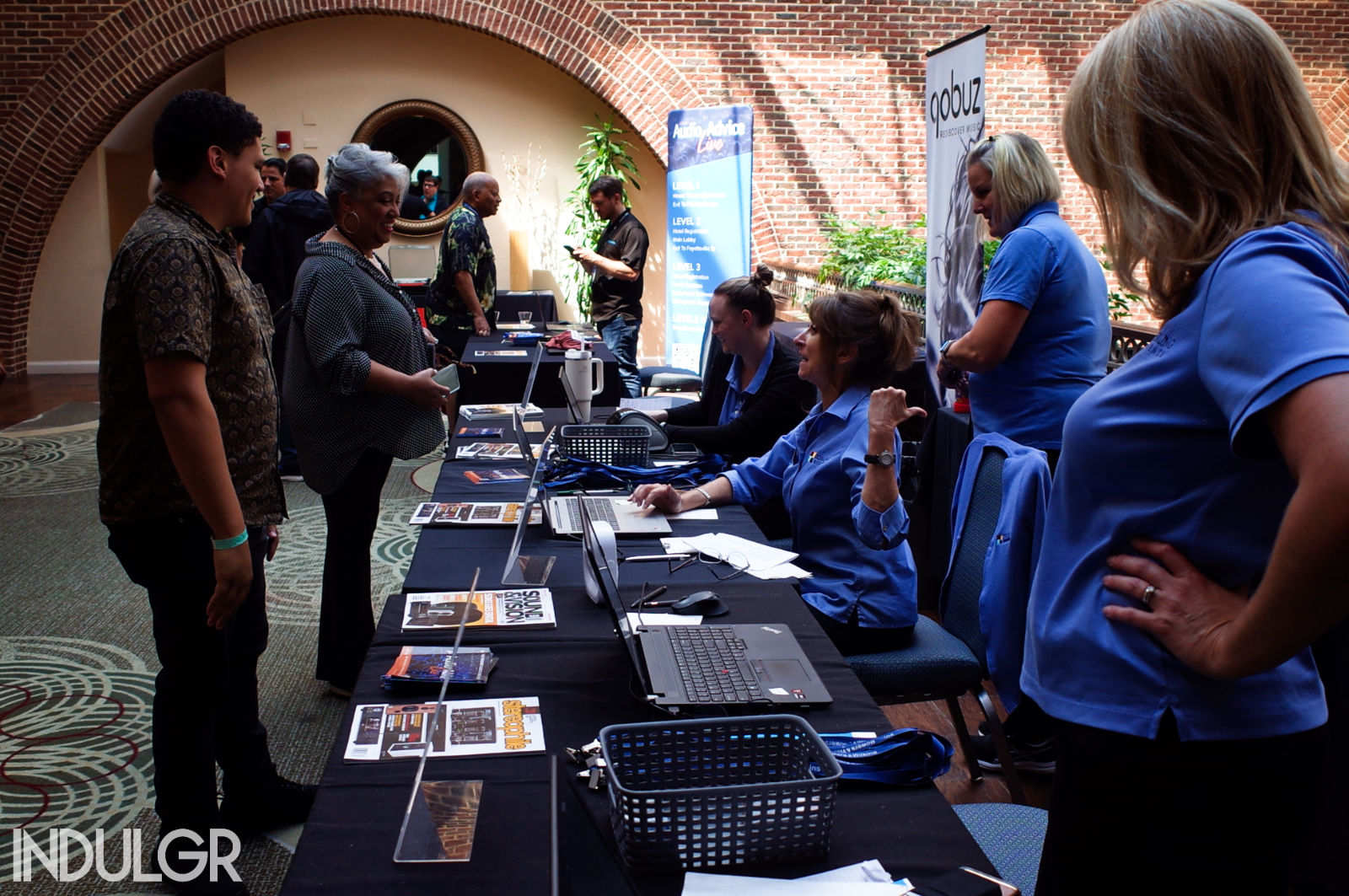 The Audio Advice LIVE 2023 Staff and Show Sponsors
It must be echoed again and again. The Audio Advice LIVE show is one of the premier and premium experiences of the industries they serve. The overall attention to detail and organization is second to none. This was something I personally expected as a long-time Audio Advice customer, who has first hand experience with their retail sensibilities. They've chosen the right partners and methods, time and time again, to produce a consistency of spirit among the sales and event staff.
The only changes I expect to see from Audio Advice and the Audio Advice LIVE show going forward is growth. Which at the granular level means more participation from brands not sold by the 40+ year high-end retailer. Audio Advice LIVE currently holds the reins as the most polished audio show experience on the east coast. Well, east coast for now that is. It is entirely possible that the Audio Advice LIVE show will find multiple locations to host the event up and down the east coast, and even westward across the country. Time will only tell if that hope is to become a reality. What it comes down to is industry support, which leads me to Qobuz.
Qobuz Hi-Res Streaming
Our favourite high-resolution streaming platform and soon yours—Qobuz (website)—should be recognized as a founding sponsor of the Audio Advice LIVE show, with a sponsor relationship that began well before the inaugural AAL event back in August of 2022. Qobuz has remained a sustaining force for Audio Advice LIVE—and other high-end-home-audio-shows around the globe. It's time that we give proper recognition to the work and support that Qobuz brings to uphold the energy and culture of the every-day audiophile and music industries.
Our INDULGR Audiophile playlist includes 600+ tracks perfect for auditioning high-end audio gear, and was curated by our team of editors.
During the Audio Advice LIVE weekend, Qobuz's own David Solomon— the company's Chief Hi-Res Music Evangelist—was often found roaming the halls, guesting on panels, and being the hi-res streaming ringmaster we've all come to appreciate and love. His generous nature and welcoming vibe is a fixture in hi-fi that we pray never goes away. Qobuz's commitment to hi-fi and its events must receive due credit. To David especially, we thank you.
www.audioadvice.com
www.qobuz.com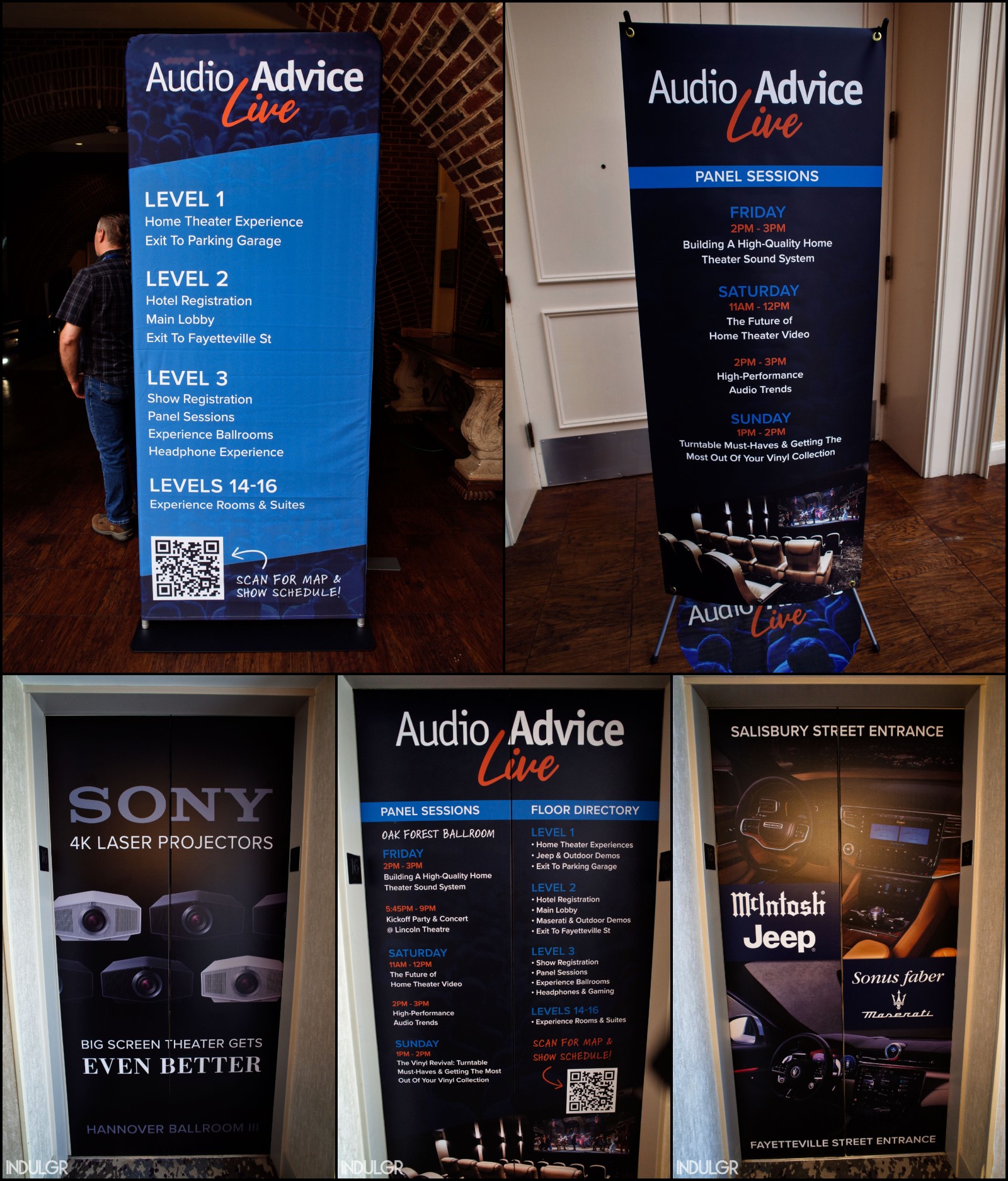 ---