What is the size of a grain of salt? A question like this seems relatively trivial to the cook, but to the Chefs at Roister — Grant Achatz of Alinea, Next and Aviary fame, and the casual dining location of today's visit in West Loop Chicago — the answer is what makes and breaks their execution.
This line of thinking defines the experience at Roister, where fellow INDULGR editors Jameson Mourafetis and Eric Franklin Shook stopped by for lunch the day before Axpona 2023. For those familiar with the whimsical precision of Alinea and Next, Roister will be familiar, and despite the street-food titles, the execution is thoroughly Achatz-brand modernist.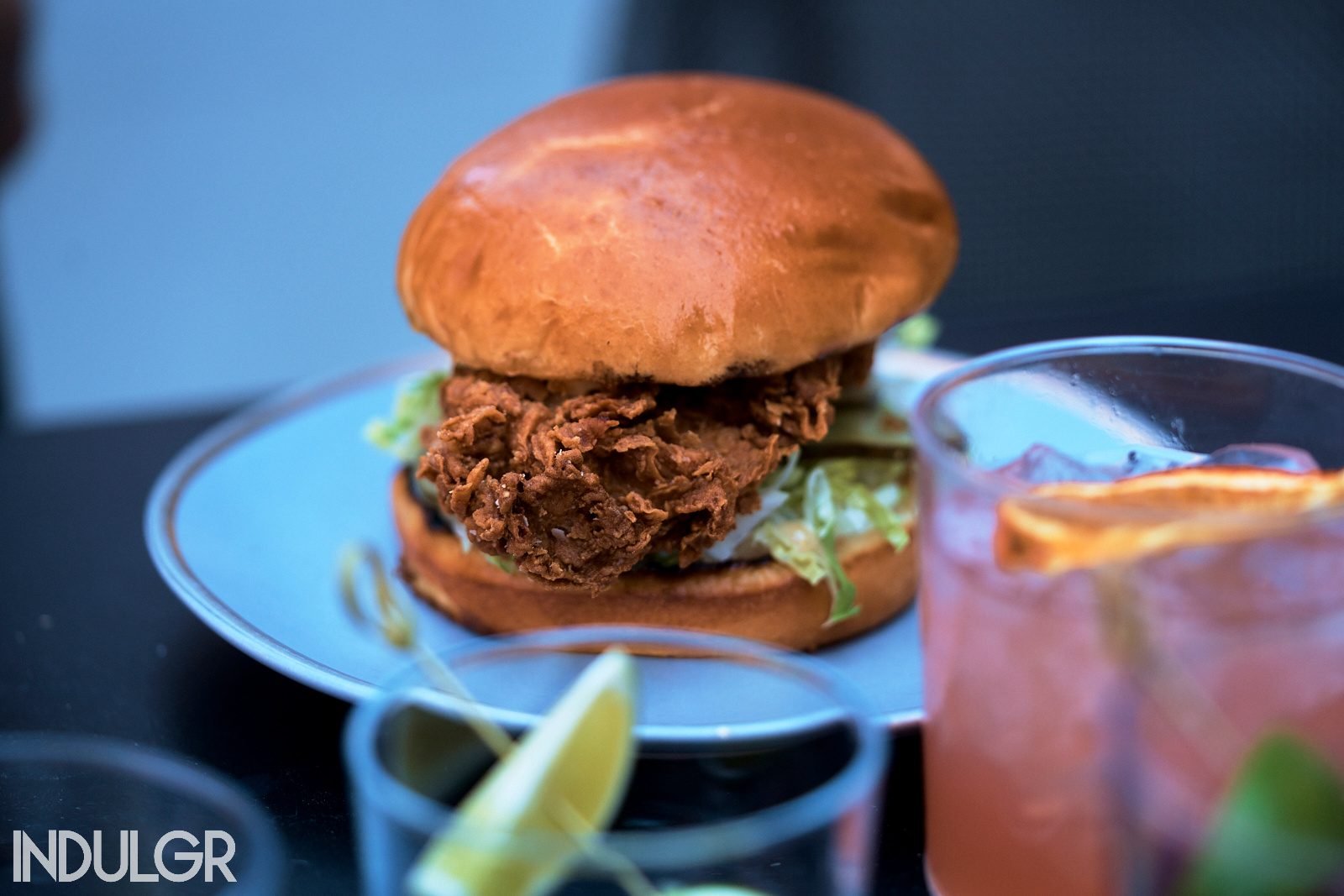 Chicken sandwiches, bibimbap, cheese croquettes, cookies and ice cream are the stuff of comfort food, yet in the hands of the team at Roister, the meal began with an interrogation of that most fundamental kitchen ingredient: salt.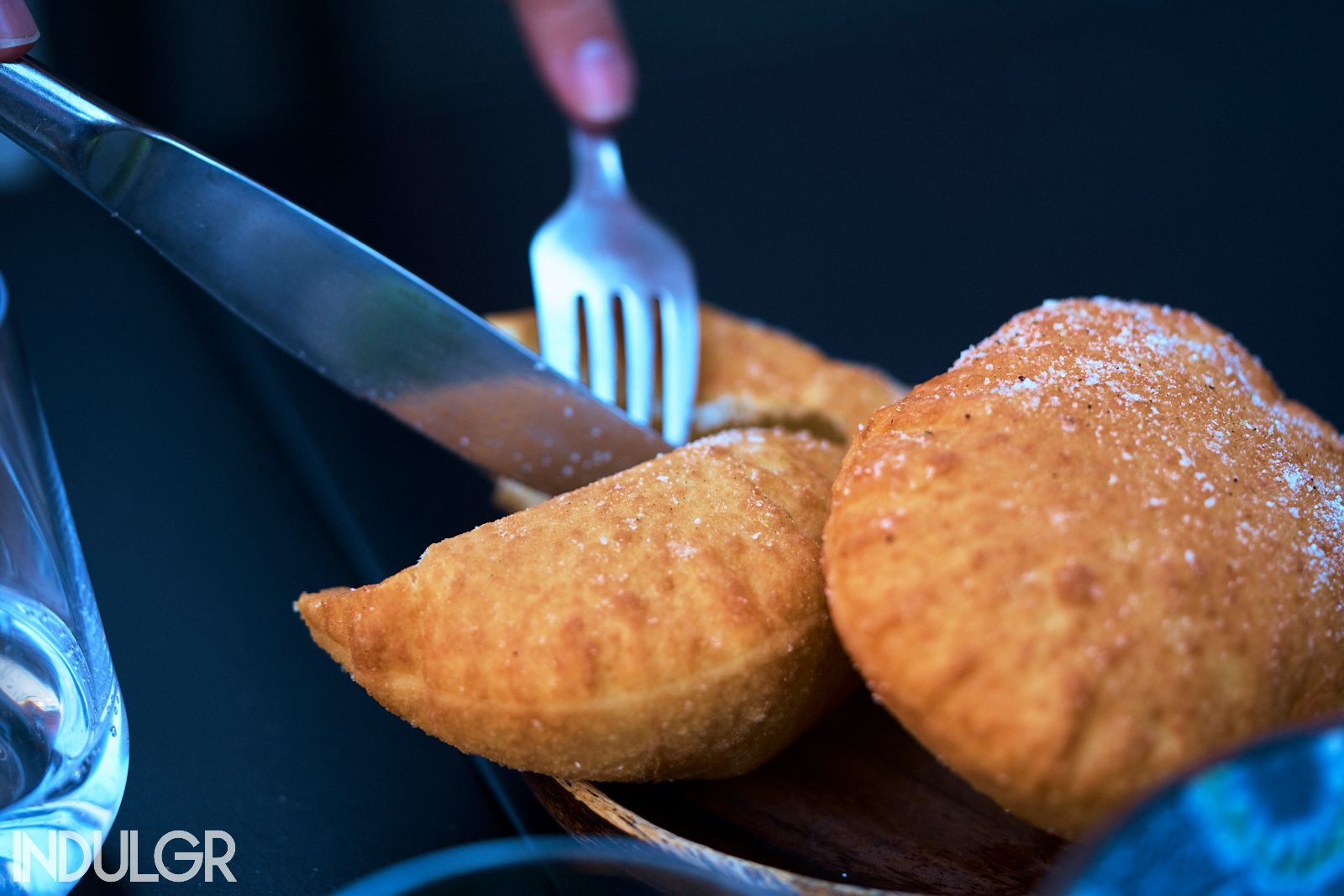 The first course of cheese croquettes was, to my mind entirely made to question the size of salt crystals. These are soft, pillowy beignet-style puffs, with a side of dairy, chili oil and green onions. Those aforementioned salt crystals were neither the large, chunky cubes you might find on a steak, nor were they the miniscule, indistinguishable powder you might see sprinkled into a stew or soup. Rather they occupied a notable middle ground: big enough to draw attention, yet small enough to dissolve shortly after hitting the tongue.
Mind those of you who may think I'm living with my head in the clouds – my fellow editors commented on this same phenomena, and the tone for the meal was set by exactly this kind of deliberate precision. Everything at Roister is cut, ground and sliced to very exact proportions, almost more the work of a baker than a cook.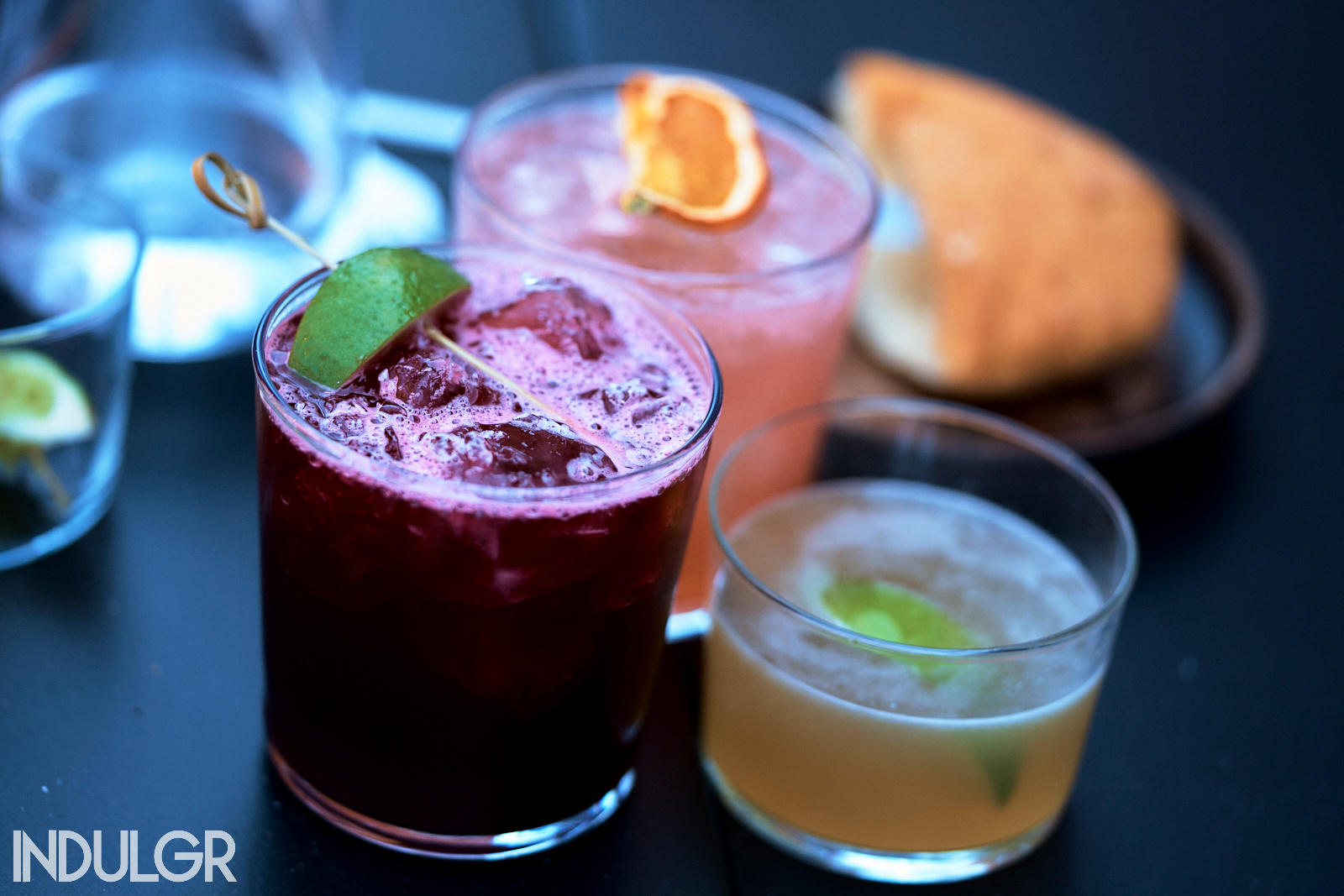 After the crispy, tangy, and surprisingly light appetizer, our second courses and drinks appeared with a swiftness that will be familiar to anyone who has dined at Alinea or Next. In the lexicon of Grant Achatz, the flavors, textures, timing, smells — everything is considered. While I'm an enthusiastic owner and user of the ZERO Mocktails book by the team at Alinea, I've been occasionally unimpressed by the capability of the Aviary when it comes to mocktails. In this case, the pomegranate-citrus infusion I got was fine, albeit forgettable. Thankfully it was not cloyingly sweet.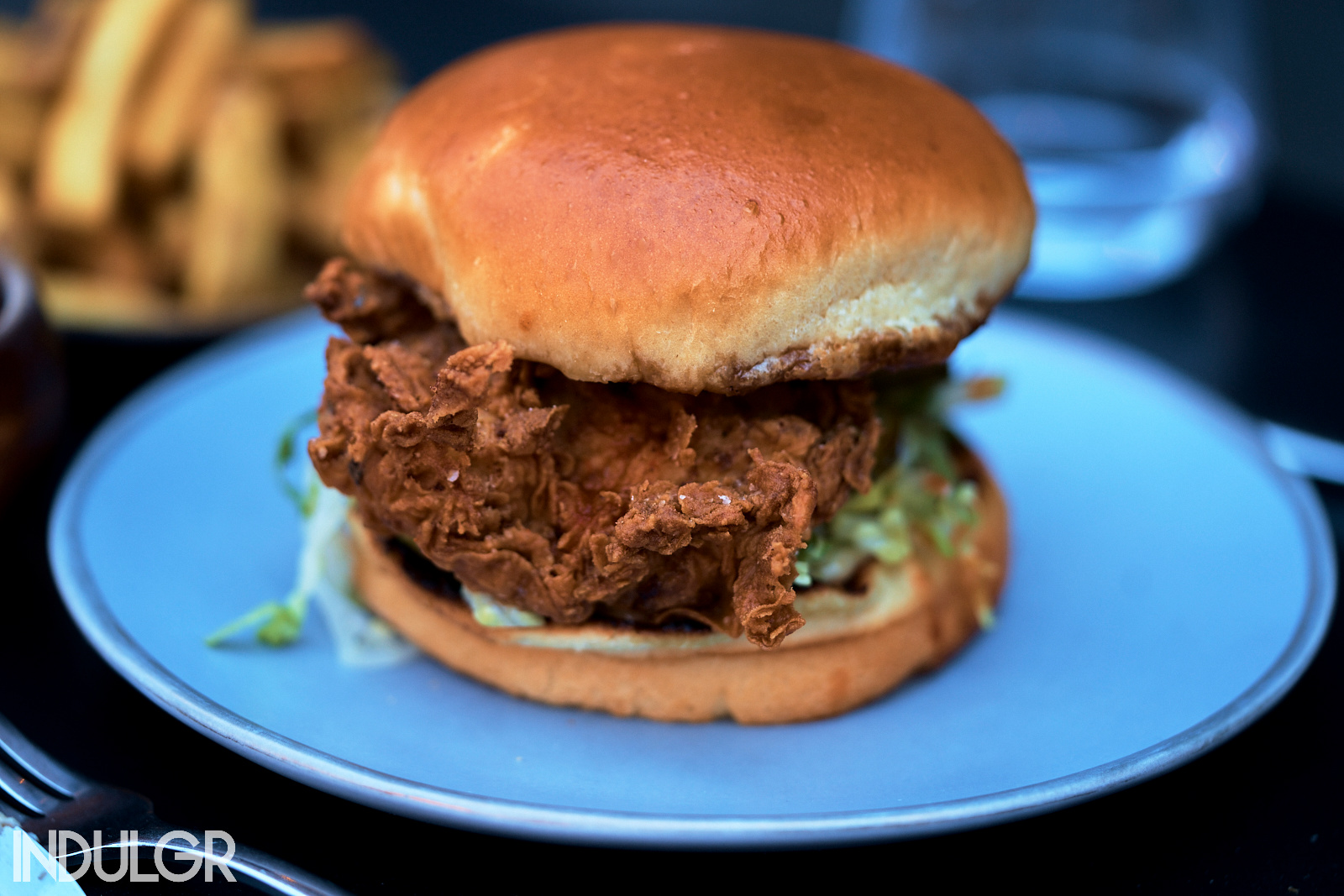 Our mains arrived, consisting of Roister's real claim to fame: their fried chicken. The chicken sandwiches the rest of the table received would put even a southern mother to shame, and the same fried chicken applied to my bibimbap bowl was even better. Remarkably, every single piece of fried chicken on the table was identical in tenderness, consistency of breading — somewhere between a light batter and a breading — and even shape. Though the trappings of a typical mid-price lunch spot adorn Roister, the food is undeniably a step up, and that Alinea-like precision subtly underpins every course.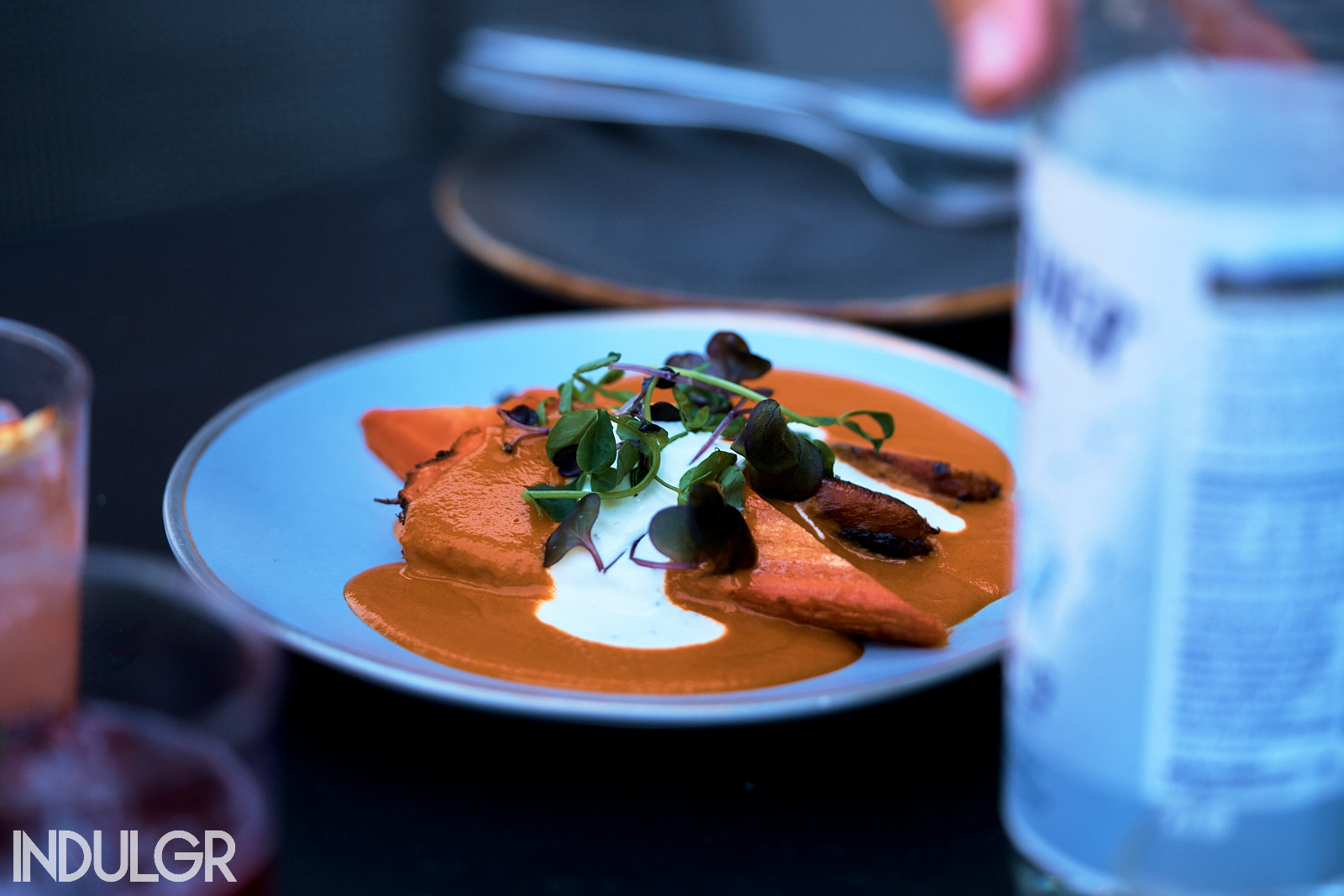 Alongside the aforementioned chicken sandwiches and bibimbap, we also ordered a side of french fries and Tikka Masala carrots, which proved perhaps the most curious dish of the afternoon. Exactly as advertised, it was modestly-tender grilled triangle carrot slices covered in a very british cream-based Tikka Masala sauce. Quite tasty and savory, though perhaps not as harmonious with chicken sandwiches as the french fries.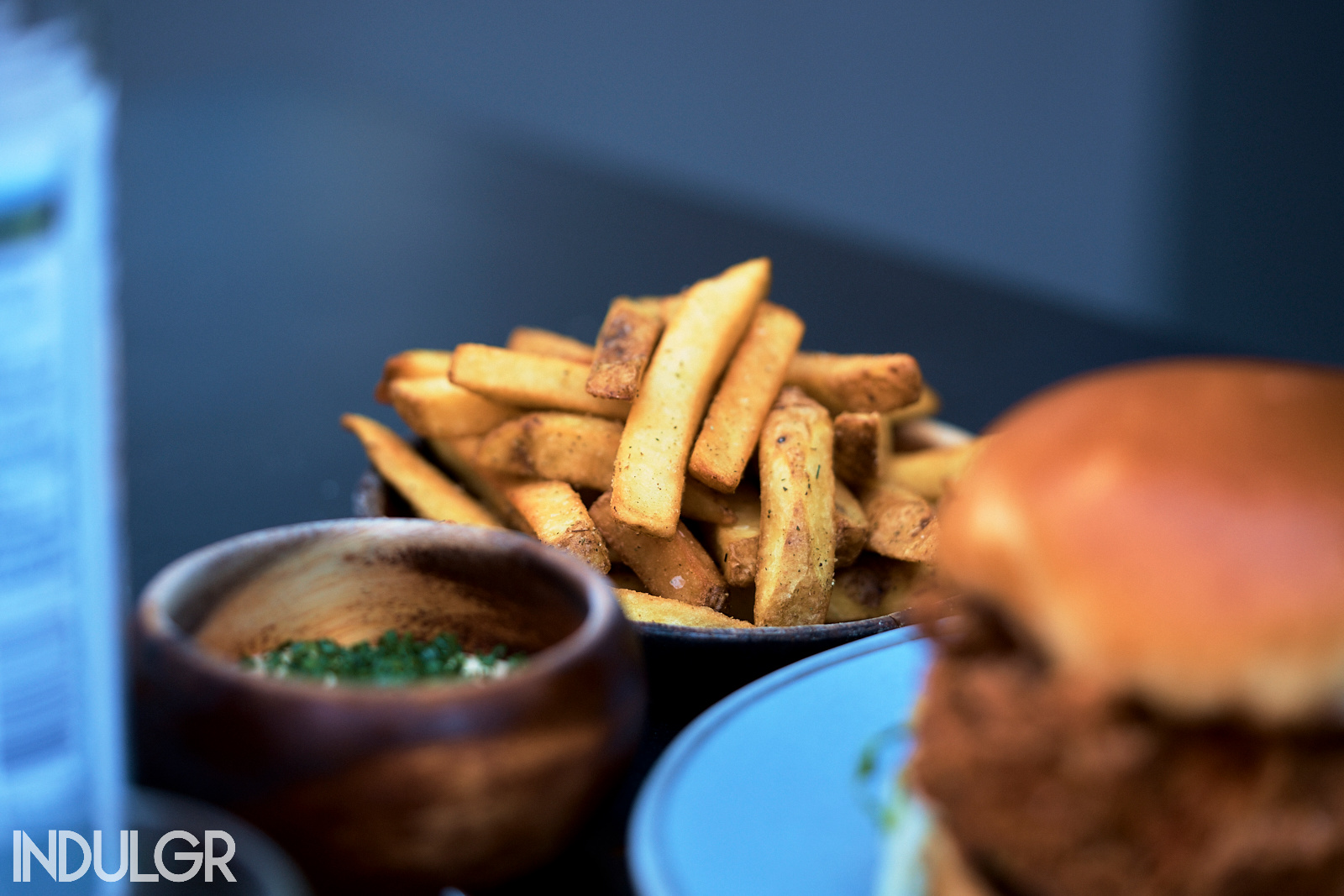 With my Bibimbap it made an excellent combination however, and though nothing on the Roister menu indicated this, I detected the ghost of Alinea's prix fixe in the DNA of Roister's menu. There are most certainly pathways on the menu, split roughly into more vegetarian and carnivore friendly, with some crossover. The french fries and chicken sandwich are obviously meant to pair together, and the vegetable dishes obviously compliment the vegetarian pasta and asian-fusion dishes. For the most consistent experience, I would recommend diners stick to these pathways. Tikka Masala carrots, savory and refreshingly earthy as they were, do not necessarily make the greatest compliment to a fried chicken sandwich.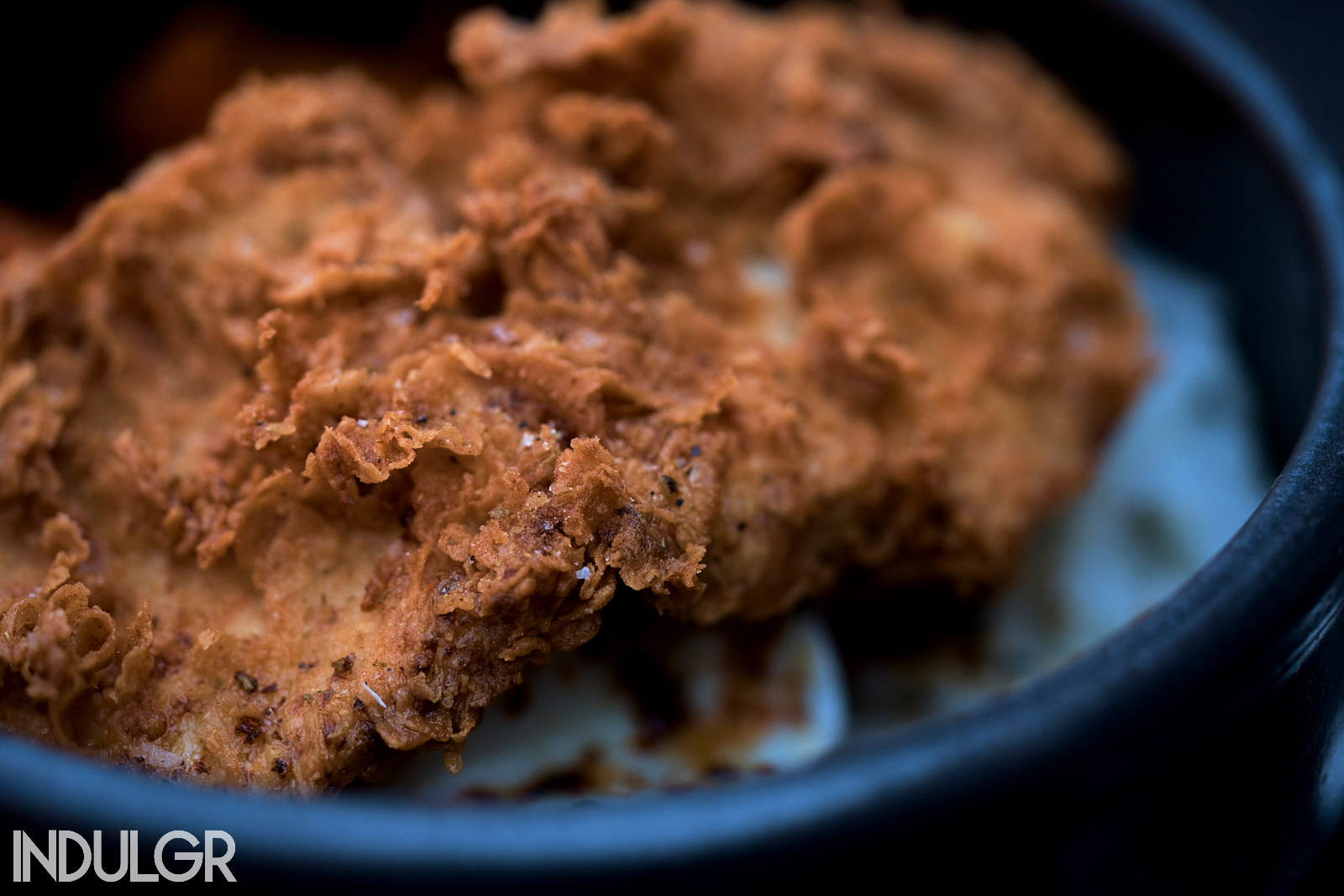 My bibimbap bowl on the other hand, with its almost kimchi-like house-made gochujang and spectacularly perfect fried tofu was a different matter entirely. One of my weaknesses by hubris is having somewhat of a spidey-sense for hidden gems on excellent menus. The tofu was nearly like a sous-vide steak, crispy on the outside, yet nearly custard-soft on the inside. The signature fried chicken was tender, a hint crispy, and yet again made by a saltiness I can only describe as being measured down to the size of the grains. The sandwiches were equally exceptional, with buns toasted to a delightful softness.
The mains courses took us some time — Roister does not skimp on the portions. When it came to the final course, we waffled briefly over desert but decided eventually on the cookies and ice cream, as it seemed the most thematically apropos ending to our trek down the comfort-fusion inspired pathway of the menu.
Here is where I was least impressed – a simple high quality execution of cookies and ice cream would have been sufficient to put a period on the meal, but instead we received a comma of sorts. Rather than ice cream, small bits of frozen cookie-infused frozen toffee and a pie-crust like substance were presented in a sundae dish. While the flavor and texture was more or less appealing, cookies and ice cream it was not. The texture was a bit too chunky on the 'ice cream' resembling a frozen candy more than Oberweis, and the pie crust was too crumbly to be pie crust, yet too hard to be a proper cookie. All of this again underpinned by that signature saltiness, which for a third course proved just a bit excessive to my taste buds.
While the dessert was no means a miss, for a meal with such a strong thematic core and precision execution, this felt like a bit of a stumble. The execution was no less excellent, but the concept of the dish felt a little indulgent. In this case, while some rethinking of familiar dishes was welcome in the early stages of the meal, the dessert stumbled on what ought to have been
an easy landing.
Roister Defined
That said, the entire meal at Roister was defined by its hits rather than any misses, and to my taste buds, this is perhaps one of the best mid-price lunch spots in the West Loop. While not a destination restaurant like its older, spendier siblings, I can recommend it without reservations as being among the best sub-$40-a-head lunches I've had. Through a sometimes mechanical precision, Achatz has managed to insert his signature whimsy into familiar dishes and this is perhaps even more uniquely suited to the simple, classic choices of Roister's menu than it is to the sometimes novelty-centric offerings at Alinea and Next. Two carnivores and an omnivore walk into a bar, and we left, satisfied equally by the quality of the meal and its relatively modest impact on our pocketbooks.
Learn more at: www.thealineagroup.com
---
About the Author
Wanderer, Wonderer, Musician, Actor
Grover Neville resides in sunny Los Angeles, California, and is a graduate of the Oberlin Conservatory of Music where he studied music and creative writing. After graduating he pursued a freelance career in audio, and professional research in the fields of Auditory Cognition, Psychoacoustics, and Experimental Hydrophone Design. He is a native of Chicago, Illinois and previously did work there as a mixing and mastering engineer, working in music genres such as Avant-garde Classical and Jazz.
As a transplant to Los Angeles, Grover still works in the music industry, but now adds the video game and film industries to his calling. He is actively pursuing a career as an independent musician, composer, and producer.
Grover previously contributed to Innerfidelity, Audiostream, and Part-Time Audiophile—before becoming an editor and co-founder of INDULGR magazine.