Driving around downtown Chicago's West Loop, you'll find no shortage of restaurants, bars, and cafe storefronts to captivate the passing eye. Almost hidden among them Green Street Smoked Meats stands apart as a pinch of home for this partially-Texas-raised boy from North Carolina. From the street, an unremarkable marked-up, mostly black painted, factory-like building with signs directing you to anywhere but inside.
Adjacent to the aforementioned facade, a side alley that puts: cobblestone pathways underfoot, the smell of a sweet char into the swirling air, and to the heart it fastens a feeling of comfort that only the sight of weathered picnic tables can provide. Everything you see and smell from here on is a clue for your gastronomic curiosity to follow. The bunting-style draping of oversized holiday lights do everything to combat the dread of dark alley mythology—no Jack the Ripper will be found at the end of this alley—but indeed there is a man with a knife and a steady hand.
Once inside, it's an entire generation worth of Millennial kitsch winking at you. Exposed electrical conduit, decorated ductwork, stained warehouse walls, tattered steel beams, and the quick-tempoed grunt of bands you've probably never heard of; in this land oxidation is king and rust revered as the finest patina.
It's true. Millennials will pay extra for rust.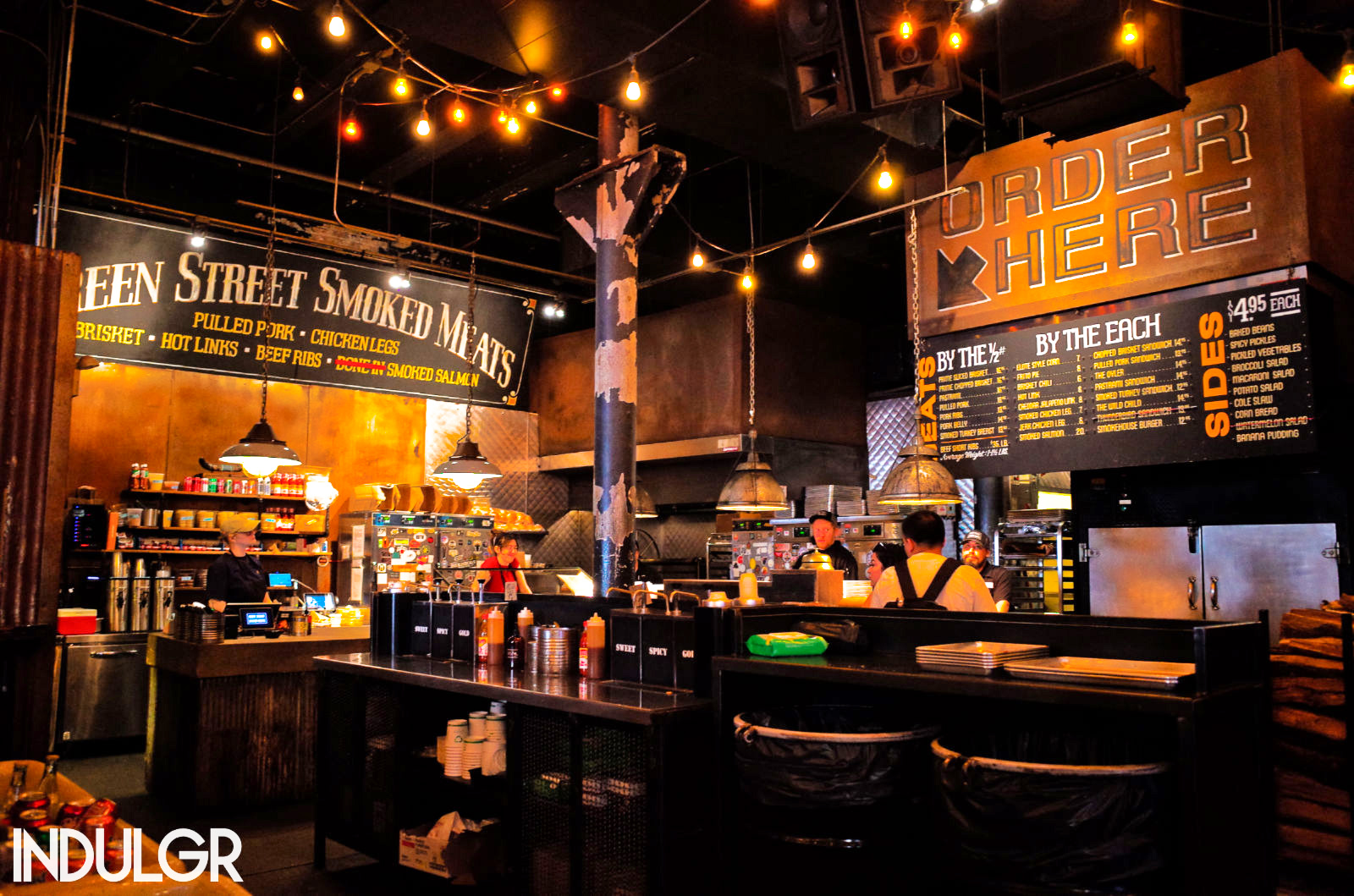 Green Street Smoked Meats
The menu hangs on clearly communicative signage (printed, not chalk) above the counter and cutting stations. Where to place your order is easily understood, and the first encounter with staff is the perfect blend of accommodating mixed with a subtle undercurrent of urgency. They have this rhythm down cold. Keep it moving.
For beverages it's the usual American canned and bottled soft drinks—of which I could normally give two shits about—but to keep it all-things-Texas I'll likely choose a Dr. Pepper to accompany my choices of smoked proteins. However, by the grace of god they have both the licensing and the desire to keep me inebriated while here. God bless'em!
To the side of egress and opposite the pump-o-matic BBQ sauce cans and sundries, a trio of salvaged cast iron basins offer "Sink Beers" at $5 a pop communicated with a handwritten cardboard sign. How hobo-chic? Behind them, a full-bar staff is at-the-ready. But we'll come back to that, here some sooner, and yet still more later.
We came here to see the meats, and it's a specific brand of mid-day-dark inside this establishment, as only a hipster Chicago West Loop restaurant knows how to furnish, so I keep an extra steady hand and take a few photosnaps of the meaty action.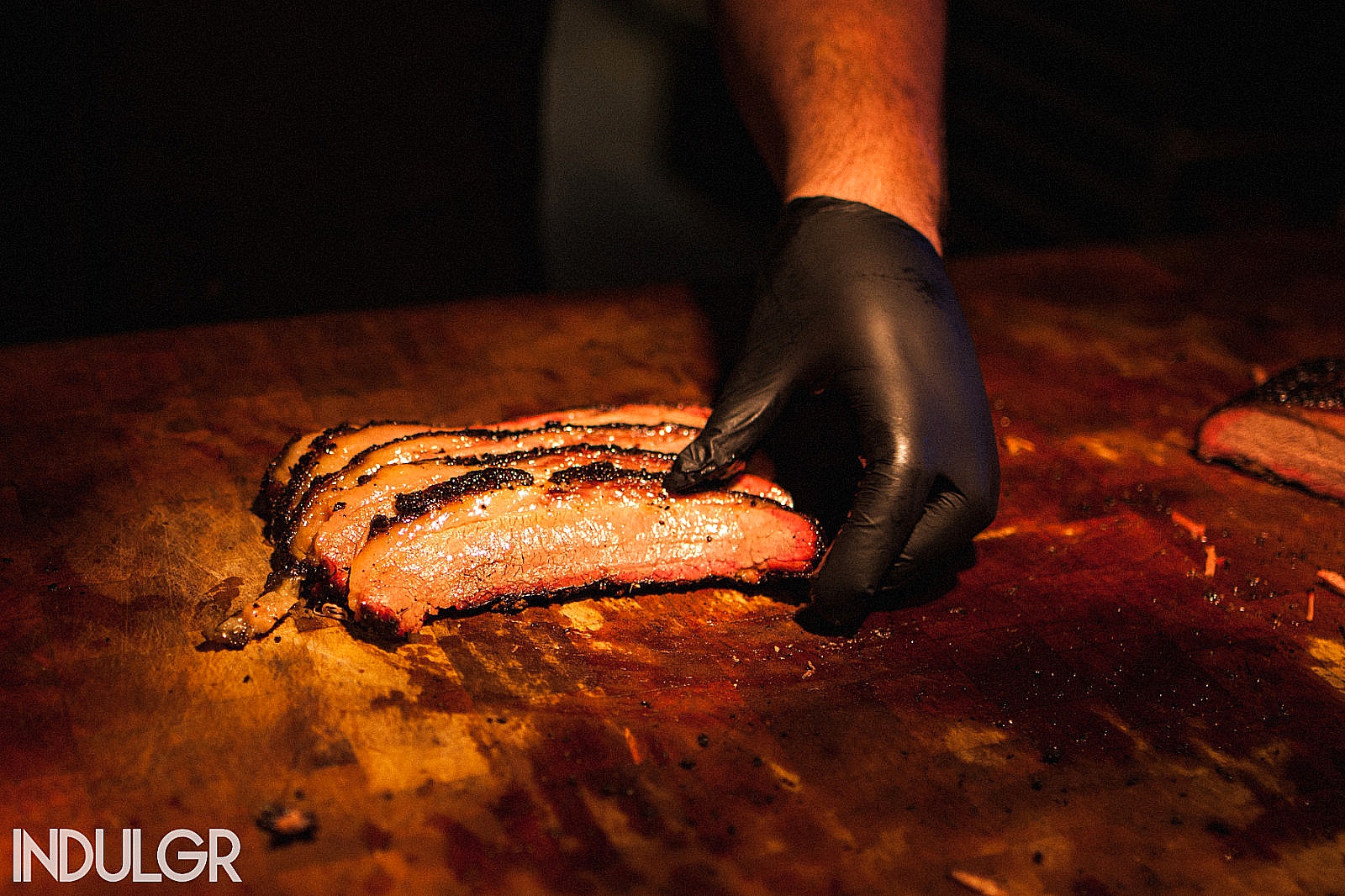 The menu focuses on—you guessed it—meat and offers no shortage of it: pulled pork (a North Carolina thing), chicken legs, smoked brisket (a Texas thing), pastrami (a New York thing), hot link sausages, beef ribs, smoked turkey, smoked salmon— and all are sold by the half-pound. So if you're looking for a tasting menu, bring a few friends along.
A modest variety of starchy and non-starchy sides hold the flanks of the menu. An online list (for the phone-in-hand crowd if needed) reveals something we rarely find outside of Texas, the Friday Night Lights and State Fair staple—something I hope they serve in heaven—Frito pie, or as us Texicans call it, "a walking taco."
Having a case of the pre-meat-jitters, I think it is wise to suggest to my publisher that we make a quick stop at the bar to calm the nerves and make for steadier hands. Having sharp photos to publish is not a bourgeois concept. The common man's barbecue deserves a level of higher focus.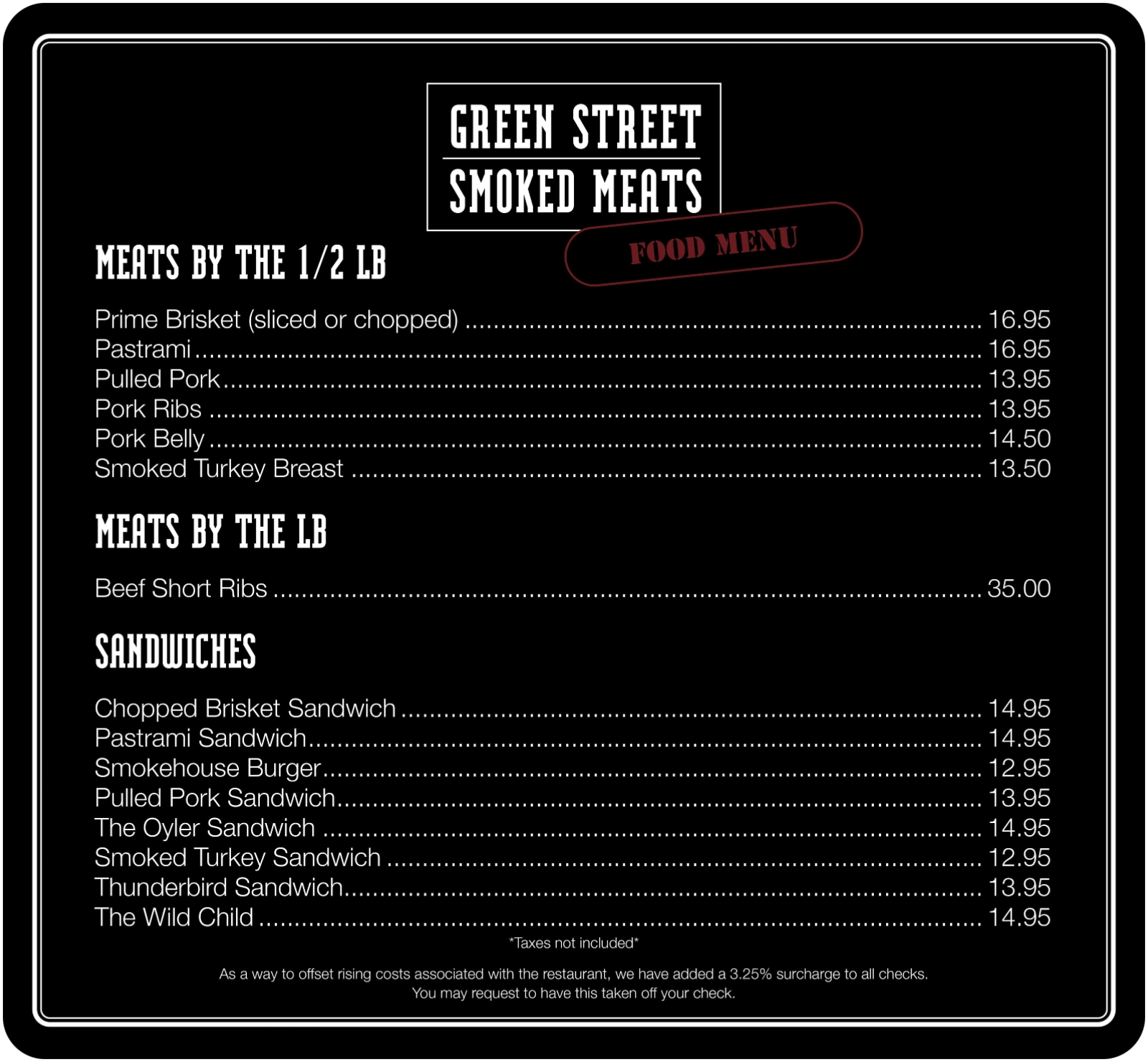 ~ Menu Condensed for This Article ~
---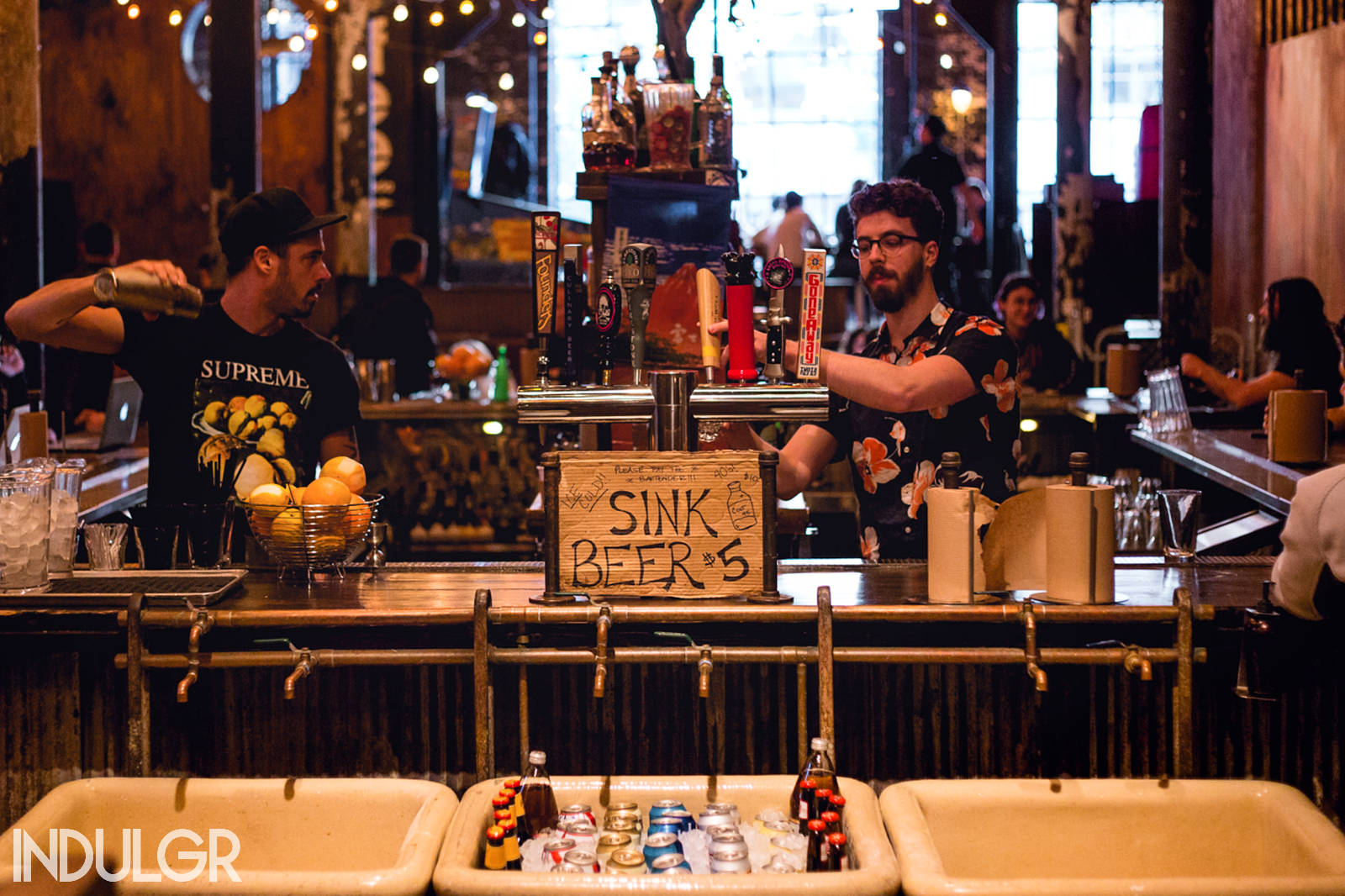 Those Gnarly Cocktails and Sink Beers
"I'm Drunk, and I'm High, and I'm in Chicago."
—John Schuster
A note for photographers, insta-fluencers, and even tik-tokers; the sauce and napkin stand can be transformed into a nice makeshift tripod for better low light shots, and speaking of shots. The bar offers a delightful and immodest selection of properly curated western-world bourbons, whiskeys, and draft beers. All chosen to meld so finely with the meaty fats and smoke rich cuts of pork and beef.
Alongside the bottled offerings, a well designed menu of appropriately backyard-barbecue themed cocktails, each sold by the glass or the pitcher. Golly!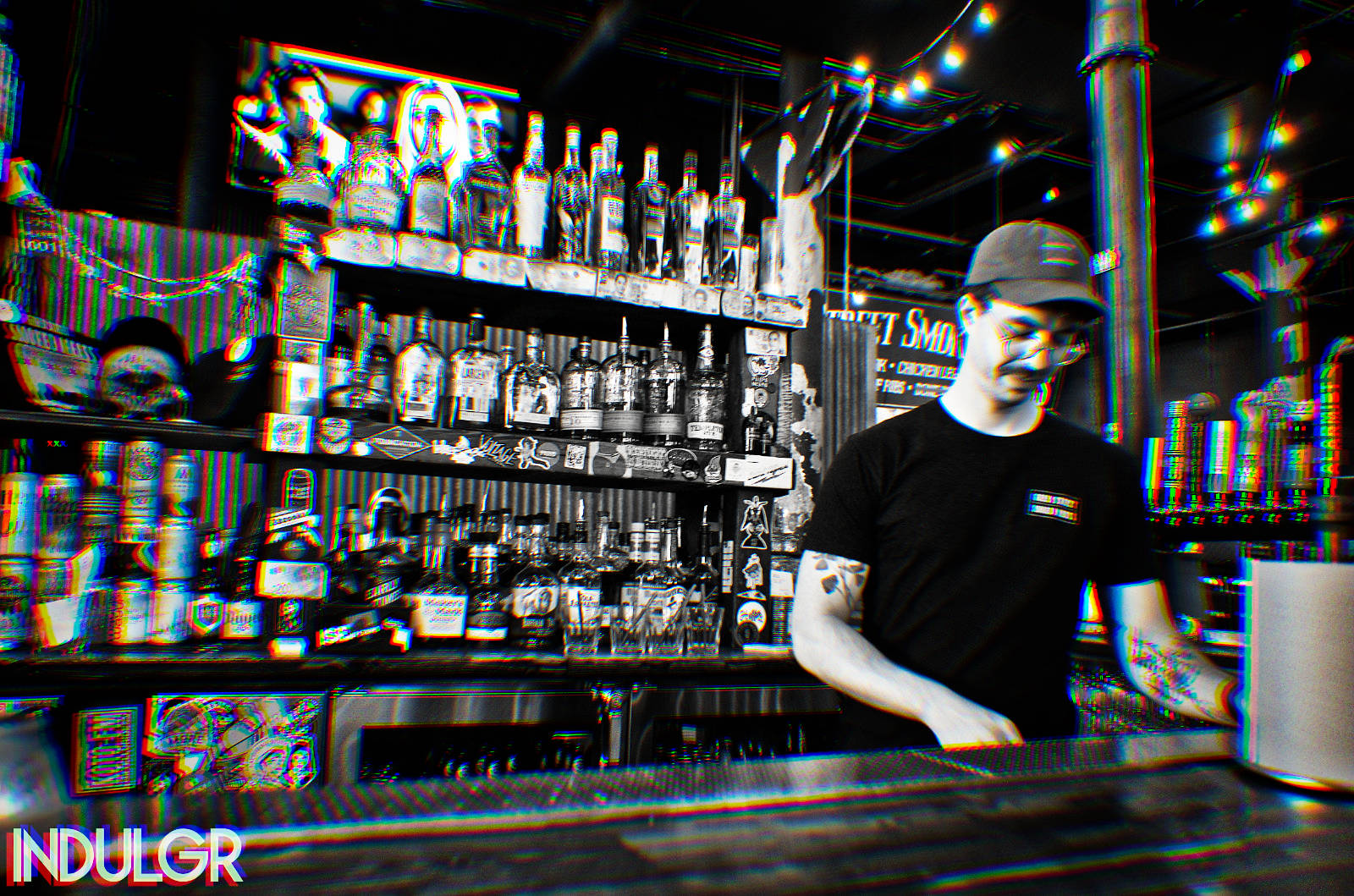 After knocking back a volley of shots picked-out by the publisher, we peruse the cocktail menu, but decide it to be more responsible if we save our senses for tasting foods and keeping a balance of hand.
Trust me, we patted ourselves firmly on the back at that moment, and walked to our seats with the confidence of a Catholic school boy who's just exited the confessional with a light penance. Staying sober(ish) and doing the lord's work will definitely score us points of honor with the big fella. Right?
"He who eats meat, eats to the Lord, for he gives thanks to God; and he who abstains, does so to the Lord and gives thanks to God."
– Romans 14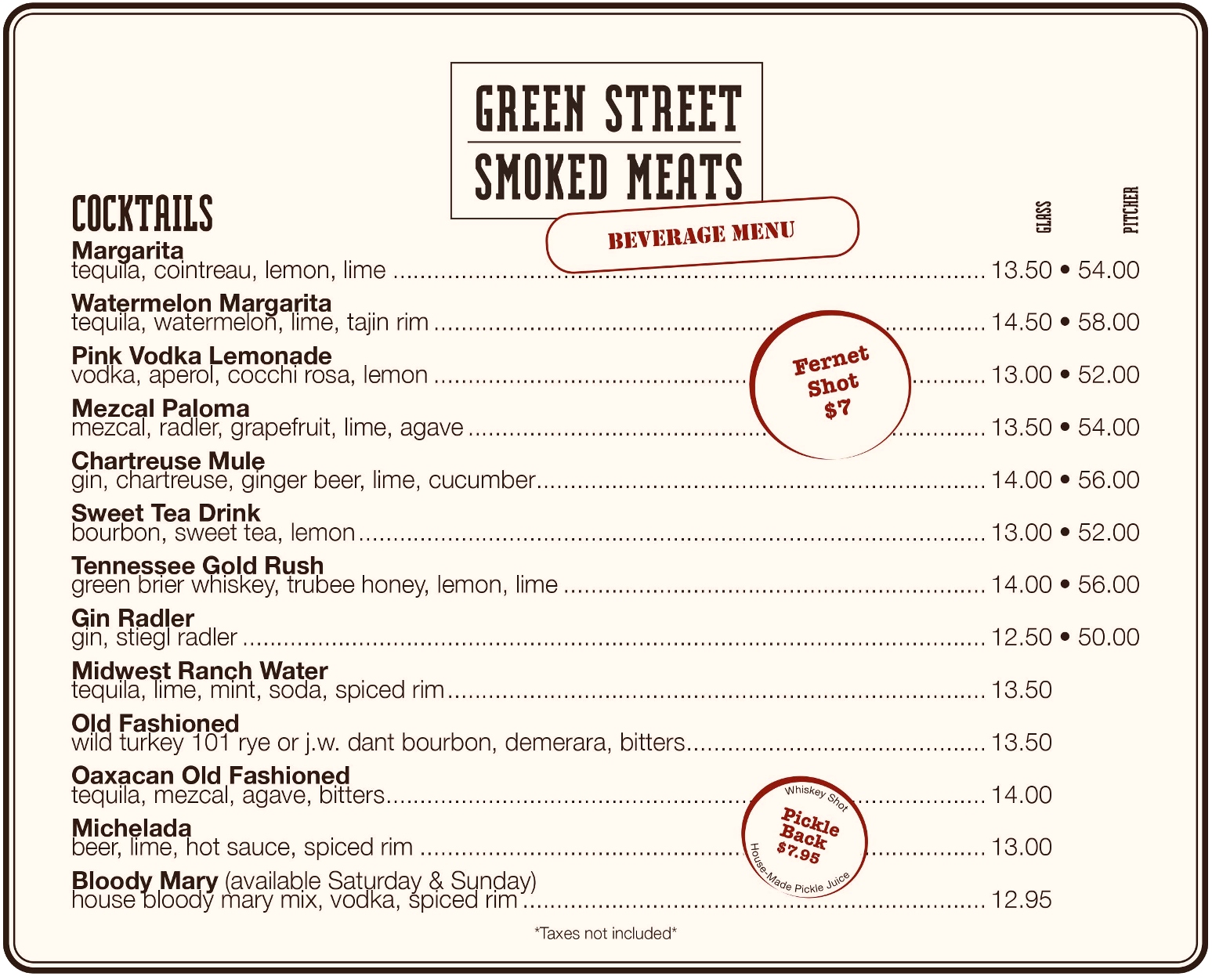 ~ Menu Condensed for This Article ~
---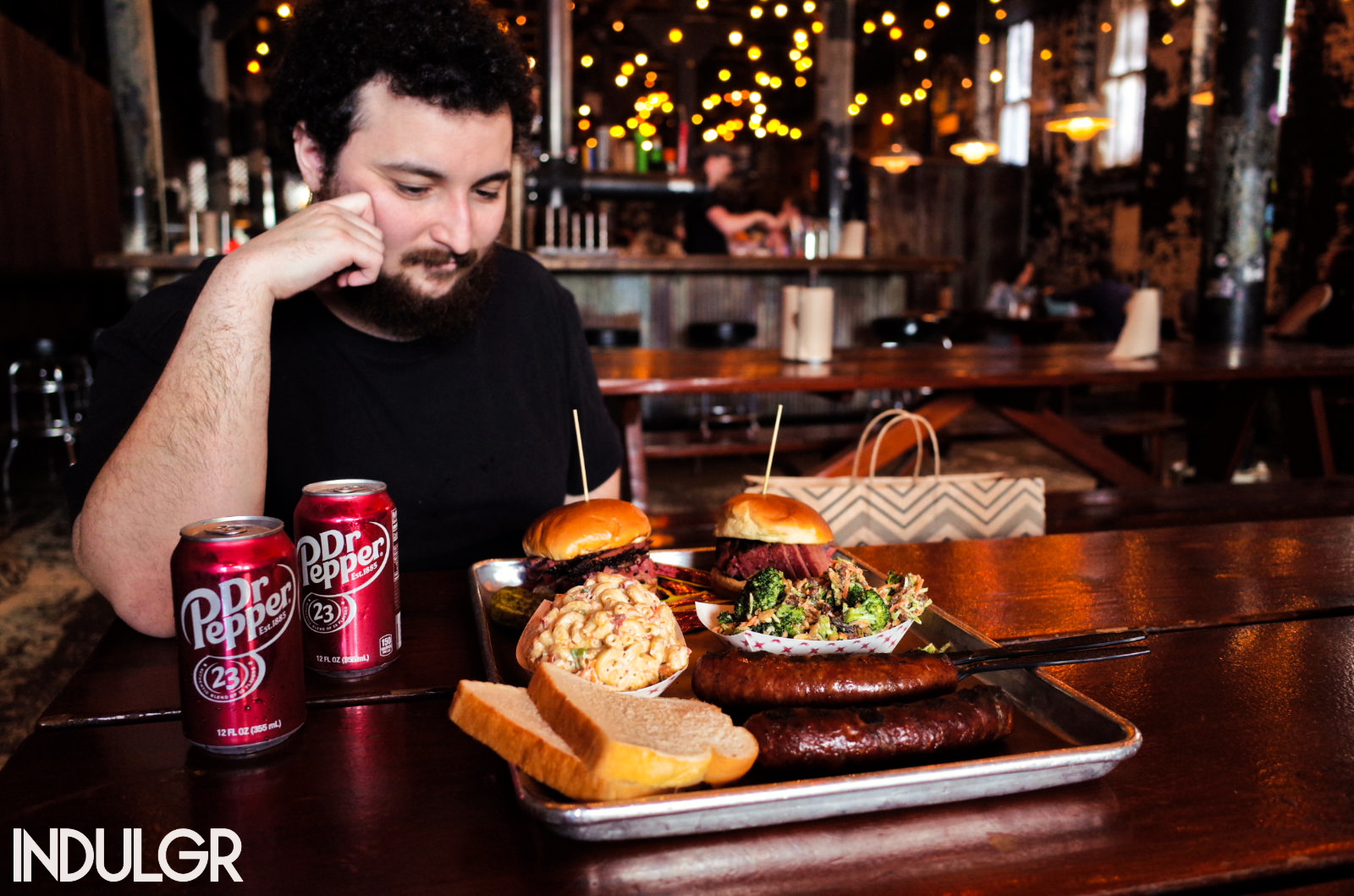 The Pitmaster, The War, The Sides
Finally! We're down to the part you've been waiting for. Oh wait! It looks like the publisher has had one too many… oh nevermind, he'll be just fine in a minute or two.
Jameson and I have both chosen the Smoked Brisket sandwich, which for me is enough of a reason to even venture into the West Loop. He also suggested we try a few varieties of the house made hot link sausages, as conjured by pitmaster David Bonner. Who says, "this house features central-Texas inspired barbecue," and I do believe he's right on the mark.
Bonner's background tells us that he was born, raised, and trained in Long Island, New York. Not a place you expect to find top-flight Texas BBQ pitmasters to spring up from the ground.
This background is the reason I chose the Texas barbecue offering over North Carolina barbecue. One can learn how to make solid, if not award-winning, Texas barbecue just by watching enough YouTube videos. Heck, they even have award-winning Texas barbecue in South Korea now. Which is on our list of places to try next.
Texas brisket in particular can be made in a variety of acceptable ways, each with a specific audience, purpose, and occasion in mind. There's competition brisket, restaurant brisket, wedding brisket, **funeral brisket, backyard style (or "del dia brisket" as H.E.B. shoppers know it), and finally microwave brisket.
Each of those types ranges chronologically from the classic low-and-slow method, all the way up to the most sinful hot-and-fast method. The rapidly available "del dia" style brisket can impress, but to the latter most I say yuck!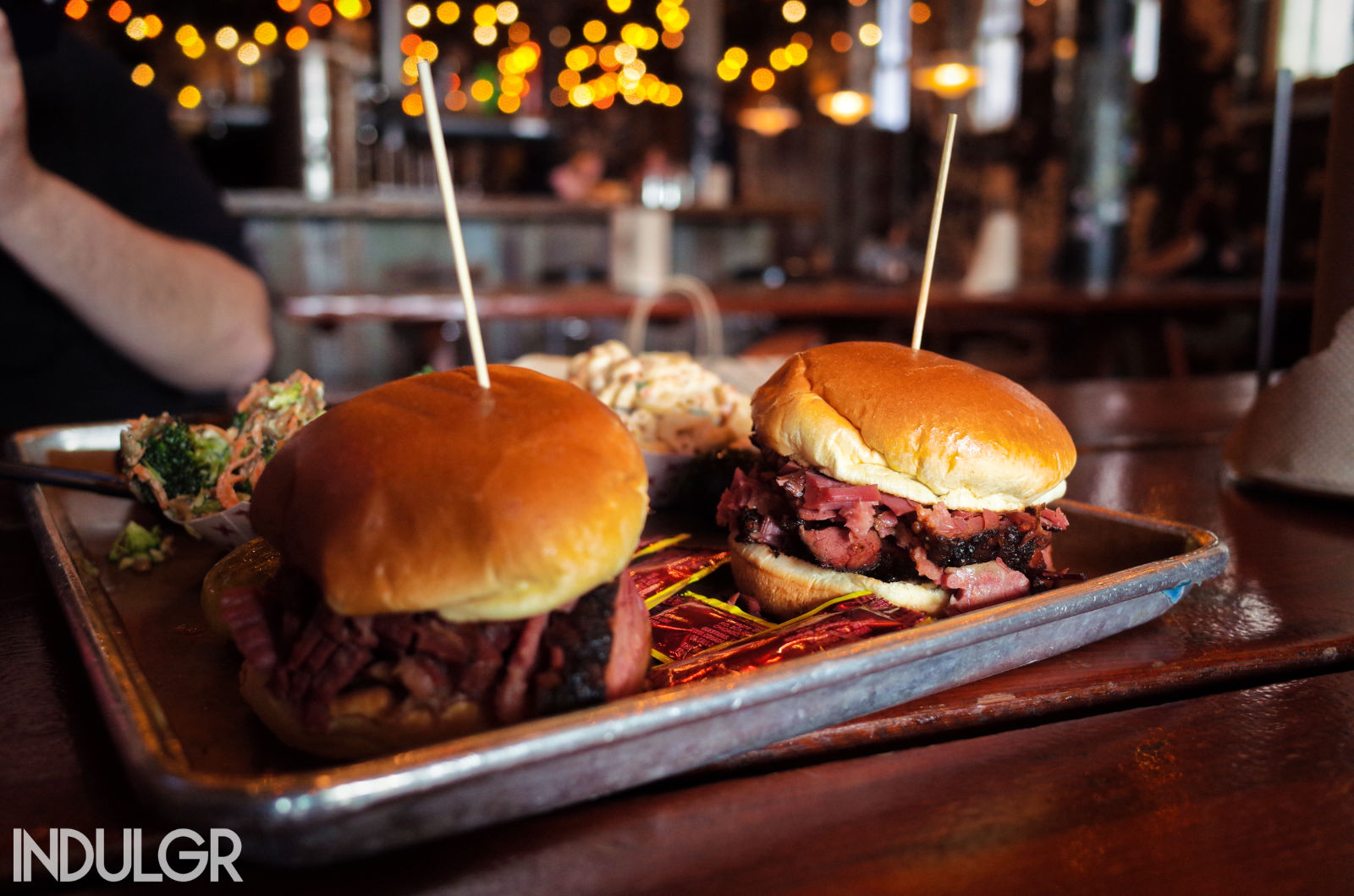 North Carolina pulled pork barbecue on the other hand is still in the midst of a heated in-state civil war, which might at times include South Carolina, but much like Arkansas to the rest of the country, we Tar Heels often forget South Carolina exists. However, there was that one weekend in Myrtle Beach—but that's another story, for another publication. Not today Satan!
Therefore, pulled pork will not be included in this review and I didn't even bother ordering it. I know too much about the correct preparation and service of pulled pork, and the ongoing civil war around pulled pork is still nowhere close to conclusion.
The obvious and historically correct side to take on the matter of pulled pork, is behind Eastern NC Style Pork BBQ, because ketchup doesn't belong on-or-in anything. Something I think Chicagoans would easily understand. The commonly self-promoted Western Style (or Lexington Style) of NC Style Pork BBQ is better suited for persons who have lost their sense of taste from smoking too many Marlboros. You know the type, they put Heinz 57 sauce on a salad.
I'm also not going to say much about the sides at Green Street Smoked Meats, because to me they're serviceable and act justly as a reminder that we're here for the meats. I could take a step back from the scope of the restaurant review and offer a wider regional analysis, but it would not include the aims of Green Street' and thus is an irrelevant opinion.
But for the sake of the mildly interested, the analysis would be more akin to a rabid commentary on the midwest and upper midwest, and how their fear of being rude has stifled the criticisms needed to evolve and set-to-standard what is an acceptable amount of personal effort taken in refining a good side dish. The American South has no shortage of this kind of culinary rudeness, they just douse the colorful language in honey and deliver it softly.
The Balance of Brisket
What Green Street Smoked Meats has done with their perfectly smoked brisket is find a commercial balance that includes traits of competition style smoked brisket and then distilled that process down into a scalable and sustainable method for restaurant success. That's another way of saying it's delicious and true to the best form. I have zero notes, and no complaints, as this Chicago-based brisket would kick a WHOLE LOT of ass in Dallas, Texas. Especially before the Austin based Terry Black's came to D-Town in 2019. There used to be an old saying about the barbecue in Dallas.
"The best barbecue in Dallas is just up the road in Austin."
But that one has been put to bed in the last decade or so, with capital-stocked locals taking umbrage with the remark.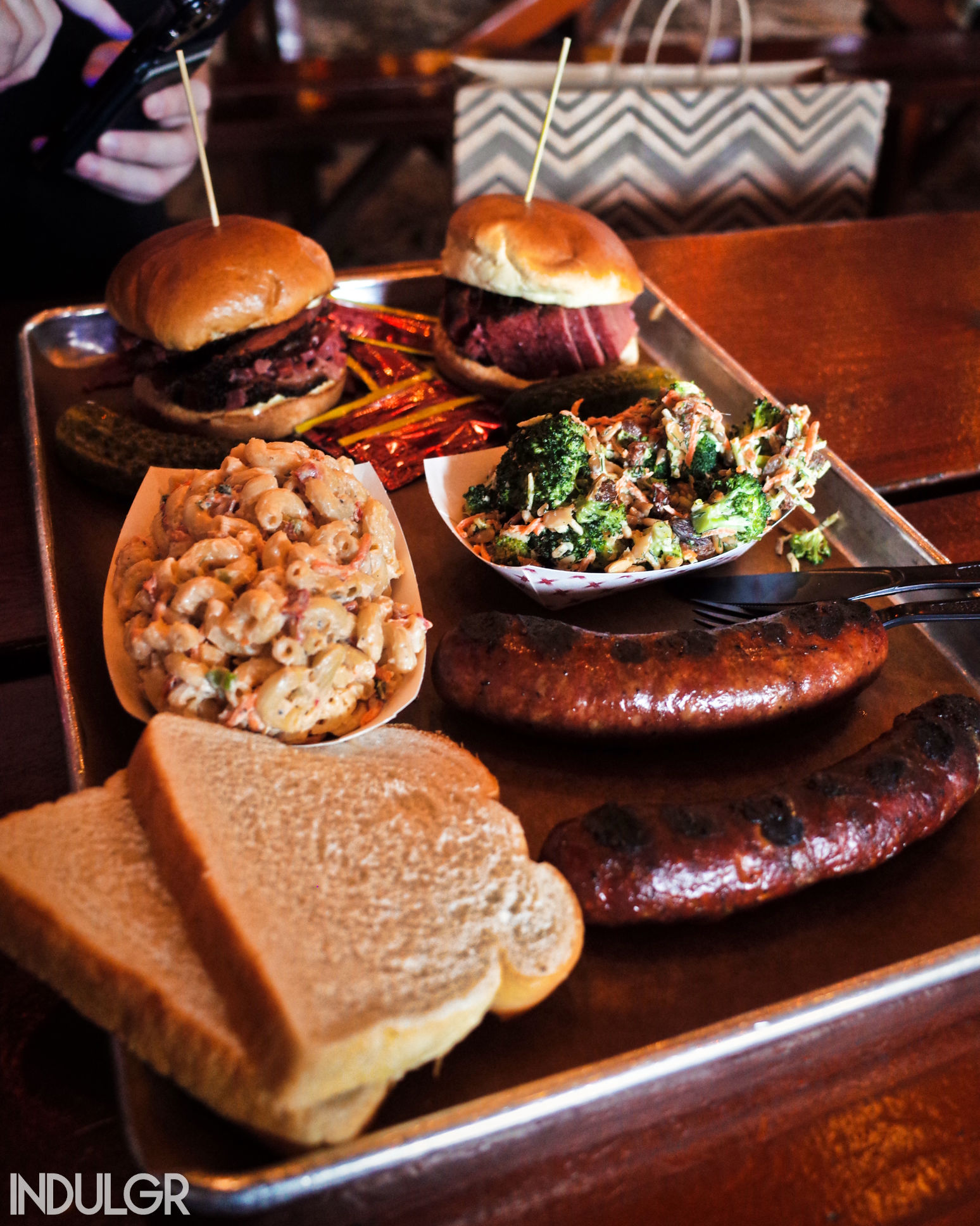 Is this the best hot link in America?
What I did not expect to find, was myself falling in love with the inventiveness of the three-day-process Green Street Smoked Meats hot link sausages, which cycle through updates found in the dreams of the kitchen staff and pitmaster. The research and development of such sausages, as it concerns new flavors and ingredients to experiment with, is definitely setting one's self onto a mission from God.
For our meal that day, it was the popular Cheddar Jalapeno variety, though I heard they put a full-Reuben Sandwich—bread and all—into a 'bespoke' hot link sausage during the summer of 2022. I could cry happy tears of sweet-tea just from writing that last sentence.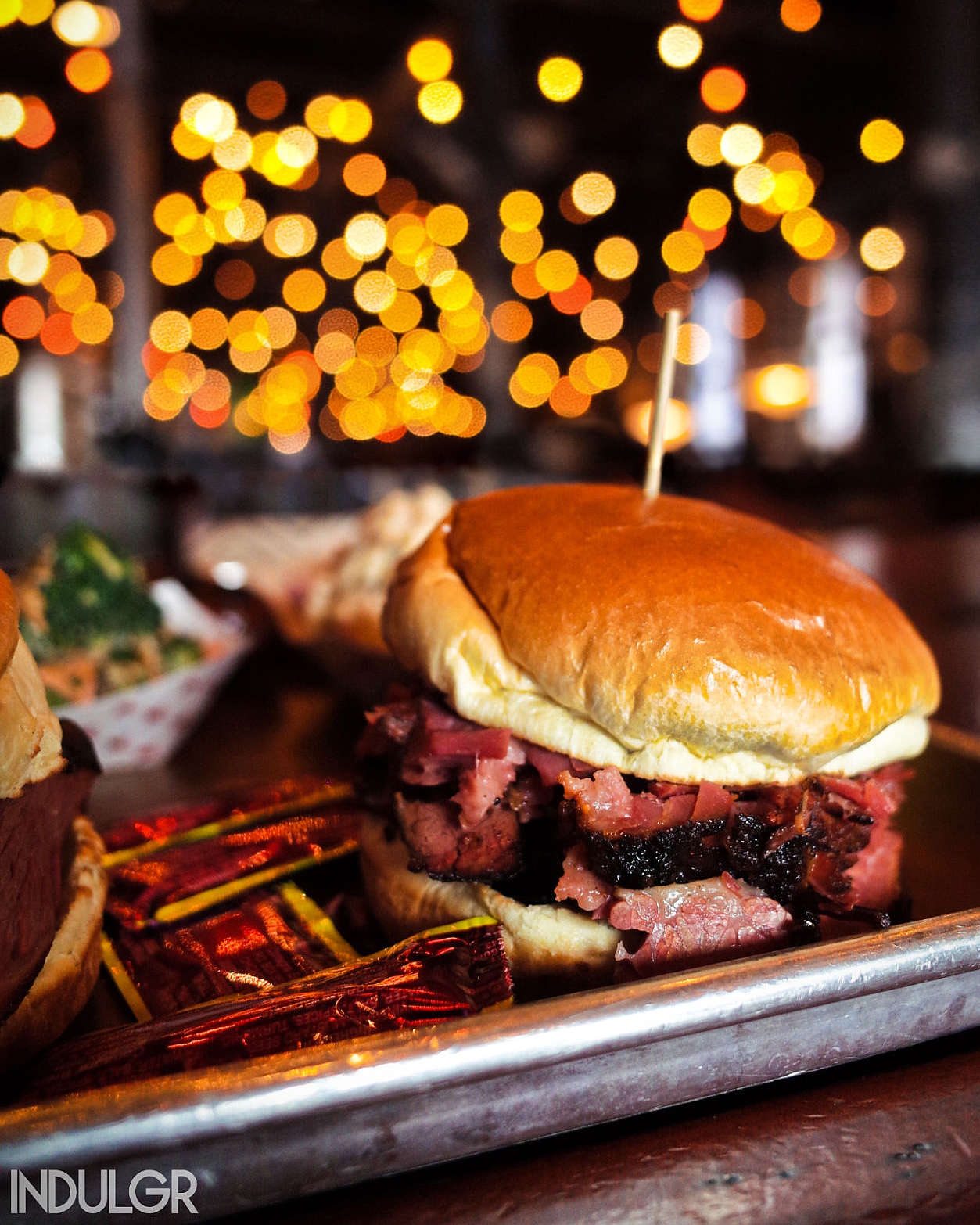 The Meaty Conclusion
The above photos were my attempt at a low-light instagram-worthy food photography, but having steady (or clean) hands is not my forte at the moment. Maybe it's the liquor shots from the bar mixed with the sugar and caffeine buzz of the Dr. Pepper, or maybe the pre-meat jitters have turned into giddy excitement over the massively creative hot link sausages and more than well executed smoked brisket.
Chicago is one of the best food cities in America, and often more than New York City on a few levels. Green Street Smoked Meats works diligently to uphold a prowess to be proud of. The native Chicago audience was primed decades in advance for understanding what makes great Texas barbecue, and I'm surprised it took till 2014 for a restaurant like Green Street to bridge the cultural gaps between itself and its Texas-sized central time zone bookend. Whether it's the oak wood smoke, the killer cocktail menu, the hip atmosphere, or the fact that you can find Lone Star Beer (the national beer of Texas) and Shiner Bock in its icy iron troughs, the experience is transporting.
The mastery of Green Street Smoked Meats is making patrons feel like they are back home, even if that home is over a thousand miles away.
Maybe it's time for a new saying: "Some of the best barbecue in Texas is just up the road in Chicago."
Dining with Green Street Smoked Meats is on a first come first serve basis, and they do not accept reservations.
However, they can accommodate parties of up to twelve guests.
But wait… there's more!
Keep scrolling.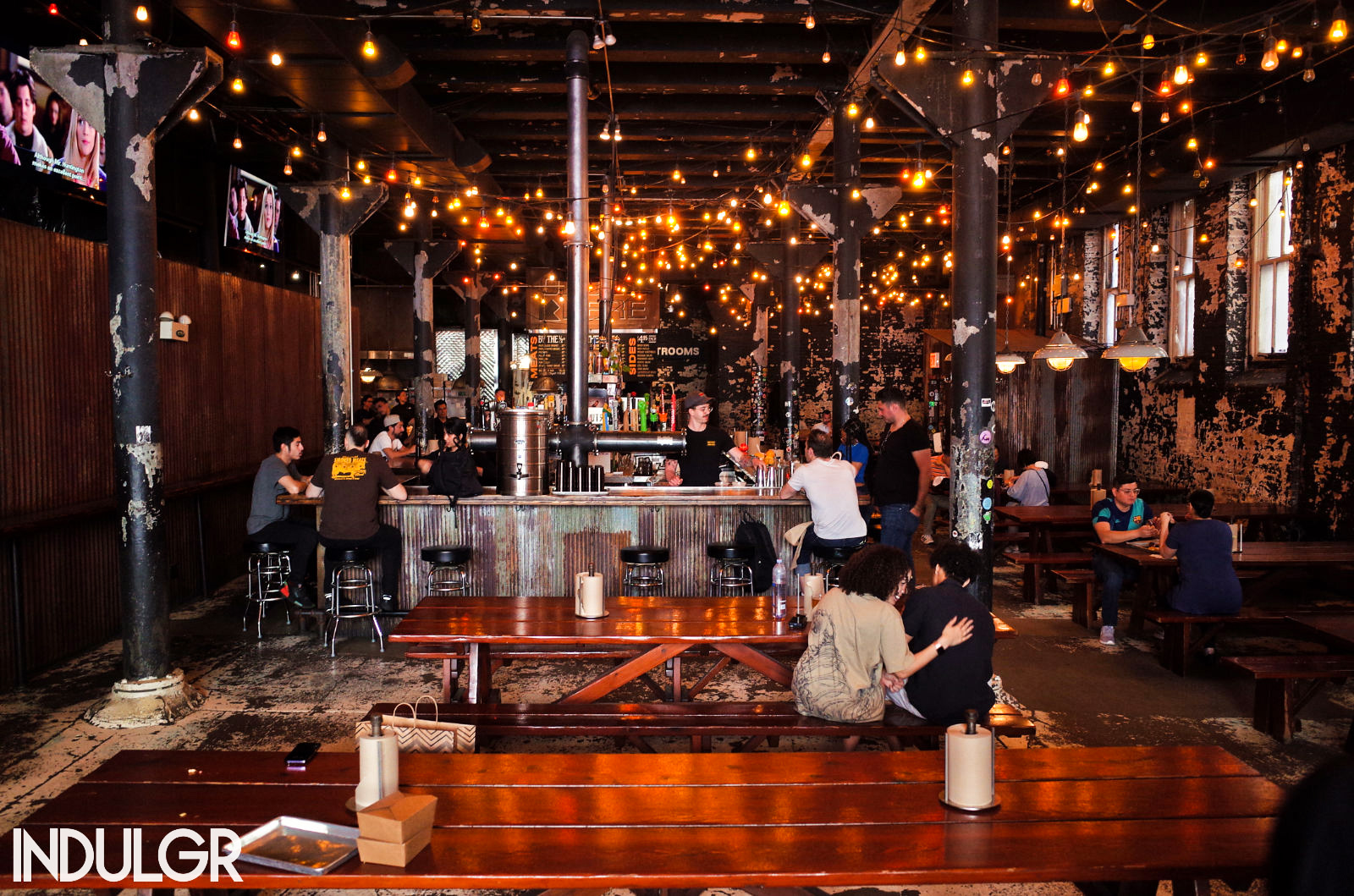 ---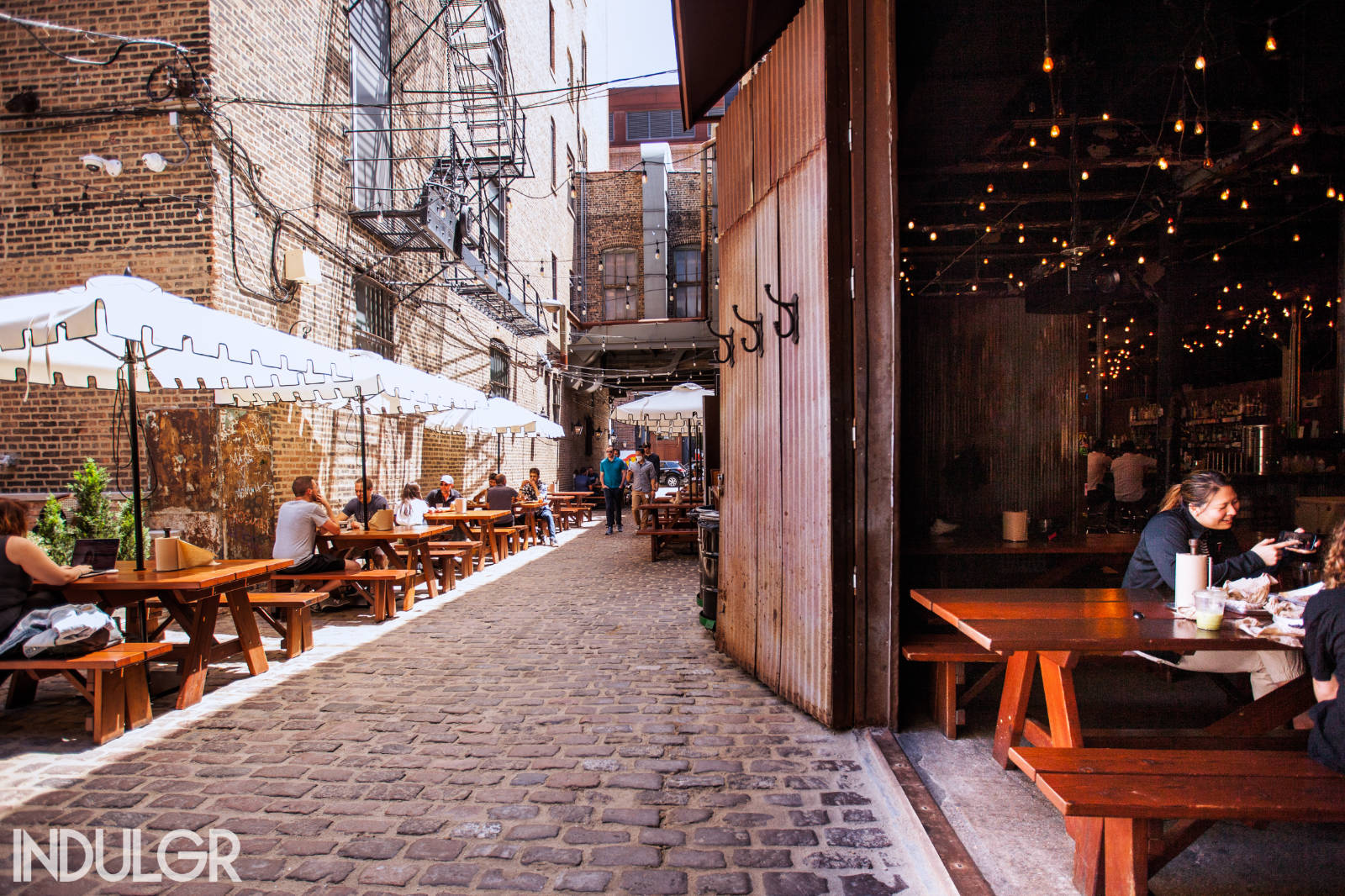 Let There Be Light
"Isn't there a giant tetanus-infused warehouse door right next to the main entrance?"
It should be noted that I really didn't address the atmosphere of Green Street Smoked Meats properly, or fairly, or kindly, for that matter. I'm not an old fogie just yet, but I am a little salty.
The abundance of the post-2009 gastro-pub aesthetics that litter the Chicago West Loop, and every other reclaimed urban setting in America that wishes to eschew the classical stuffy dining tropes via copy and paste, has in part agitated my soul. And yet, Green Street Smoked Meats is still just a barbecue joint, and a damn fine one at that.
So I've recoiled and cut slack. The atmosphere of Green Street is indeed working, comfortable as heck, and when the outdoors are brought indoors on a nice summer day, the matters of meat and spirit become rather heavenly.
"Do you see the light? Do you see the light? Have you seen the light?"
—Reverend Cleophus James (James Brown)
---
** [Funeral Brisket]: This is a brisket that is obligated to perform at "wedding brisket" levels of greatness, and also serves as a proper token of send-off to the dearly departed.
It is often made by an immediate family member of the deceased who ironically also is in a troubled rush to make other important arrangements. The duty itself is an honor, but adds another pressure to one of the hardest places in life to be and frequently becomes the rock of crushing defeat.
Death is not a gobstopper in the mouth of family gossip. It's the opposite.
If a "funeral brisket" does not meet swollen expectations, gathered aunts and sisters will surely be chattering about how the brisket was 'too anything' but perfect. Reductively, this action of intense critique is a way for the mourning to bond through sport and vent frustrations. The maker of the "funeral brisket" will only receive a notice of success when the following winter holiday cards begin to arrive, or don't.